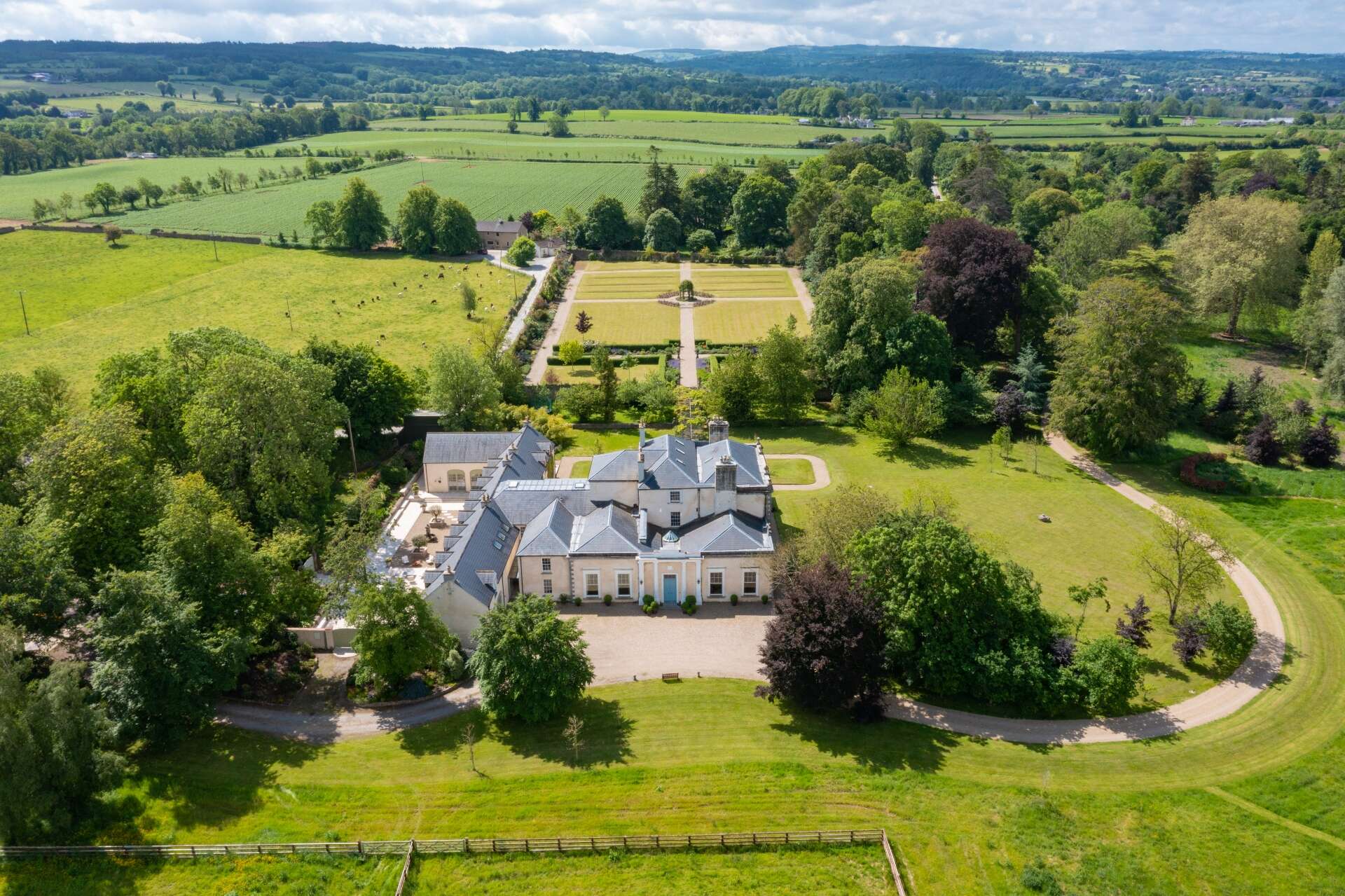 Arguably the finest country mansion in Ireland, Kilmurry House has recently become available for purchase with Christie's International Real Estate. The property is located in Thomastown, Kilkenny and was previously home to world-renowned watercolor artist Mildred Anne Butler, who lived in Kilmurry House from 1858 to 1941.
Dating back to 1690, this country mansion in Ireland has a wealth of history and sits on almost 100 acres of land. Totaling over 17,800 sq ft of interior space, Kilmurry House is a Georgian property that has been designed in the timeless Palladian style; it has three stories and an iconic limestone structure, as well as glass doors and double-height windows to allow for ample natural light throughout the home.
Designed for single family living, this country mansion in Ireland has a range of spaces for entertaining and relaxing. At the heart of the property is an expansive kitchen, with an open plan layout leading to a den and an outdoor courtyard where residents can enjoy alfresco dining. On the ground floor, there is also a games room, ballroom and an orangery, which has been restored to its original 18th-century dimensions by the current owners.
[See also: Michelin Reveals Great Britain and Ireland Guide 2021]
[See also: The American Designers That You Should Know]
As well as the multiple family and entertaining spaces, Kilmurry House has 11 bedrooms and eight bathrooms. Situated over the property's top two floors, the bedrooms are large and bright, with many of them featuring wide views of the estate. The master suite is particularly special; it overlooks the estate's walled garden and features its own working fireplace.
Kilmurry House has been thoughtfully restored and updated for 21st century living, including the addition of double glazing to doors and windows (where allowed) and increased insulation, to reduce heat loss and lower the property's energy consumption. Furthermore, the mansion has its own water well for water needs and wild meadows as part of the grounds, creating a supportive environment for local flora and fauna.
"What is most notable about the home is the amount of natural light welcomed into the interiors through gorgeous and massive glass doors and windows throughout," said Christie's International Real Estate spokesperson, Charlotte Delaney. "For a historic home, this is a rare feature while still retaining its centuries-old charm with original appointments such as ornately carved fireplace mantles and crown moldings."
From $10,425,000. Visit christiesrealestate.com for full details.
[See also: Discover the 'Venice of Ireland' from this Historic Home]