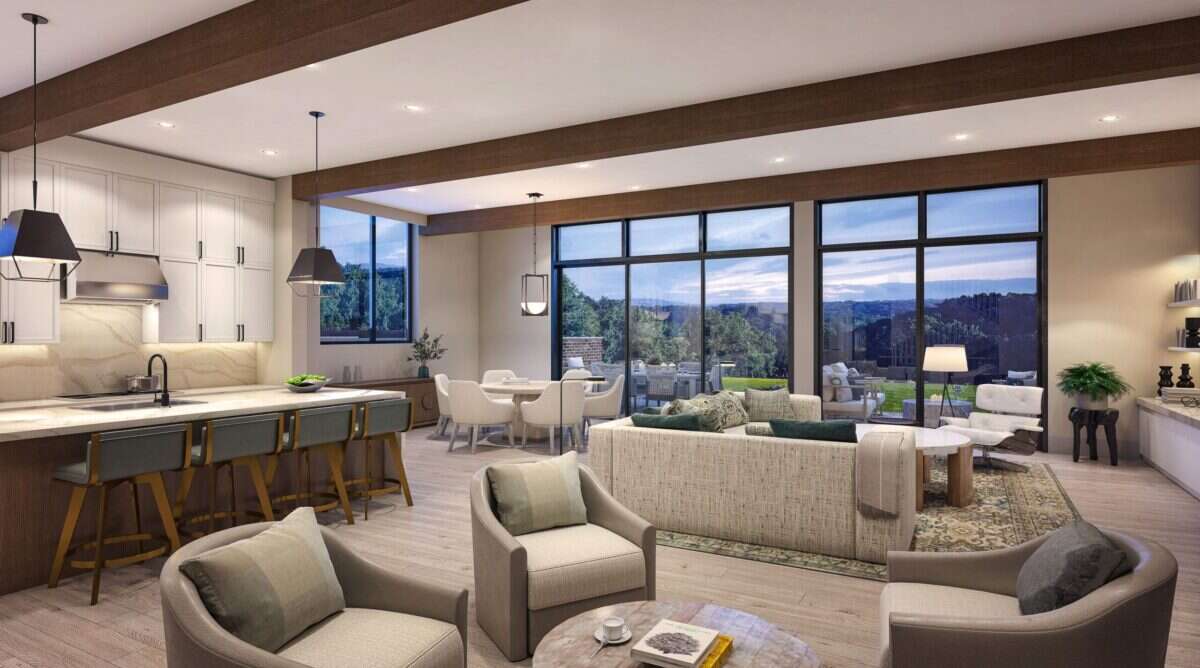 Hospitality giant Montage International has unveiled the Pendry Residences Natirar: a collection of bespoke branded properties nestled in the rolling hills of New Jersey's Somerset County, just an hours drive from New York City.
Owners of the 24 exclusive residences – 12 Farm Estates and 12 Estate Villas – will have all the perks of resort living including access to the brand new Pendry Natirar. Originally built in 1912 and later bought by the King of Morocco in the 1980s, the sprawling Tudor-style mansion is currently being redeveloped into a luxury resort complete with a full-service spa, fitness center and swimming pool.
"When you think about bringing to Natirar the same quality of lifestyle living experienced at other Montage International residential properties like Laguna Beach, Beverly Hills and Kapalua Bay, to name a few, we are offering a resort residential type of living that doesn't exist in our area," said founder and owner of Natirar, Robert Wojtowicz, who has partnered with Pendry Hotels & Resorts.
The Verdant Farm Estate is one of 12 modern residences currently under construction within the 12-acre Natirar Farm, due for completion in 2022. Located inside a private gated enclave, it is the ideal setting for those seeking to embrace sustainable living, connect with the land and make the most of the brand's ample wellness offerings.
Designed to blend seamlessly in with the environment, the 3,800-sq-ft property features floor-to-ceiling windows revealing stunning views of the surrounding greenery. Ensuring total privacy and ease of access, the residence has its own two-car garage and two-story elevator.
[See also: What are Branded Residences?]
Health and wellbeing take center stage with a curated wellness room and custom greenhouse accessed by the back door for future owners to grow their own produce from the comfort of home. Delos' DARWIN Premier technology is used throughout the property to optimize residents' health through air quality monitoring, water filtration and circadian lighting to help regulate the body's natural sleep-wake cycle.
At the heart of the ground floor is an elegant open-plan living room, dining area and kitchen with a neutral palette, plenty of natural wood and a large marble fireplace. Montage Design Studio is on-hand for new owners to complete the look with eco-friendly custom furnishings.
Upstairs the comfortable master bedroom has a separate walk-in closet and spacious bathroom with a freestanding tub. At the other end of the hallway lies a second airy double bedroom served by a luxurious bathroom.
The outdoor spaces are equally as impressive, with an enormous patio and barbeque ideal for entertaining al fresco, and a rooftop deck and conservatory offering more panoramic views of the New Jersey hills.
As well as being able to nip across to the hotel for a dip in the pool or game of tennis, the future owners of the Verdant Farm Estate are able to visit the wider collection of Montage and Pendry Hotels.
[See also: An Exclusive First Look at 488 Sterling Place Brooklyn]
Throughout the year residents will have ample opportunities to immerse themselves in nature, from horseback riding and hiking in the countryside, to partaking in harvests at the community gardens. Future owners of the property can also opt to have fresh seasonal produce delivered daily to their doorstep and brush up on their culinary skills at the on-site Ninety Acres farm-to-table cooking school.
Natirar joins the burgeoning collection of Pendry hotels and resorts already open across the US in West Hollywood, New York, Chicago, Baltimore, and currently under development in Park City, Washington D.C and La Quinta.
The Verdant Farm Estate is on the market for $4.1m, pendryresidencesnatirar.com
[See also: Pendry West Hollywood Makes Its Sunset Strip Debut]