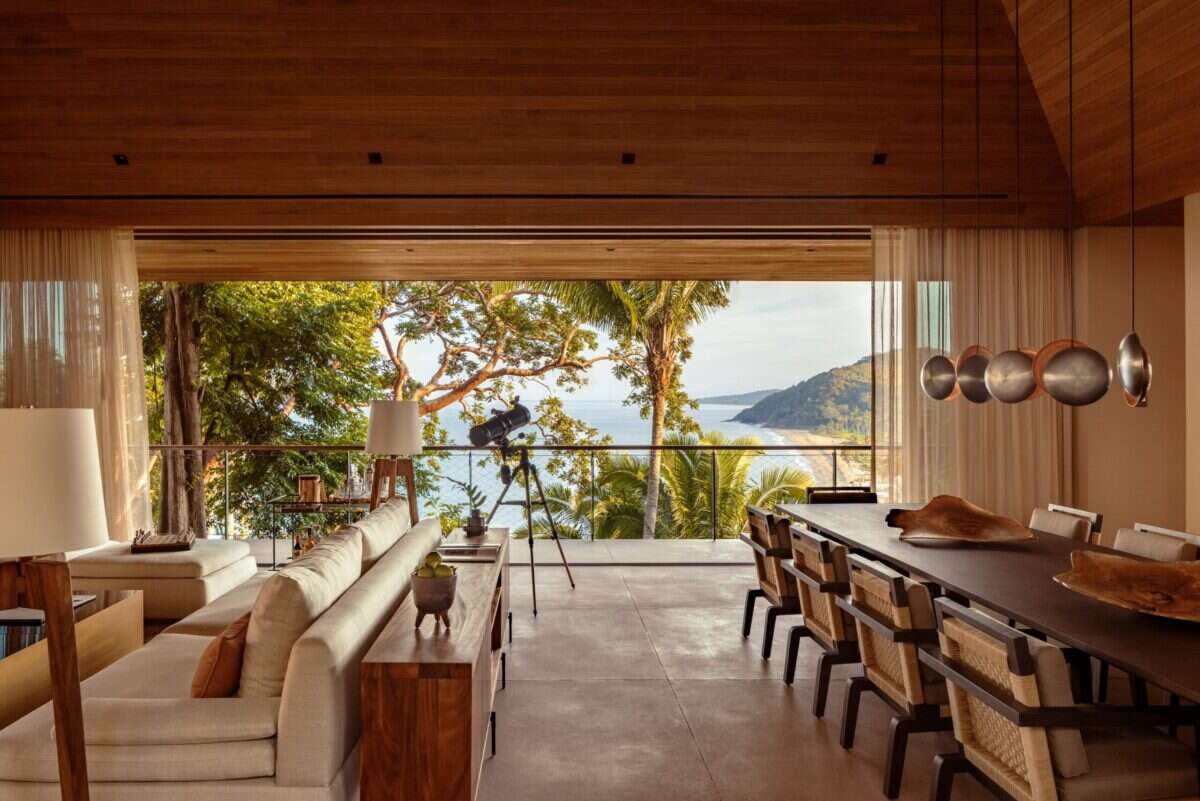 When One&Only unveils a new resort or collection of properties, one thing is certain: the destination is going to be epic. Naturally, the luxury hotel group's latest venture, One&Only Mandarina, is no exception. Surrounded by lush greenery on a hillside overlooking the ocean in Mexico's pristine Riviera Nayarit, it's little wonder prices for the private villas start at $4.4m.
As One&Only's first branded residences in the Western hemisphere, expectations are high. And the 55 ultra-luxurious villas certainly don't disappoint. Designed by Rick Joy (the celebrity architect known for Amangiri) in collaboration with leading Mexican firms including Taller de Arquitectura, the contemporary properties seamlessly blend in with the stunning surroundings, effortlessly mixing indoor and outdoor spaces. Needless to say, prospective owners won't have to worry about prying eyes as the leafy hillside location ensures total privacy.
For Joy and his team, respecting the environment was key. "Full reverence and protection of the jungle drove our vision," he says. "This led to stand-alone rooms woven between the jungle trees and the connection to nature throughout the personal resort experience. After all our years in practice, we believe that nature is the most true luxury." To help turn this vision into a reality, One&Only enlisted local landscape architect firms Entorno Taller de Paisaje and Maat Handasa.
[See also: One&Only Portonovi: Mediterranean Living at its Finest]
Each of the new homes at One&Only Mandarina has been custom built to make the most of the breathtaking vistas of the ocean below and Sierra de Vallejo mountain peaks in the distance. Future owners can choose from two residence styles – villas and estate villas – which feature four-, six- and eight-bedroom floor plans.
Spanning almost 19,000 sq ft, the largest properties are seriously spacious. Of course, there are plenty of areas for entertaining with each residence home to a generous sun terrace and infinity pool – the perfect spot for sipping a cocktail while watching the sunset.
Stepping foot inside, it's impossible not to feel a sense of tranquility. The modern, open-plan interiors are bathed in natural light thanks to the floor-to-ceiling windows and feature a warm, earthy color palette.
When choosing materials, Joy wasn't afraid to keep things simple. "We decided to predominantly use local stone and local wood, working with a minimal number of elements," he explains. "Our palette is inspired by place and the materials and craft mostly sourced or Mexican made. The giant trees with their expansive roots dictated our architectural designs and response and why we avoided solely using masonry, which is more regionally traditional. More grounded structures are masonry built massing with stucco and lightweight wood beam structure above. This lighter construction allows the wood and stone shelters to disappear into the site."
[See also: One&Only to Open First US Resort in Big Sky, Montana]
Future owners have a choice of two furnishings packages, each of which includes quality, bespoke pieces designed to be handed down through the generations. As with all branded One&Only private residences, those that are lucky enough to live at Mandarina will have access to an impressive array of amenities. This includes a dedicated member of staff (known as 'One Contact') to look after the property and take care of everything from event planning to pre-ordering groceries and heating the pool prior to arrival. The One Contact is also on-hand to organize residents' trips to other One&Only properties across the globe.
When it comes to facilities at the resort, homeowners are spoilt for choice. Perhaps most impressive is the idyllic open-air spa. Here, beneath the canopy of trees, residents can relax in a mud bath or take a dip in the cold plunge pool. Balmy afternoons can be spent at The Jetty Beach Club reading a book on the sun-loungers or embarking on a sailing excursion.
Those looking for a family-friendly setting to soak up the views and enjoy a casual bite to eat can head to Alma while the adult-only Carao (located on the southernmost peak of the resort) boasts a gourmet menu from talented chef, Enrique Olvera. As for little ones, the 42,000-sq-ft Kids Club is a dream come true with tree houses and an insect hut to explore.
Beyond these resort amenities, residents at One&Only Mandarina have access to The Flatlands – a sprawling green landscape that stretches from the rainforest to the ocean shore. Seasoned riders and novices alike can visit the Mandarina Polo and Equestrian Club and attend weekly events, while bird-watching enthusiasts can while away afternoons in the Estuary.
One&Only Mandarina private homes are on sale ranging from $4.4m to $16.25m.
[See also: Inside the Stunning One&Only Desaru Coast Resort]