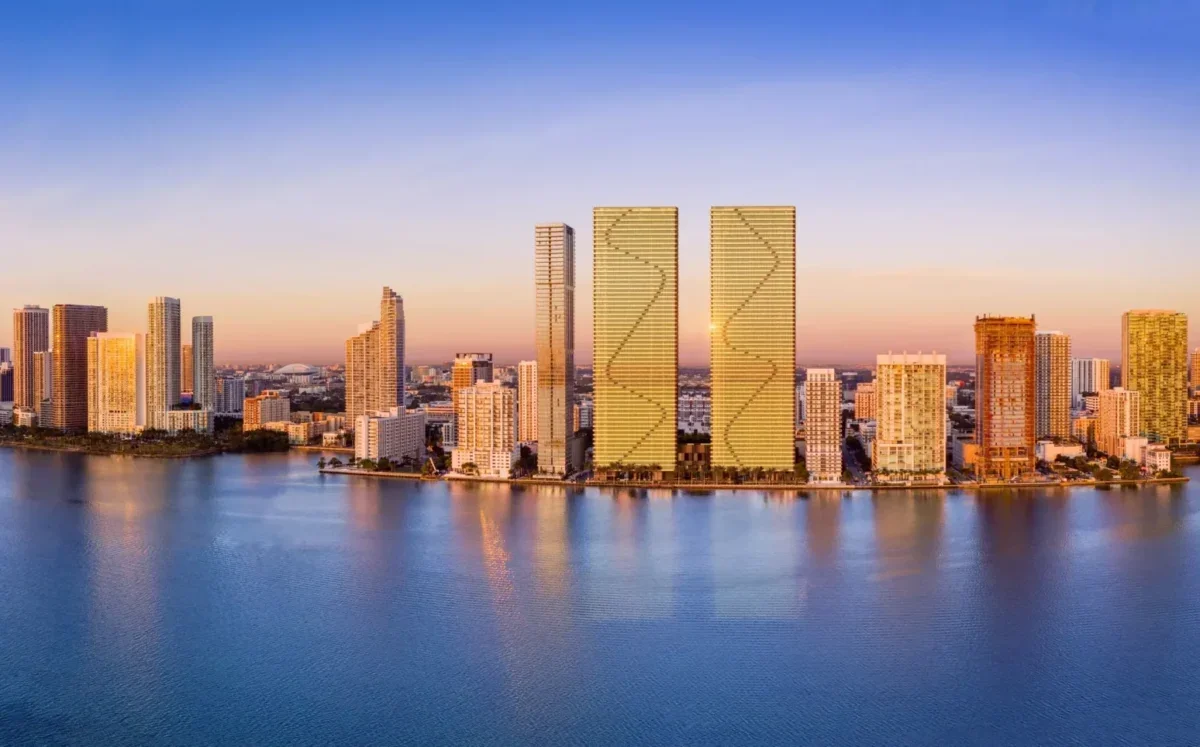 Miami's vibrant property market continues to impress with some of the most sought-after luxury branded residential towers in the world. Those looking for a new home away from home in the Sunshine State should look no further than the exclusive Miami coastline.
Numerous districts and neighborhoods may take your fancy, from the jaw-dropping high rises of downtown Miami to the exclusive and sought-after financial center of Brickell. Alternatively, head closer to the sea towards Sunny Isles Beach and Miami Beach, where towers sit next to the ocean so your next dip is never far away.
Previously we covered Miami's best towers under construction but here, Elite Traveler selects some of the finest residential towers in Miami ready to move into today.
Regalia
Sunny Isles Beach is in Miami's northeast and is home to Regalia, a 46-story residential tower that lives up to its regal namesake.
At Regalia in Sunny Isles, next-door neighbors are swapped for next-floor neighbors, with each story fully occupied by a single apartment, aside of course from a two-story Beach House and three-story penthouse. Designed by Arquitectonica, the beach-facing tower provides its residents with unbeatable 360-degree views of one of America's most exclusive coastlines. These views are totally unobstructed thanks to the 10ft high ceilings which can be found throughout.
Interiors have been handled by Britto Charette, ensuring a cohesive and contemporary internal design throughout Regalia. Each residence has been fitted with a top-of-the-line kitchen, including granite worktops, copper sinks, and a wine storage system.
Owners will thrive with a vast array of amenities such as a private beach and infinity-edge swimming pool, fitness center, cinema, a spa that provides multiple treatments, and a cigar lounge. It's no surprise Regalia was awarded Best Residential High-Rise Development in the US by the International Property Awards in London.
Muse
Muse Oceanfront Residences is also found in Sunny Isles Beach and brings a futuristic edge to Miami. The high-rise tower is perfectly situated so residents can access the luxurious village of Bal Harbour, home to Chanel, Jimmy Choo, Bulgari and high-end dining opportunities.
The tower was designed by architects Carlos Ott and Sieger Suarez and contains 68 residences at two per floor, ranging from two to three bedrooms. All residences feature 12ft ceilings creating an extremely spacious and airy environment while Italian marble or wooden flooring ensure a luxury feel. Outdoor terraces mean you don't even have to leave your residence to enjoy Miami's unbeatable climate.
Technology runs through every facet of Muse. Biometric security ensures the highest level of protection while best-in-class smart home features allow lighting and climate control to be totally automated. Intelligent parking can be controlled directly from your smartphone meaning your vehicle is always ready when you need it.
At Muse interiors were designed by ANTROBUS + RAMIREZ who have made selections from the highest quality fabrics and materials.
The exclusive beach club will let residents enjoy their surroundings in peace while the sky garden penthouse is the ideal spot to bring friends.
57 Ocean
Millionaires Row in Miami Beach is home to some of Florida's most exclusive residences, it's where you will find 57 Ocean Condo.
Designed by Arquitectonica, the 18-story residence on Collins Avenue outshines its neighbors with an unmatched contemporary feel. Its central location provides easy access to some of Miami's most sought-after areas as well as the international airport.
Private elevators transport you to spacious residences featuring 10-foot ceilings and exquisite 12-foot wood-lined outdoor terraces that provide breathtaking sea views. Each apartment is decorated in a sublime Brazilian style, a subtle and welcome reference to Brazilian-born billionaire developer, Jose Isaac Peres.
57 Ocean residents are treated like royalty with an on-site concierge service, 24-hour valet service and on-call fitness and spa specialists. At times when you want to relax and not move a muscle, you will be looked after by pool and beach attendants laden with gourmet concessions and cocktails or take it up a notch with the on-site private chefs.
Throughout 57 Ocean interiors have been handled by the internationally renowned Brazil-founded studio Anastassiadis Arquitetos, continuing the subtle South American styling.
Aria Reserve
Situated on the western banks of Biscayne Bay, Aria Reserve Miami is currently under construction and is set to be a record-breaking property — the tallest waterfront twin towers in the US.
This stunning set of obelisks has been designed by world renowned, Miami-based architect Arquitectonica. They will feature a total of 782 residences which range from one to four bedrooms located across each tower's 62 stories.
Aria Reserve's unbeatable location ­— just five minutes from Downtown Miami and Brickell and 15 minutes from Miami International Airport — makes it the ideal home away from home. Its imposing size creates incredible views of the Miami skyline and beachfront. While the residences make use of these views with large windows that provide an ideal sunrise to sunset flow throughout the day.
Residents will be treated to a state-of-the-art fitness center in addition to tennis and basketball courts. After exercise, they can soak away stress in the on-site spa, or take a dip in the semi-Olympic size pool. At night take the high-speed elevators to the Sky Lobby where you can end the night in the exclusive adult lounge area, equipped with its own wine cellar.
The south tower at Aria Reserve is due to be delivered in July 2024 while the North Tower is set to be finished in the second quarter of 2025.