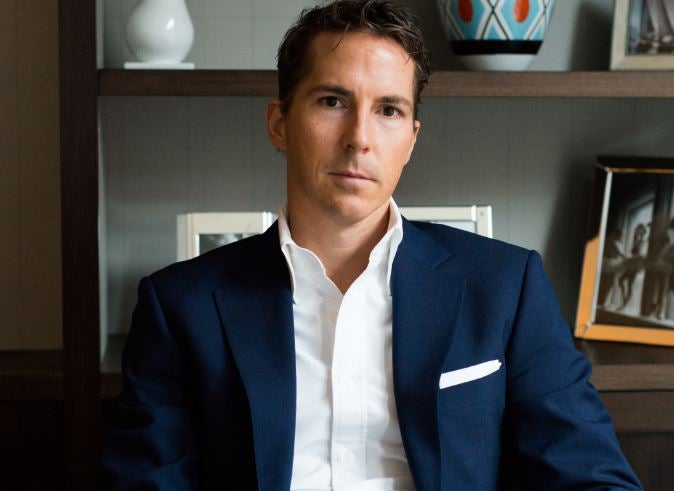 As the co-founder of luxury property development company Finchatton, Alex Michelin has played a key role in the development of London's multi-million dollar real estate project Twenty Grosvenor Square. Michelin speaks to Elite Traveler ahead of this development's greatly anticipated launch.
What previous real estate developments might we know Finchatton for?
For well over a decade, Finchatton has managed and financed over 60 major development projects worth in excess of $1billion around the world, alongside 80 private commissions. This year, in London alone, we have launched two major developments in Knightsbridge, and one smaller residence in Belgravia's Eaton Square.
Kingwood, on Hans Place, spans four 19th century townhouses. The apartments, including a penthouse, two triplex apartments and three lateral apartments, all share extensive luxury amenities spread across four subterranean levels, including a wine cellar with 200-bottle storage per residence, spa with sauna and steam room, gym, media room, secure underground private car park and 24-hour concierge.
Knighton Place, built on Yeoman's Row, then comprises five family homes and four apartments, each with several floors. We retained the Georgian-inspired façade, in keeping with the rest of the street, and again built below ground level to create something inconspicuously luxurious.
What role has the company had in the development of Twenty Grosvenor Square?
Finchatton are the lead development coordinators, designing the building and its interiors. This was a unique opportunity for Finchatton to be involved with the redevelopment of this former US Naval Headquarters in Europe. Residents here will share a piece of history, a home of international note and recognition, steeped in history and yet completely rebuilt to provide the latest in modern convenience. We're incredibly passionate about delivering buildings that stand proud through time and that may well become the listed buildings of the future.
What aspects make this new development stand out in particular?
Twenty Grosvenor Square will bring together the best of hotel services within a private residential setting, with residents being serviced by dedicated team of Four Seasons staff and with access to extensive hotel-inspired amenities, creating a luxury residential experience unlike any other in London.
Attaching the Four Seasons brand to the building will deliver considerable benefits to owners. Four Seasons has a world-class reputation for providing a superior level of service, and one which is truly hospitable and personalized. It is these qualities that will make their world first Four Seasons standalone residences at Twenty Grosvenor Square so exceptional.
In addition, Twenty Grosvenor Square is one of the most prestigious addresses, on one of the grandest squares, in London and the building itself is steeped in history as a former US Naval HQ and residence of Eisenhower.
What involvement does the Four Seasons group have with the residences?
Staff will be onsite 24 hours a day, seven days a week, to cater to all residents' needs, from catering a dinner party, serving drinks to guests on the shared terrace or hosting a business conference, to childcare, spa and beauty treatments and grocery shopping.
What can prospective buyers expect from the apartments?
Bespoke luxury and a curated lifestyle like no other.
How will residents benefit in terms of the lifestyle afforded by living there?
Four Seasons will offer personal chefs to adhere to specific dietary needs, life coaching, personal trainers, masseurs, spa treatments, salon services, child care, pet care, event planning – everything you could wish for in terms of personal wellbeing, mindfulness and a curated lifestyle. In addition, Twenty Grosvenor Square is ideally located for some of the best educational institutions in London and some of Europe's finest restaurants, nightclubs and galleries, and offers the ultimate in privacy, security and discretion.
When will people be able to move in?
Residents can move in from autumn 2018.
Does Finchatton have any other major upcoming developments?
Finchatton has a number of new developments on the horizon and will be announcing these next year.
Find out more about Twenty Grosvenor Square by going over to finchatton.com.