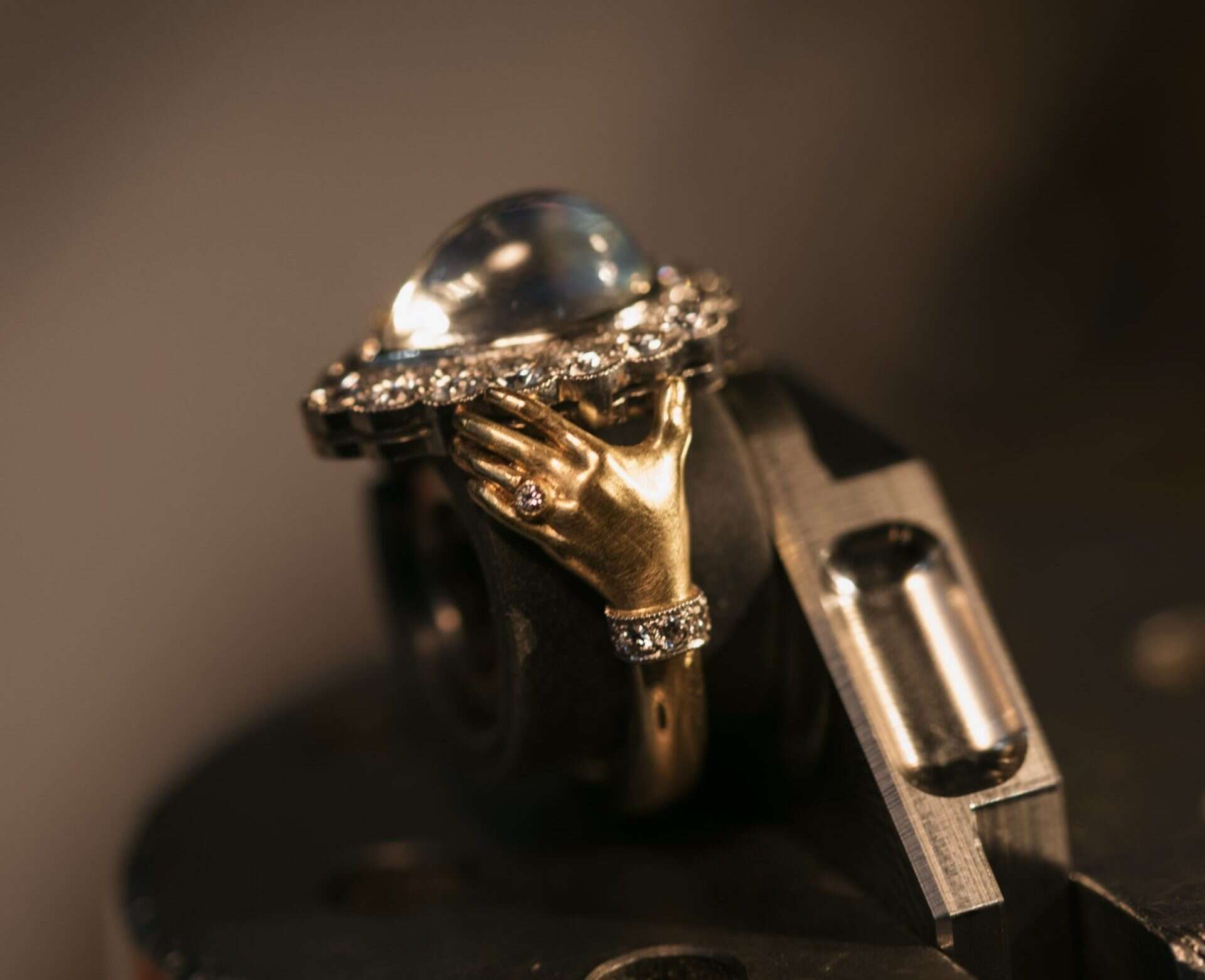 Noted for its eccentric and eclectic designs, spanning from clasped hands and celestial motifs to gothic skulls and swirling serpents, Anthony Lent is an antidote to the rise of minimalist, sleek fine jewelry we have seen in recent years. Now, the lid on this magical jewelry world is being lifted, with Elite Traveler sharing exclusive behind-the-scenes images of Tony Lent's studio.
Although Anthony Lent was officially founded in 2013, the jewelry brand's history extends far further than that. Following his initial goldsmithing education at the Fachhochschule in Schwäbisch-Gmünd, Germany, Anthony (who goes by Tony) has spent almost 50 years honing his craft and adapting the dream-like characters and motifs that form in his imagination into intricate works of art.
After a somewhat unsatisfactory stint as a college professor ("I don't know many college professors who have endearing statements about the organization they were part of," he notes) and many years creating one-off pieces for a small roster of private clients, Tony's sons Max and David decided to come on board and unleash the potential of the soon-to-be Anthony Lent jewelry brand.
"[When] David and Max said that they were going to build a brand, I didn't understand what that was. And I really resisted the idea of a brand," Tony says. "I'd always associated 'brands' with huge things, and I felt like I was just an independent artist. On the other hand, there were brands I admired and really liked, so I was conflicted and I didn't truly understand it."
However, it's clear that the influence of his sons has made Tony come around to the idea of sharing his art: "I do understand it now. I [understand] it's essential to present what you make within a context and a framework. [And] now the brand is there, it's quite rewarding," he says.
Logistically, Anthony Lent doesn't work in the way most jewelry brands do. While a standard jewelry house will release collections seasonally, with each collection dictated by current trends, Anthony Lent's "collections" are more like groupings, curated by Max and David. "What's been really unique for David and I is that my father was kind of working in a vacuum. He really wasn't influenced by what the market thought or what customers thought, so when we decided we wanted to get involved, it was like we had this artist that had just been making things and had been building this entire brand with no outlet for it," Max says.
[See also: Behind the Scenes at Theo Fennell's Studio and Workshop]
Explaining the initial launch process, Max says that he and his brother examined their father's expansive body of work that had steadily grown throughout the years and tried to group related pieces. For example, moons, suns and stars were grouped to form the Celestial Collection. Then there were the human body parts, from limbs and hands to lips and eyes, which together formed the Muse Collection. And the brothers also discovered a huge number of winged pieces – winged faces, flying hearts, flying diamonds and the typically winged Greek god, Morpheus – which were all grouped together in the Victory Collection.
This isn't to say there isn't overlap either: a piece that at first glance is just frogs or lizards may have a moon or a human face hiding somewhere. "To my father, it's really like a whole universe of creatures and characters … the collections always make guest appearances within other collections," Max says. "We've had this incredible library of work to sift through. We almost felt like Darwin looking at this world and trying to classify the different groups."
But despite being somewhat unorthodox, this organic approach is what works for the Anthony Lent brand; following trends was never an option. "For us, this is just the only way it works … We're not really keyed into the fashion and style world," Max says. "We feel like we have this incredible natural resource that's really unique and unusual. And we're just trying to cultivate it and share it, so we don't really have the option to pay attention to what else is going on. This is what we have and what we do." And these collections are continuously added to, as more weird and wonderful ideas fly out of Tony's head: "We keep adding new pieces – it's like a leaky faucet, things just keep coming out," Max says.
But there is some degree of control over what gets released to the public. "There is healthy dynamic tension," Tony explains. "I tend to go off on a tangent and do crazy things that [Max and David] look at and say, 'we can't show anybody that part of your brain.' I feel like I'm steered quite skillfully – otherwise, I might be blazing a trail all by myself," he says.
However, while trying to give order to hundreds of pre-existing designs has been the standard approach for Anthony Lent collections to date, the team is currently in the midst of something different. For the first time ever, the brief has come before the product, with Max, David and Tony imagining a new collection centered around aquatic-themed imagery.
However, even with a more rigid game plan, Tony's creative mind has still been set free, in a sense: "What we've said to our father is 'create everything that you've ever wanted to that has anything to do with water, or the ocean or creatures that live somewhere in between the sea, the land and your dreams,'" says Max. "And there's just an overflowing amount of fish people and fish preachers and starfish coming out of the studio."
[See also: The Sustainable Jewelry Brands You Need to Know]
Tony's so-called 'crazy things' all come to life in his workshop, which sits in a carriage house in the back yard of his Philadelphia home. The studio, which Tony describes as an extension of his mind, had previously been occupied by a painter, who added a huge glass wall in order to give views across the surrounding garden. "It's a beautiful space," Tony tells us.
The scope of production methods used to create Anthony Lent jewelry is wide, with Tony himself utilizing many traditional and otherwise lost techniques from the 19th and  20th centuries, including analog tracing machines and stamping tools, to create the high level of surface detail in his work. However, his love for traditional methods doesn't make him blind to the benefits of modern machinery, with 3D scanning used to create pieces that wouldn't be possible by hand.
"We use everything, all the tools in the toolbox," says Tony. And as with the brand's design process, there appear to be few rules in terms of production, too: "Everybody [involved] has this wonderful feeling of 'Oh, can we do that? Let's try!' And for me, that's one of the best things about the way we [work]," he says.
This commitment to maintaining jewelry traditions also plays a key part in Anthony Lent's bid for sustainability. While it's checking all the boxes it can in terms of limiting its environmental impact (waste metal from the workshop is carefully collected and repurposed, antique diamonds are favored over new and only recycled gold is used) protecting the heritage and craft of fine jewelry making, and maintaining a family-led business ensure that artisan crafts remain in the jewelry industry for years to come, rather than being fully replaced by digital technologies.
The Anthony Lent jewelry-making process is also inherently sustainable in itself. While many popular fine jewelry brands have designers in one location and produce and distribute collections overseas, with little to no involvement beyond submitting a final sketch, the majority of Anthony Lent pieces are still made start to finish in Tony's backyard studio, guaranteeing both transparency and integrity, as well as a significantly reduced carbon footprint per piece.
And refreshingly, this isn't something that's about to change. No matter how big the brand grows, it appears this small-scale, family-led approach is here to stay – and not just because Tony is reluctant to let the idea of a 'brand' take over. His sons are also tapped into the importance of family involvement – in fact, the characters seen in Tony's work seem to be as much a part of the family as they are: "This has been around my entire life. I'm 42 this year, and my father is still [making images] that I remember from my childhood," Max concludes.
Anthony Lent jewelry is available online at anthonylent.com instore at Bergdorf Goodman, Sotheby's and The Metropolitan Museum of Art.