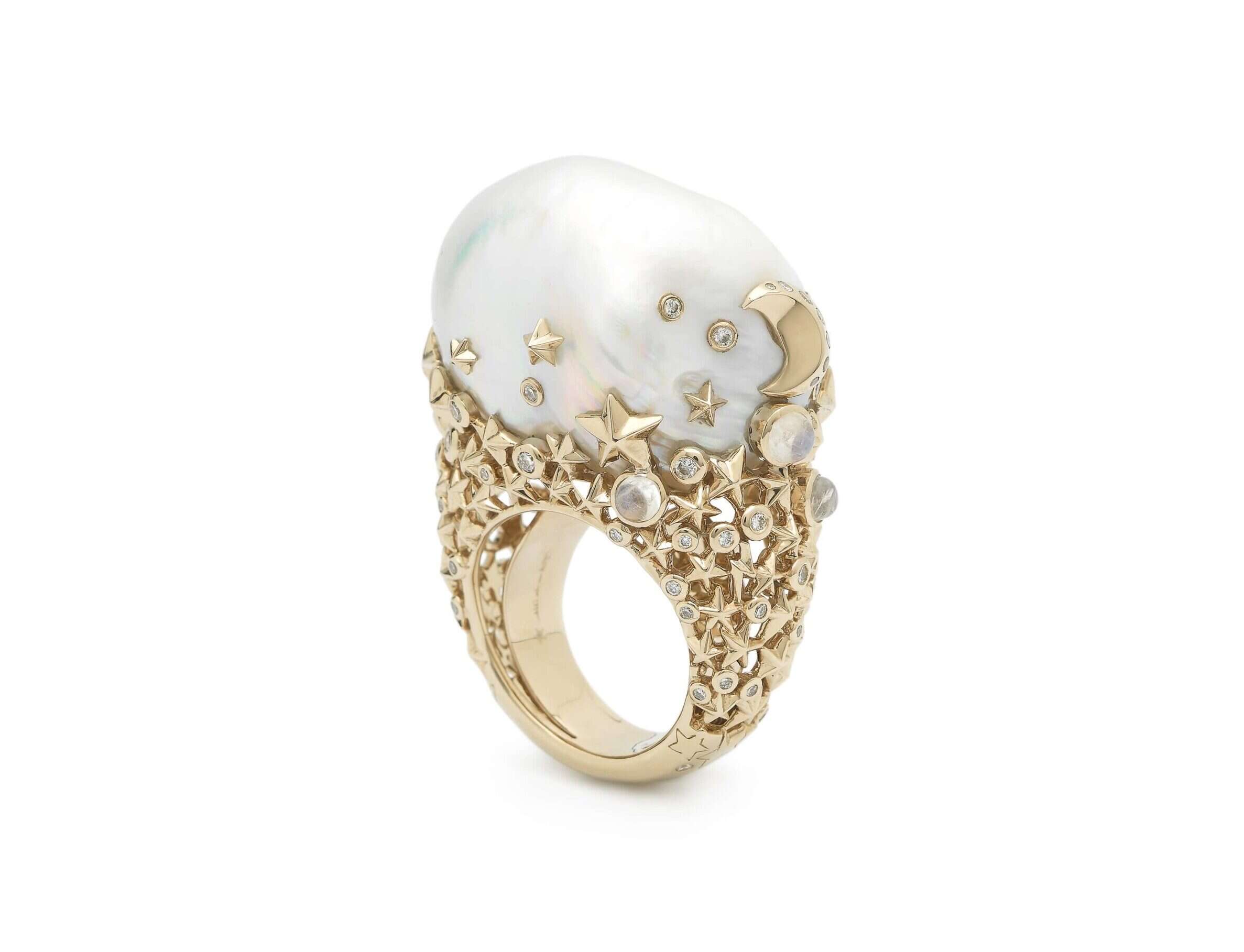 Traditional associations make pearls ripe for reinventing, and these designers are certainly stepping up to the challenge. There's so much more to pearl jewelry than the quintessential orbs in preppy studs or clutchable pearl necklaces.
Pearls can be easily manipulated into modern silhouettes, layered in a chandelier-esque fashion, or interlaced in a sculptural gold setting to let the larger natural pearls stand solo. Gone are the days of Jackie O-style precious pearls, reserved only for Sunday best.
A host of jewelry designers, both old and new (and many of them women), have been busy reimagining the way we see calcium carbonate in minute crystalline form, shaking off the humble pearl's staid reputation, often with contemporary and eye-catching results.
The nature of spontaneously grown wild baroque pearls means their shapes can take on an individuality often exploited by modern designers to create imperfect, playful pearl jewelry that captures the irreverent mood of a post-pandemic world.
[See also: Colorful Cocktail Rings That Can Jazz up Any Outfit]
Marei New York
18k yellow gold, black onyx and pearl ring, $6,000, mareinewyork.com
Missoma X Harris Reed
14k recycled yellow gold, pearl, 1.012 carats white diamond and 1 carats black diamond earrings, $8,396, missoma.com
Sean Gilson for Assael
18k yellow gold, South Sea and Akoya cultured pearls ring, $15,500, Saks Fifth Avenue in New York, +1 212 753 4000, saksfifthavenue.com
Mikimoto
18k yellow gold and 6.2mm Akoya cultured pearl earrings, $3,700, mikimotoamerica.com
Misahara
8mm/6mm freshwater pearls, .15 carats tsavorites, sapphires and diamonds set in 18k rose gold necklace/headpiece, $4,800, misahara.com
Bibi Van Der Velden
18k yellow gold, 0.0676 carats white diamond, 0.87 carats moonstone and baroque pearl ring, $19,148, bibivandervelden.com
[See also: Oscar Massin Jewelry Revived with Sustainability Focus]