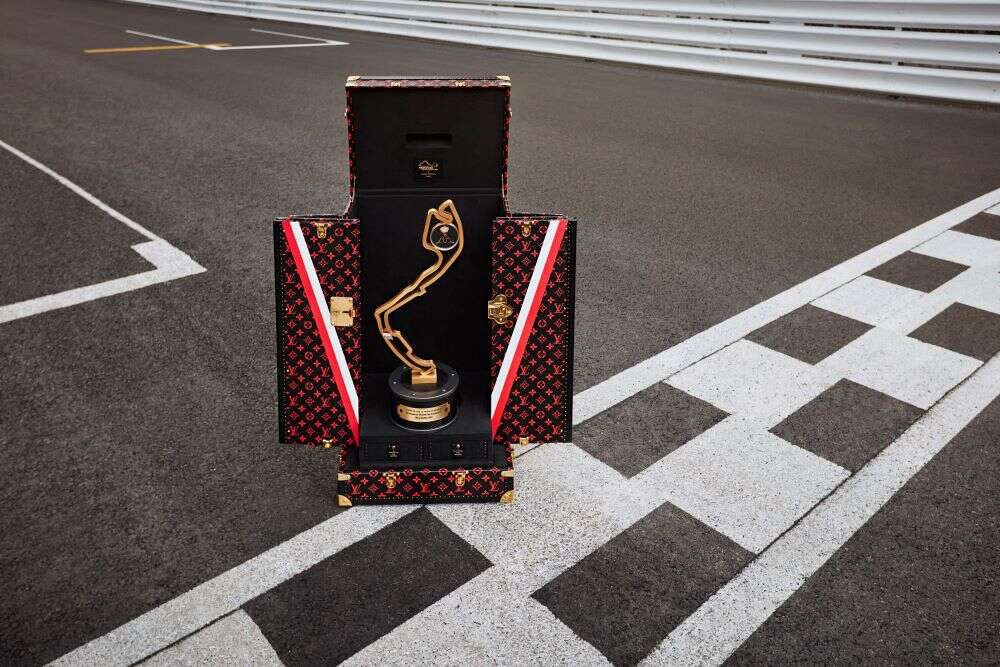 A Formula 1 winner can't just carry one of the sport's most coveted trophies in any old case. And as the Monaco Grand Prix makes its return later this month after a year-long Covid-enforced break, Automobile Club de Monaco and Louis Vuitton have announced a multi-year partnership which will see the French fashion house become the official trophy travel case provider for one of Formula 1's most revered events. 
The tailormade Louis Vuitton Monaco Grand Prix case, hand-crafted in the house's historic Asnières workshop on the outskirts of Paris, has been designed in the colors of the principality. Inspired by the heritage of the event, the case features Louis Vuitton's iconic Monogram canvas in red, while the red lines representing 'v' for 'victory' are edged with a white stripe, evocative of the route along the famous 19-turn Monte Carlo track. 
Perfectly encasing the sleek Monaco Grand Prix trophy which depicts every angle of the famous 3.337 km (2.074 mile) track, the one-of-a-kind trunk will make its debut at the Monaco Grand Prix on May 23, where it will be presented, alongside the prestigious trophy, to this year's winner. 
[See also: Making a Splash: Louis Vuitton's New Tambour Street Diver Watch]
Commenting on the new partnership, Louis Vuitton's chairman and CEO Michael Burke said: "Fangio, Hill, Moss, Stewart, Senna, Prost, Schumacher or more recently Alonso, Vettel, Rosberg, Ricciardo or Hamilton, the Monaco Grand Prix has celebrated the greatest champions. At almost 300 km/h (186 mph) between the rails, it's the Formula 1 Grand Prix that all drivers aspire to win one day. Today, we are proud to be associated with the championship and together start writing a piece of history."
This is not the French fashion house's first foray in trophy trunk collaborations, with partnerships already spanning basketball, rugby, sailing and tennis; it is however the first time pairing for Louis Vuitton and the world of Formula 1. Michel Boeri, President of Automobile Club de Monaco said: "Apart from being a major partnership with the famous brand of the LVMH Group, we are delighted that the trophy awarding the winner of the Formula 1 Grand Prix de Monaco can now safely travel in 'first class.'
"Louis Vuitton and Automobile Club de Monaco are at once forerunners and project supervisors in their respective fields of expertise. Louis Vuitton is associated with the most coveted trophies in the World. And this emblematic partnership allows the Formula 1 Grand Prix de Monaco™ Cup to benefit from this heritage bringing unprecedented elegance into the world of Mechanical Sports."
[See also: Speaking Clearly: Mercedes-Maybach S580 4Matic]