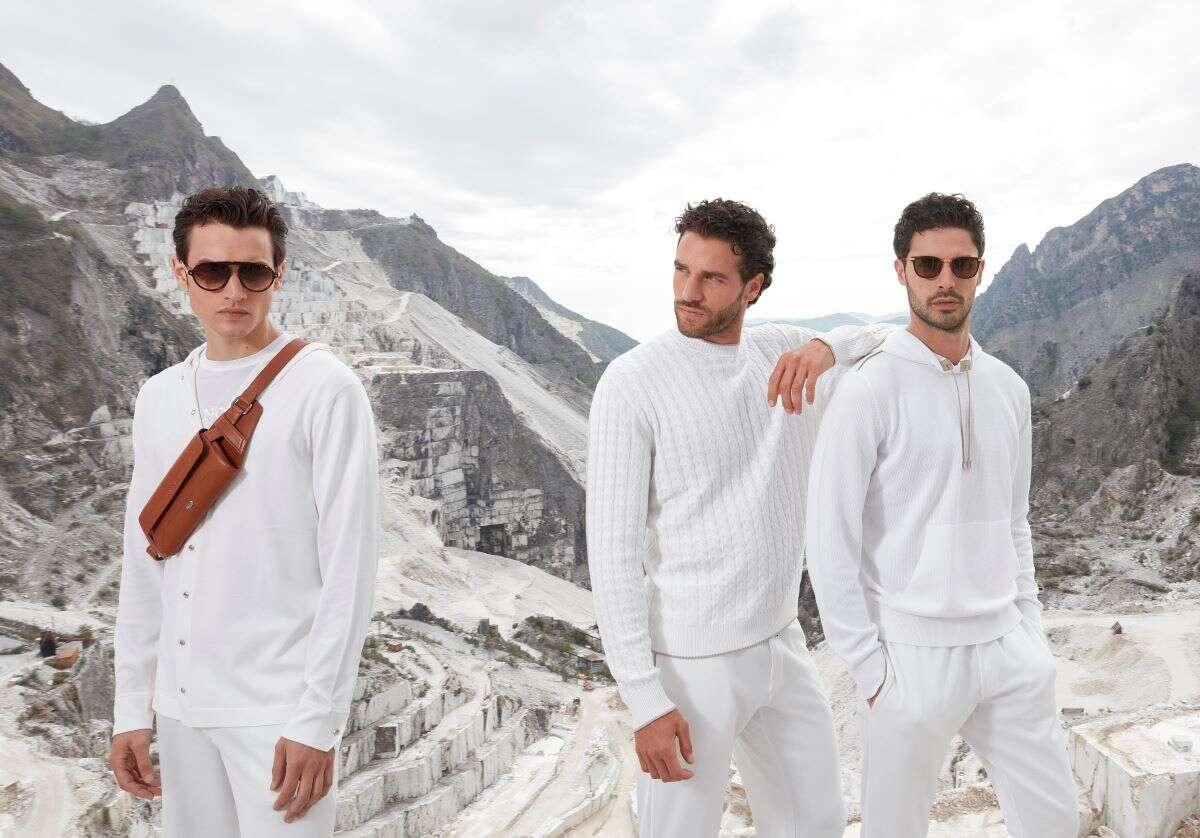 Built into the fabric of ancient Rome and fine enough of a material for Michaelangelo to craft his masterpiece David, Carrera marble has been inspiring Italy's greatest emperors, artists, architects for millennia. And it is this precious natural stone that has inspired the new Spring/Summer 2022 collection from luxury Italian menswear house, Stefano Ricci. 
Shot amidst the imposing backdrop of Carrera's quarries as well as the marble-adorned corridors of the Accademia di Belle Arti di Carrara (the Academy of Fine Arts located in the Tuscan town), the collection is a special one for the Florentine brand. Discussing the inspiration behind its creation, CEO of Stefano Ricci, Niccolò Ricci says: "The world has changed. In the months marked by the pandemic, we all had to reflect upon ourselves. We started from the awareness of how much our country is loved in the world for its excellence. And a message of the Italian spirit could not overlook a tribute to the genius of Michelangelo and his marble creations"
The hues of this fabled stone run throughout the collection: vital white, as well as sand, milk, hemp, caramel and graphite with touches of boldness in black, indigo, and carmine for uplifted elegance. 
The Stefano Ricci Spring/Summer 2022 silhouette is relaxed yet unmistakably sophisticated. Refined details and volumes create a lightness, versatile enough to carry you from day to evening. The shoulders of the jackets, spun in cotton and silk blends, are soft, and the proportions lengthened for a signature elegance. Some are un-lined, alluding to the promises of summer sun, while others feature masterfully worked silk linings displaying the entwined SR logo. As to be expected, the tailoring — all expertly executed by Italian artisans at Stefano Ricci's Fiesole workshop — is exquisite. 
[See also: Stefano Ricci Reveals Debut Octagon Watch Collection]
The cotton and linen blend shirts are light and airy, perfectly teamed with jeans made from Japanese-sourced soft fabric. For a more relaxed look, the silk and cotton blend jersey jogging suits add a laid-back sophistication to the collection and signify the Italian design house's willingness to acknowledge the pandemic-led shift amongst its customers to a more free and easy look out of the office. 
Stefano Ricci's signature knitwear is unrivaled in its refinement and haute couture artisanry and the Spring/Summer 2022 collection offers some fine examples. These fit snugly under the stand-out calfskin leather jacket. 
Discussing the thought process behind the new collection,  Filippo Ricci, creative director at the Italian fashion house says: "It is an ideal journey that leads us to the roots of masterpieces. We imagined the SR man in a path of exploration, beginning from the material that gives shape to dreams with his research guiding his choices and his study preparing him for life. The soul of the work is revealed, made of forms and emotions, of manual work in the quarries, of marble and artist workshops". 
[See also: Inside Stefano Ricci's Amazing Antique Silk Factory]