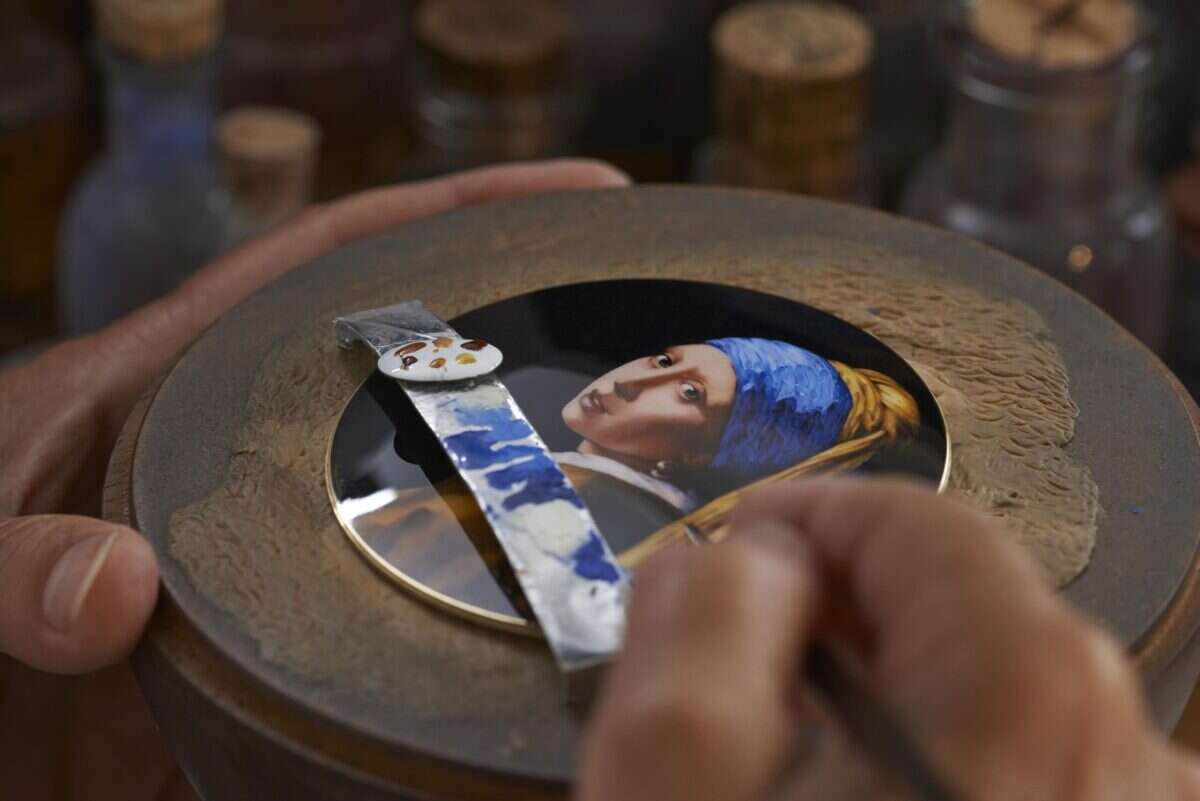 In 2013, a passionate watch lover was seeking a single-piece edition to add to their collection, and so approached Vacheron Constantin with an idea. The project, which has been eight years in the making, is the result of spectacular craftsmanship and a tribute to 18th-century Haute Horlogerie.
The timepiece, Les Cabinotiers Westminster Sonnerie – Tribute to Johannes Vermeer, is a pocket watch that showcases the all-encompassing skills of Vacheron Constantin — skills that have been honed over 266 years. Les Cabinotiers is a department in its own right within the Manufacture Vacheron Constantin. Its objective? To create exceptional single-piece editions, following in the footsteps of the Geneva master watchmakers known as cabinotiers during the Age of Enlightenment.
The pocket watch is equipped with a new in-house movement, Calibre 3761, which was specially developed by the team of watchmakers responsible for the Reference 57260 watch. The 806-part manual winding caliber with tourbillon regulator features Grande and Petite Sonnerie Westminster chime mechanisms coupled with a minute repeater.
[See also: Iconic Men's Watches of the 21st Century]
The officer-type caseback cover features a miniature enamel painting, a reproduction of Girl with a Pearl Earring. The famous oil painting, by Dutch Golden Age painter Johannes Vermeer, dates back to 1665. Reproducing such a well-known piece of art by a great master is no easy feat, especially considering the pocket watch's 'canvas' is just 98mm in diameter. Craftsmen adopted the 'Geneva enamels' techniques (a practice that dates back to the 16th century), where painted enamel is covered with a flux known as the Fondant de Geneve.
A final transparent and colorless protective coating is added to the layers of vitrified enamel, giving depth and brilliance to the artist's work. This skill greatly benefitted timepieces of the period, which were often worn down by repeated friction as pocket watches. Only a few rare master enamellers still use these techniques. In this case, enamel expert Anita Porchet meticulously re-created the painting.
[See also: How the FP Journe Astronomic Souveraine is Made]
A single layer of enamel on the girl's blue turban required at least two weeks of work, usually under a binocular microscope, and research and development for the painting took two years. The color palette is similarly painstaking — a composition of seven shades was used to create black, as well as 20 firings in the kiln to stabilize the colors.
After colors are stabilized by firings in the kiln, there is no chance for a touch-up. The case sides feature hand-engraved friezes of acanthus leaves and tulips. The bow shows two roaring lion heads, carved from a block of gold.
[See also: Alexander Schmiedt on Turning Challenge into Opportunity]
This article appears in the 29 Nov 2021 issue of the New Statesman, Winter 2021/22