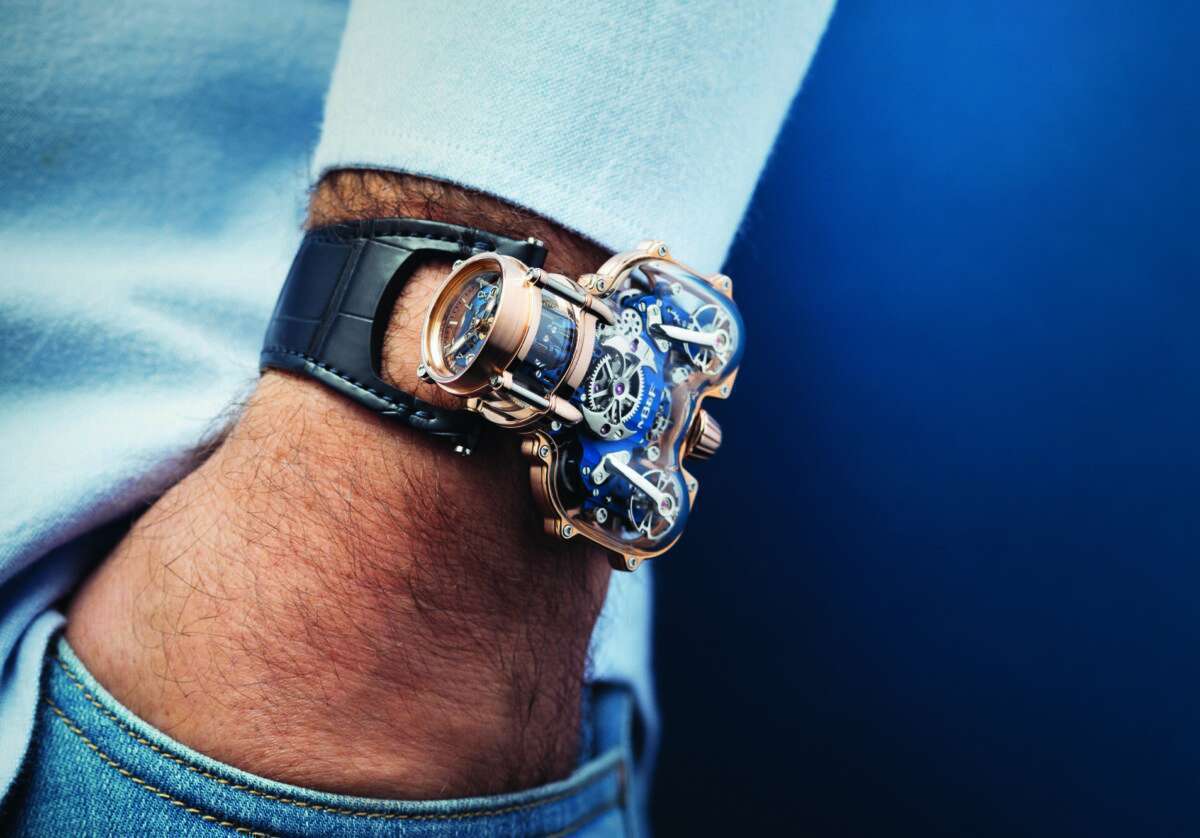 At the dawn of the new millennium, watch brands were already embracing ideas on how to transform the world of wristwatches for the savvy and discerning customers of today. Unlike other luxury businesses that can turn out new luxury products in a short time, it takes years to go from an idea to a design, and then have the mechanics in place to finally produce an iconic men's watch.
Depending on the complexity of the timepiece, the process from concept to fruition can range from three to six years. That is why the executives, as well as the watchmakers and the research and development teams, are always thinking ahead. They regularly seek out new materials, new partnerships and visionary concepts so that they are in tune with the times when the new watches finally make their debuts.
This, as well as the ever-evolving manufacturing and nanotechnology processes, keeps brands constantly on their proverbial toes. During the first two decades of the 21st century, we witnessed groundbreaking materials emerging in men's watches, along with trailblazing concepts and iconic designs.
[See also: The Best New Pilot Watches for 2022]
Rise of the independents
Easily one of the most important trends witnessed as the new millennium began was the rise and proliferation of independent watchmaking brands. During the latter years of the 20th century, while the big conglomerate groups were busy snapping up large and significant brands, new small brands were opening their doors, going virtually unnoticed at first.
Urwerk founded its brand in 1997, followed by Richard Mille and F.P. Journe in 1999. A host of other independents came to life in the early 2000s, including Greubel Forsey, MB&F and others. These small brands are all about thinking outside the box. While many focus on keeping traditional, classical watchmaking at the forefront, others combine that passion with a desire to create something that has never been made before.
Of course, the fact that there were new manufacturing processes at their fingertips that weren't available years earlier came into play. Additionally, these micro brands were unencumbered by the bureaucratic red tape that often plagues large-group brands. This freedom enabled the independents to make radically different watches — spurring the second big trend of the 2000s: three-dimensional timekeeping.
MB&F
The MB&F Horological Machine No. 9 (HM9) Sapphire Vision watch (pictured above) takes three-dimensional to new levels. The sapphire case enables viewing of the colorful, complex movement with two balances and hour and minute indications shown at the front of the cylindrical tube.
$440,000, mbandf.com
Urwerk
Urwerk UR-100V T-Rex watch recalls the extinct dinosaurs of eons ago. The solid bronze case is treated to create the carved scales that look like skin. The distinctive patterns and colors are unique to each watch thanks to the multi-processes involved in its making. Just 22 pieces will be made.
$57,000, urwerk.com
Richard Mille
This RM 65-01 Automatic Split-Seconds Chronograph was five years in the making and is the brand's most complicated chronograph. It is crafted in Carbon TPT® that is shock resistant and almost indestructible, thanks to the 600 layers of parallel filaments from separated carbon threads.
$310,000, richardmille.com
Space-age design
Breaking down the lines of constraint, the independents began breathing new, creative life into watches. Suddenly three-dimensional, space-age looking timepieces were making their way to wrists around the world — and stealing the limelight. Among the brands that sparked this new millennium rage and have kept it going: Urwerk and MB&F in particular. Unable to find what they liked on the watch market, these creative brands turned to their imagination to develop unique and daring timepieces. They regularly unveil unconventional sculptures that seem to come out of a time warp. Many of these trailblazing watches boast multiple patents and inaugural achievements in their mechanics.
As the independent brands were making such revolutionary statements and capturing the attention of watch collectors globally, some of the larger brands, like Hublot, Jacob & Co., Girard-Perregaux and even Jaeger-LeCoultre, jumped on the three-dimensional horological bandwagon, unveiling powerful architectural timepieces.
In order to achieve their futuristic looks, many had to turn to nanotechnology for shaped movements and to special manufacturing processes for the curved and domed sapphire crystals that protect the movements inside. Many also turned to unconventional materials not typically found in the watch world. Richard Mille, for instance, works with high-tech North Thin Ply Technology (NTPT™) thanks to collaboration, and Hublot has its own research and development facility where it creates materials such as Magic Gold, colored ceramics and sapphire crystals in-house. Similarly, brands like IWC, Panerai and Omega are creating their own gold alloys that boast unique colors and are more scratch resistant.
Hublot
This Hublot Big Bang MP-11 Blue Sapphire watch features a case made entirely in-house in the brand's research and development laboratory. The high-tech movement, also made in-house, allows for 14 days of power reserve.
$132,000, hublot.com
Race for complications
Don't be fooled by all of the high-tech and high-mech going on in the new millennium. Traditional watchmaking has also been a guiding principle. Easily one of the most superb new complicated watches that just made its debut in April 2021 is from Jaeger-LeCoultre — the brand that has brought us a host of Gyrotourbillon watches over the past few years. The new Reverso Hybris Mechanica Quadriptyque houses the Caliber 185 movement — the result of six years of development — and has three patents on it. The watch is the world's first wristwatch with four functioning display faces thanks to the iconic swivel case and holder. With its 11 complications and some new astronomical displays, the $1.35m watch has captivated watch lovers.
Another brand that regularly excels in technical prowess is Vacheron Constantin, which has unveiled multiple original high complications in the past decade, including the most complicated pocket watch in the world, Ref 57260 with 57 complications — and the firm's most complicated wristwatch with more than 1,000 parts. Similarly, Patek Philippe, which has always been neck and neck with Vacheron Constantin when it comes to developing the most complicated watches ever, has unveiled several important new watches in the past 20 years, including the Grandmaster Chime in 2014, a reversible watch with six patented innovations and 20 complications.
Jaeger-LeCoultre
Jaeger-LeCoultre Reverso Hybris Mechanica Caliber 185 Quadriptyque is the world's first watch with four faces. It boasts 11 complications including minute repeater, perpetual calendar and complex celestial indications.
$1.35m, jaeger-lecoultre.com
Greubel Forsey
This Greubel Forsey GMT Quadruple Tourbillon watch is crafted in titanium and houses a hand-wound movement with three patents. The incredibly complicated new watch is being made in a limited edition of just 11 pieces.
$760,000, greubelforsey.com
Patek Philippe
The Patek Philippe Ref. 6301P Grande and Petite Sonnerie and Minute Repeater, with small jumping seconds complication in platinum, is the first chiming watch by the brand that has the gongs on the front of the watch.
Price on request, patek.com
Vacheron Constantin
The Vacheron Constantin Traditionnelle Split-Seconds Chronograph is extremely advanced and one of the most complicated calibers to build; it is being offered in a 15-piece limited edition in platinum.
$287,000, vacheron-constantin.com
Eye on the future
As we look ahead to the next decade, we see that brands are already sowing the seeds of long-term commitments to ethical sourcing, sustainability and innovative partnerships to conserve Earth's resources. While we have witnessed a great deal of growth over the past 20 years in watchmaking, the future lies in the ability of brands to demonstrate their awareness of the planet's resources and to make efforts toward conservation and sustainability.
Today's customers care about these factors when considering what to buy. They also have concerns about ethical sourcing of products and materials, and watch brands need to continually address this issue. Thankfully, many brands have taken considerable steps in the right direction, from working to become carbon free and environmentally sustainable in workshops, to getting involved in supporting charitable endeavors that ethically and consciously preserve the planet.
Sustainability and recycling
We are witnessing another revolution in watchmaking materials as brands seek ways to utilize recycled and recyclable products in their watches. Many watch pundits argue that a mechanical watch is sustainable by the very nature of the fact that it can virtually work forever with the proper care. However, true conservationists want more than that convenient explanation. Panerai may have the answer.
The brand has worked tirelessly with a host of different companies and suppliers to unveil its 99% recycled and upcycled watch. Unveiled during the digital Watches & Wonders Geneva show in April, the Panerai Lab-Id is the world's first watch to be made almost entirely of sustainable materials. We are not just talking about the strap here — the strap, the case, the movement and even the Super-LumiNova treatment on the dial. Additionally, in an effort to be totally transparent and to lead the way for other watch brands to make similar sustainable efforts, Panerai has released the names of all of its partner companies. The monumental Panerai collaboration was years in the making, and not every brand can afford such a sweeping change. However, those that can are making their own commitments to sustainability.
Ulysse Nardin partnered with a couple of companies to create its unique Diver Net watch. Late in 2020, the brand first released the R-Strap, made of recycled fishing nets. It followed that with the Diver Net concept watch that uses recycled fishing nets in the bezel, and a more environmentally friendly ceramic glass instead of a sapphire crystal.
Swiss brand IWC recently unveiled its first paper- and plant-based watch strap called TimberTex — that's right, a luxury brand with a strap made from paper and plant cellulose. The straps are responsibly sourced and eco-friendly, as they are composed of 80% natural plant fibers from Forest Stewardship Council-certified trees. They're made in Italy using papermaking techniques, are padded with microfiber and are colored using plant-based dye. They look like luxurious leather straps. Other brands have also been working with recycled PET bottles to create straps, and others are producing high-quality vegan straps.
Panerai
Panerai e-Lab 1 is the world's first 98% recycled watch with recycled movement, recycled case, Super-LumiNova hands and even a recycled PET strap. It is the result of years of collaboration with 10 suppliers, and the first versions are expected to be out in early 2022.
Price on request, panerai.com
IWC
IWC releases an eco-friendly watch strap made of paper and plant-based substances and colored with plant-based dyes. The material's irregular graining imprint makes each TimberTex strap unique. TimberTex strap ($155) on the IWC Portugieser Automatic 40mm watch.
$7,250, iwc.com
Protecting the environment
There are many ways to protect the environment; one of them is reworking the watch manufactures to make them more carbon free. IWC was one of the first brands to offer incentives to employees for doing small things, like taking work-provided transport instead of driving. The manufacturer, along with others like Panerai and German-based brand A. Lange & Söhne, has made other important strides. They have rain catcher rooftops and recycle the clean water. A. Lange & Söhne also spent great sums of money while building its workshops to create a top-notch geothermal heating and cooling system.
Even more affordable brands like the Mondaine Group (Mondaine, Luminox, etc.) have announced a 100% carbon free environment. Protecting the oceans and the forests is a great impetus for brands to get involved in charitable causes. Rolex has a large presence through its Perpetual Planet initiative and is highly involved in ocean exploration, as well as other types of research for sustainability and preservation. Audemars Piguet has its own foundation and works with 10 sites around the world to preserve forests. Blancpain has its own Ocean Commitment organization to raise awareness of and protect sea life, and Breitling works with Ocean Conservancy to help clean beaches and coasts around the world.
Breitling
Breitling has been working on its Econyl NATO strap made from recycled fishing nets for some of its watches. Additionally, the brand and its Surfer Squad helped to clean up beaches in Bali while working with Ocean Conservancy. This Superocean Heritage Chronograph 44 Ocean Conservancy Limited Edition watch honors the cause.
$6,250, breitling.com
Blancpain
Blancpain is a huge supporter of protecting our oceans and works with Laurent Ballesta on a host of missions. Most recently, they have embarked on a mission to study the impact that the lack of human activities in the oceans due to Covid-19 may have on the water and the sea life. Blancpain also creates an Ocean Commitment watch to draw awareness to the cause.
Rolex
2016 Rolex Award winner Sonam Wangchuk is helping Himalayan farmers overcome water shortages by tapping meltwaters to build artificial glaciers.
Ethical sourcing
Ever since the book Blood Diamond came out in 2002 (and the subsequent movie in 2006), raising awareness of conflict diamonds, the idea of ethically sourced diamonds has been paramount to consumers and brands. Most of the top watch brands turn to diamonds that are certified by the Kimberley Process, which works to eradicate conflict diamonds. Some have also gone above and beyond subscribing to the Kimberley Process and are working toward ethically sourcing other materials as well.
Chopard has been a leader in the use of ethically sourced gold and was one of the first to support the Fairmined gold project that certifies gold from responsible artisanal mining organizations while ensuring environmental and social protection. Chopard is the first brand to announce that all its gold watches and jewelry will be made from ethically sourced gold.
Other companies are also putting efforts into tracing materials other than gold and diamonds. Some brands want the materials traced so they can be transparent with customers and also to be accountable to consumers about what is in the materials they use. Hublot, for instance, has concerns about the fact that brass has lead in it, and is making efforts to figure out a new lead-free brass material. With the strong focus on sustainability and on exploration into new materials, the next decade or two of watchmaking is sure to be yet another pioneering era.
Chopard
A leader in ethical and Fairmined gold practices, Chopard has pledged that, moving forward, all of its watches will be made from ethically sourced gold. This brand-new L.U.C Quattro Spirit 25 is a prime example. The watch, which features the brand's first jumping hour complication with in-house-made movement, is crafted of ethical 18-karat rose gold. Just 100 pieces will be made.
$44,700, chopard.com
[See also: The Elite Traveler Top Watches in the World]