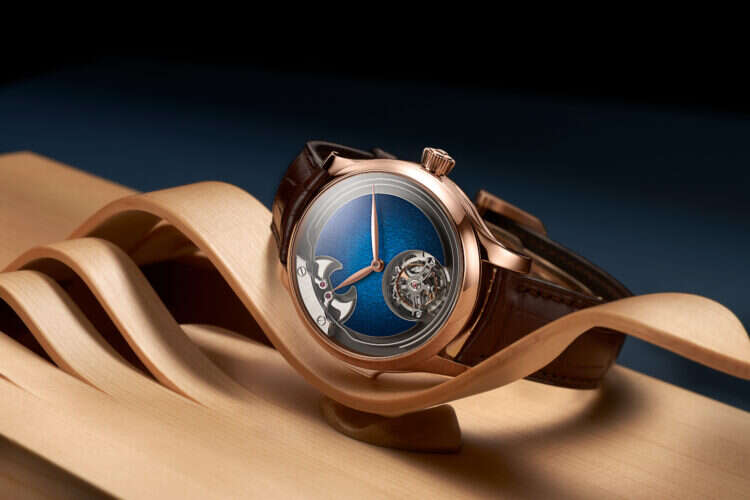 Since its founding in 1828 by Heinrich Moser, the eponymous watch brand has become an unshakeable pillar within the world of luxury watches, a reputation only verified for the 21st century with the launch of its latest watch, the Endeavour Concept Minute Repeater Tourbillion Aqua Blue.
Available in either a red gold or titanium case, and limited to just 20 pieces of each color, the Endeavour Concept Minute Repeater is the final product of combining the age-old traditions of haute horological watchmaking – in which the minute repeater captivates with sound to convey the passage of time – with a fresh and modern bold aesthetic.
Features include the new HMC 904 flying tourbillon and minute repeater movement, with the complex chime mechanism being newly amplified in the 40mm form factor. This allows for a flawless balance of volume, harmony, and resonance, cultivating in the ultimate optimal sound.
[See also: The Most Innovative Tech of the 21st Century]
Naturally, creating both clear and harmonious sounds within such a small space takes the work of painstakingly brilliant craftsmen. The case middle, therefore, has been widened to the maximum to accommodate such movement, while granting enough space for a soundbox.
"What seems at first sight to be magic," the H. Moser & Cie press office commented, "is actually mechanical ingenuity at its finest."
Also included is the spectacular one-minute flying tourbillon at six o'clock. Visible through the skeletonized bridge, it floats above the strikingly aqua blue "Grand Feu" enamel dial, the ultimate showcase of painstaking hand-placement of different pigment shades, resulting in a visually stunning ombre effect.
What's more, the Endeavour Concept Minute Repeater sees the hammers and gongs, traditionally placed on the movement side, moved to the dial side for a final result of pure harmonious wonder.
With both the red gold and titanium editions retailing for $365,000, H. Moser & Cie are once again reminding watch enthusiasts that they are the premier standard for the luxury watch industry. Even the colors of the cases are the result of a formidable depth of consideration; the warm red gold tone was selected to play with the vibrancy of the aqua blue face, and the titanium is for those who might prefer a more understated aesthetic.
"The finish is remarkable," H. Moser & Cie concluded. "Resolutely contemporary, with a particularly striking texture and an intense hue, christened Aqua Blue, that the Schaffhausen-based manufacture lets speak for itself, with no logo or indices."