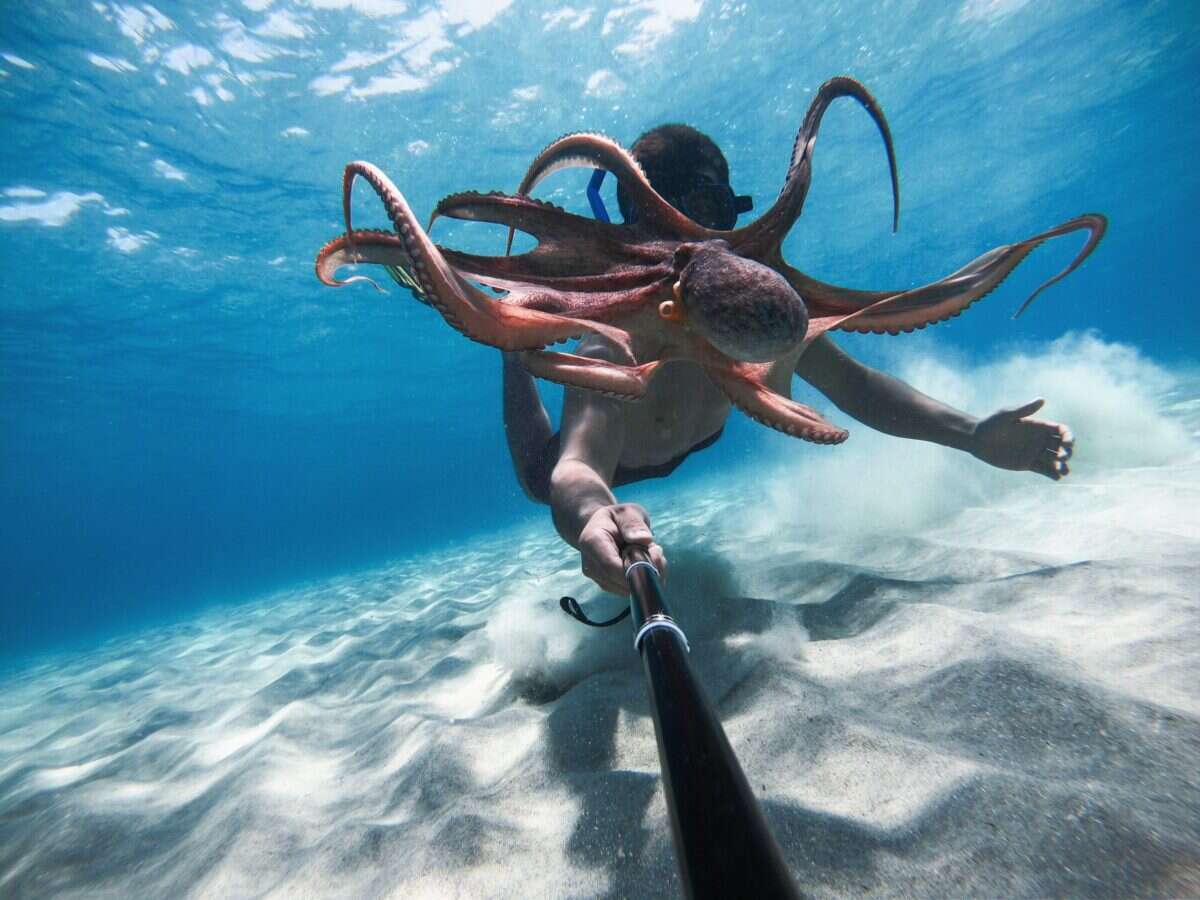 The way that luxury tech has advanced in the last 20 years is quite astounding. We now carry around a phone, camera, calculator (and so on and so on…) in our pockets at all times and can speak to anyone on Earth at the click of a button — things that would have seemed impossible two decades ago.
We are more connected than ever; and even more so in the last year, many of us have relied on various technologies and gadgets to help us through the pandemic and the tough times that came with it. From home gym equipment to a clever wine fridge, we take a look at tech-savvy products from the companies who have pioneered in the last 20 years and who, through their advances, made our lives that much easier.
[See also: Technology Gift Guide]
GoPro
Maybe the most fun tech item to come out (especially for skiers, surfers, mountain climbers, et al), GoPro was founded in 2002 and is synonymous with adventure. Known for creating hard-wearing, versatile action cameras, the company released its first model in 2004 and has since evolved with various iterations, the latest of which is the GoPro Hero9. The waterproof camera has a front-facing LCD display (the only model that allows you to see what you're recording from the front), a larger rear touch screen, 5k ultra HD video (even when you're zooming in), 20MP photo quality and 1080p live streaming.
As both the camera and the company were born from a love of the great outdoors, supporting causes that are involved in the natural world are part of the company's fiber. GoPro for a Cause was launched in 2015 and shines a spotlight on a number of nonprofit organizations,withGoPromatching donations (to a specified level). Many a GoPro video or picture has gone viral (and the company runs competitions to give budding photographers/videographers a chance to win various prizes and to gain exposure for their work), so highlighting important causes carries much weight.
One partnership, Skate Like A Girl, addresses the lack of diversity in the world of skateboarding and encourages inclusivity through a number of programs: after-school enrichment programs, free summer clinics for kids and the Youth Employment Skateboarding (YES) teen volunteer program.
LG
LG first started in 1958 (as GoldStar) and has been a pioneer in the latest and most innovative gadgets: It launched the world's first 4K OLED TV in 2014 and, while it might not be as much of a force as some of its competitors, it's a loyally trusted brand. The company's philosophy is all about how technology can enhance quality of life and, while that's certainly true of its many, many different products, one of our favorites is the LG Signature Wine Cellar. Think of it as an extra pair of hands for your next dinner party, as it can hold 65 bottles at once and, thanks to a holographic sensor beneath the door, it can open automatically if you're clutching a few beloved bottles.
It has three different zones that are each chilled to the optimal temperature for red, white or sparkling wines, and is even suitable for maturing wine with a similar environment to a specialist cave. When not in use, the door can blend into your background; with two gentle taps it illuminates to show you what bottles are inside without having to open the door and potentially disrupt the temperature inside. There's also a nifty chilled draw that can rise up amongst the ice cubes; a perfect place to keep canapes chilled and ready for dishing out to your guests.
[See also: LG Launches World's First Rollable TV]
Samsung
Needing little introduction, this tech powerhouse conglomerate sells the most TVs in the world (it held approximately 18% of worldwide shipments in 2019, a whole 5% in front of its closest competitor) and has been in the number one spot for the past 14 years. To put this into context, it sells around 157 million televisions a year worldwide.
Unveiled at CES 2021 (the first virtual version of the event), the new 110-inch MicroLED TV (as featured in our Billionaire Gift Guide) collected the Best of Innovation award at the show. It has a whopping 24 million individually controlled LEDs and a powerful MicroLed processor, resulting in unmatched image quality. It also has an ambient mode featuring landscapes by artist Refik Anadol, the screen can blend into the background whether the display is on or off. The model also has the latest in AI technology with features such as sign language zoom and caption moving, creating a more inclusive experience for those with hearing or vision impairments.
The TV was unveiled with a number of other products, all fitting into the brand's theme of creating a 'Better Normal for All.' Samsung is aiming to decrease its overall carbon footprint across TV manufacturing, packaging design and product power efficiency: From 2021 onwards, Samsung TVs will come with a first-of-its-kind solar-powered remote control that can be recharged by indoor and outdoor light, or by USB. This will help prevent waste from an estimated 99 million AA batteries over seven years.
[See also: This Smart Wardrobe Dry Cleans Your Clothes On-demand]
Leica
The beloved camera of choice for the movers and shakers, professionals and amateurs alike, Leica's iconic, timeless design has captured hearts — and exceptional photographs, of course. Some of the most famous photographs have been taken on a Leica: The sailor kissing a woman in Times Square as people fill the streets with joy at the end of WWII; Muhammed Ali's fist fast approaching the lens; and the hugely replicated image of Che Guevara, Guerrillero Heroico. Truly standing the test of time, the company has been operating for 107 years.
Leica cameras are not mass-produced (a number of models are limited edition) and some elements are assembled by hand. High-quality materials are used and, along with decades of expertise, the resulting products are incredibly durable even under extreme conditions. Simply put, the products are built to last — and last they do.
The 'M' series is the most popular (the aforementioned Guerrillero Heroico was likely captured on an M model) and was first released in 1954. The latest iteration, the M10-R, has a newly developed 40-megapixel color sensor. It has a base sensitivity of ISO 100 and maximum of ISO 50,000, meaning it can handle pretty much all lighting conditions.
Technogym
You'll see Technogym equipment in any gym worth its salt, whether that's in one of the world's best hotels or on board a sleek yacht. The Italian brand has been going strong (excuse the pun) for 38 years, with good reason — it leads with high-performing, scientifically researched, advanced equipment that not only does the job but looks the part, too.
When Technogym was founded, fitness was seen as somewhat self-indulgent. This idea has changed drastically over the last few decades; many of us now include some form of exercise in our daily lives and understand the myriad benefits. Technogym sees these benefits as not just an individual goal, but a social responsibility—summing it up as 'healthy people, healthy planet.' This social responsibility is ingrained in every Technogym product and, indeed, the company at large: The company headquarters, known as 'Technogym Village,' encompasses a university, science center, factory, garden and restaurant, and has been built with sustainability and environmental friendliness in mind.
Think natural cooling systems and recyclable materials. And, coming full circle, those recycled materials are used in the equipment — up to 95%of the weight of products is composed of recyclables, and the materials contain no toxic components. The latest launch, MyRun, is a treadmill that can connect to your tablet and has a range of on-demand running and walking workouts, trainer-led sessions and virtual training. It is compatible with Zwift, Strava, Garmin and Rouvy, so you can engage in an online race. The MyRun's running surface absorbs impact efficiently, shielding your joints at lower speeds and offering more reactivity during sprints. It can also track your biometric data—heart rate, track cadence and stride length.
Amazon
We know what you might be thinking — Amazon and sustainability are two words that do not normally mix. Jeff Bezos' behemoth company has had its fair share of controversy, and including it in this feature caused much deliberation at the (remote) Elite Traveler office. However, when talking about tech from the past 20 years, it is hard to not mention the giant. And no matter how you feel about the man behind the brand, the company itself has pledged to achieve net zero carbon by 2040 and is aiming for 100% renewable energy by 2025. A Michigan-born start-up, Rivian, is creating custom electric delivery vehicles for Amazon, and it plans to have 100,000 on the road by 2030.
Apple
Another behemoth that has to be included when considering the products that have colored our daily lives over the last 20 years, Apple needs little introduction. Again, the company has been shrouded in controversy (there's a whole Wikipedia page dedicated to various allegations) but there's no denying that the company's innovations have been groundbreaking. You may well be reading this article on your iPhone or MacBook.
The brand also has some ambitious plans. It has a goal to be carbon neutral by 2030, including all products, supply chain, stores and offices. It also partners with Conservation International to protect precious ecosystems and communities. The company's planned $4.7bn 'Green Bond' spend aims to bring clean energy to local communities while reducing carbon emissions. In 2020, it funded 17 Green Bond projects that will avoid an average of 921,000 metric tons of carbon emissions annually (equivalent to removing nearly 200,000 cars from the road). The projects will generate 1.2 gigawatts of renewable energy globally.