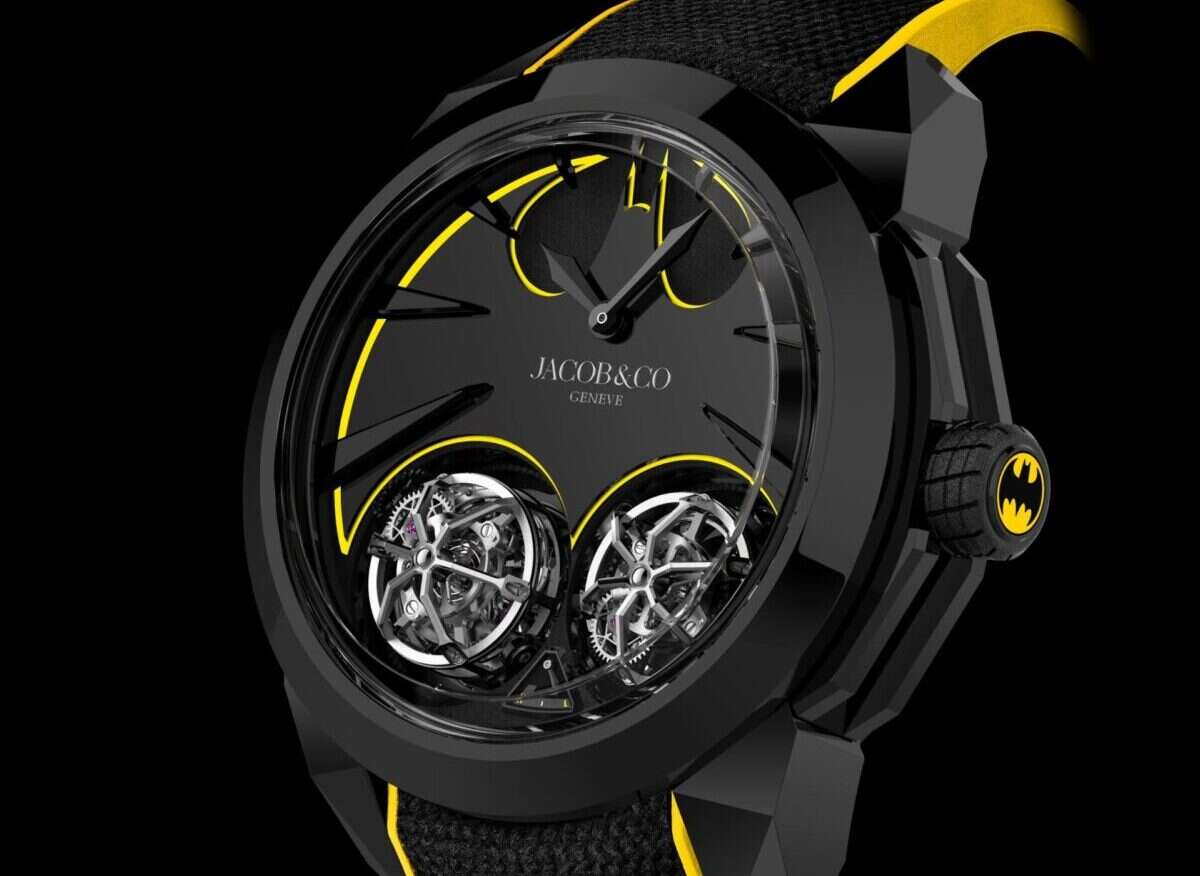 This March, the much-anticipated Batman movie became an instant smash hit, with sales soaring to $134m in its domestic box office debut. Now, fans of the movie can get their hands on a Gotham City watch designed by Jacob & Co.
The luxury watchmaking company partnered with Warner Bros for the project. As you would expect, the Batman-inspired model is seriously exclusive, with just 72 watches in existence. With prices starting at $220,000, the limited-edition timepiece doesn't come cheap. So what can Bat-fans expect?
Of course, no expense has been spared. Jacob & Co. has created two versions of the iconic 45.5mm Gotham City watch to represent the superhero's dual identity. The first 36 timepieces are in black Diamond-like Carbon (DLC) inspired by Batman, while the remaining 36 are in 18-karat rose gold paying tribute to his secret identity, Bruce Wayne.
[See more: Leaders in Luxury: Jacob Arabo of Jacob & Co]
Every last detail is rich with symbolism that ties back to the legendary character and his hometown. Fans will be delighted by the sharp, pointy lugs and indices which resemble the Batsuit costume, the crown which is covered with a rubber band that looks like the Batmobile's tires, and the dial which is cut into a slab of solid polished onyx and shaped like the Bat emblem.
In keeping with traditional branding, bright pops of yellow outline the dial and strap, creating a bold contrast with the pitch-black stone. While the rose gold version features a caseback made from traditional transparent sapphire, the black DLC is laser etched with an intricate signature drawing of the Batman.
The luxury timepiece is fitted with a pair of tourbillons that are shaped like the grapnel launcher Batman uses to climb up the walls and roofs of Gotham City. Made from sandblasted titanium and covered in shiny black and matte gray, the rotating cages allude to the constant switch between darkness and light that is inherent to the Batman/Bruce Wayne character.
Perhaps most impressive is the quality timepiece's highly complex caliber. The tourbillons rotate along three different axes with each axis driving a separate cage. Naturally, they are flying tourbillons – a fitting tribute to the much-loved comic book character.
Both Gotham City timepieces are available to buy from Jacob and Co., priced at $220,000 for the titanium and $240,000 for the rose gold version. 
[See more: Elite Traveler Reveals Top Watches in the World 2021]