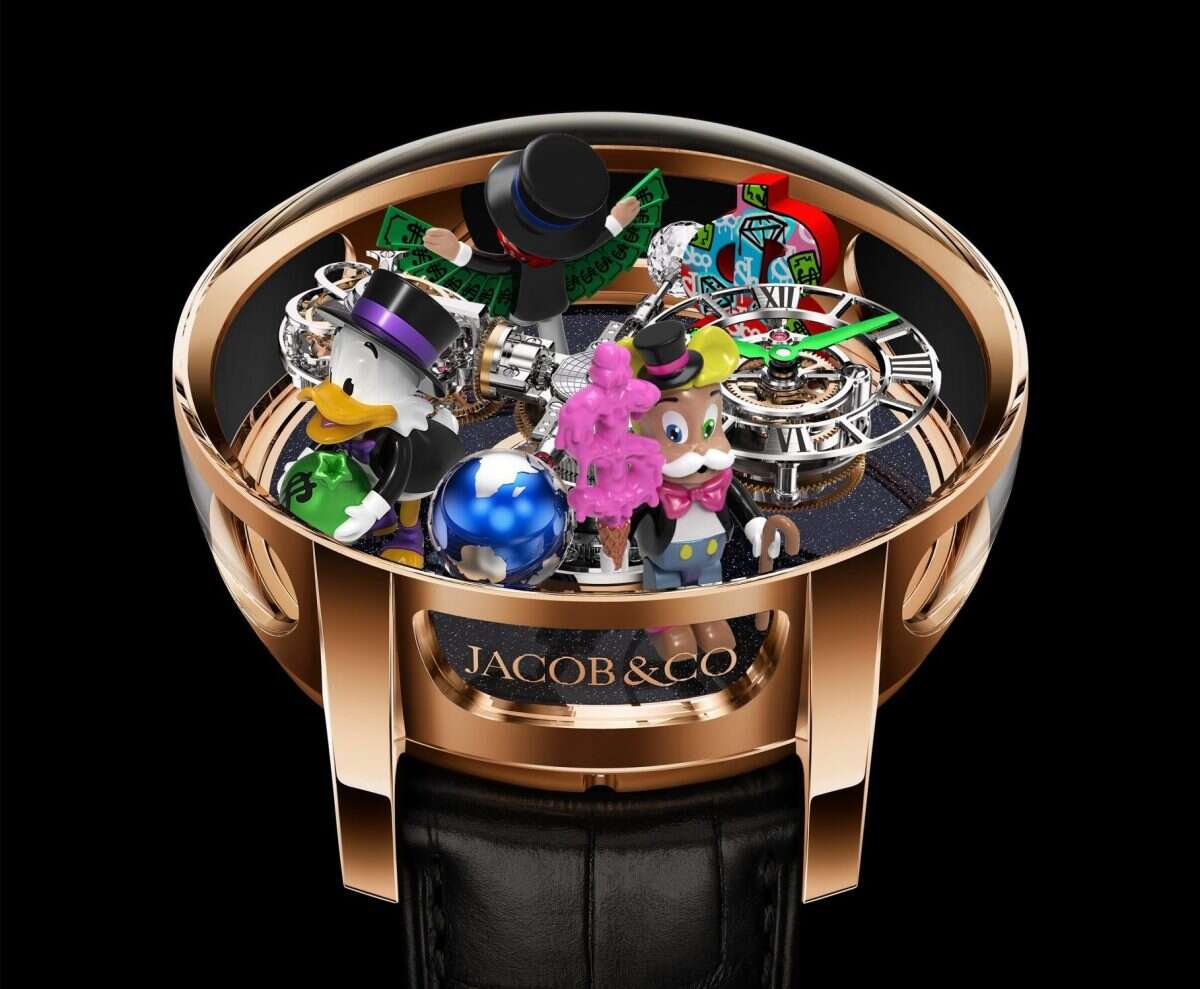 Alec Monopoly, the contemporary graffiti artist, clearly has an affinity for haute horology, as his latest watch creation suggests. Having previously worked with Tag Heuer, Monopoly has stepped up several magnitudes in exclusivity, this time partnering with Jacob & Co to produce a $600,000 watch limited to just nine pieces.
The Jacob & Co Astronomia has seen several collaborations in its lifetime, but none are as colorful or eyecatching as the Astronomia Alec Monopoly. The timepiece contains miniature pop-up characters and images that his followers will instantly recognize.
[See also: Jacob & Co Twin Turbo Furious Bugatti 300+]
Monopoly's own design elements have been incorporated into the design, including bright green hands on the dial and a hot pink dollar-sign ice cream. Jacob & Co have also managed to fit four three-dimensional sculptures within the timepiece including the artist's signature Monopoly Man holding the aforementioned ice cream. He is joined by an interpretation of Scrooge McDuck and another top-hatted man holding out "Money Wings". The fourth and final sculpture is a multi-colored dollar sign with multiple drawings of diamonds, dollar bills and the Jacob & Co logo.
Getting these figures into the watch dial without impeding the movement was no easy feat. Each one, based on original drawings by Monopoly, was scaled down through computer technology before being hand-sculpted, cast in gold and finally handpainted by the artist.
Monopoly said: "I have been developing the characters I integrated into the watch for years now. You can see variations of reinterpretations of them in my paintings and sculptures. It's so exciting to see them come to life on such a small but significant scale.
[See also: The Best Timepieces at the Only Watch 2021 Auction]
"I love the juxtaposition of my youthful cartoon characters, brought to life with bright and vivid colors in a timeless watch with stunning complications," Monopoly says. "It's the perfect setting for my art and a watch made for true collectors to wear. My hope is this is a watch that gets passed down generations with the same passion and pride as a masterpiece original artwork."
Monopoly is famous for producing work as tall as buildings, so ensuring these tiny figures meet his usual standard was a challenge.
"This is by far the smallest scale 'canvas' I have ever painted. Every element, brushstroke and color choice needed to be carefully thought out and perfectly executed," Monopoly says. "My street art murals are often free flowing and wild but given the intricacies and meticulous mechanics within these watches I needed to approach the creative process with much more precision and patience."
[See also: Roger Dubuis Launches Excalibur Glow Me Up Timepiece]