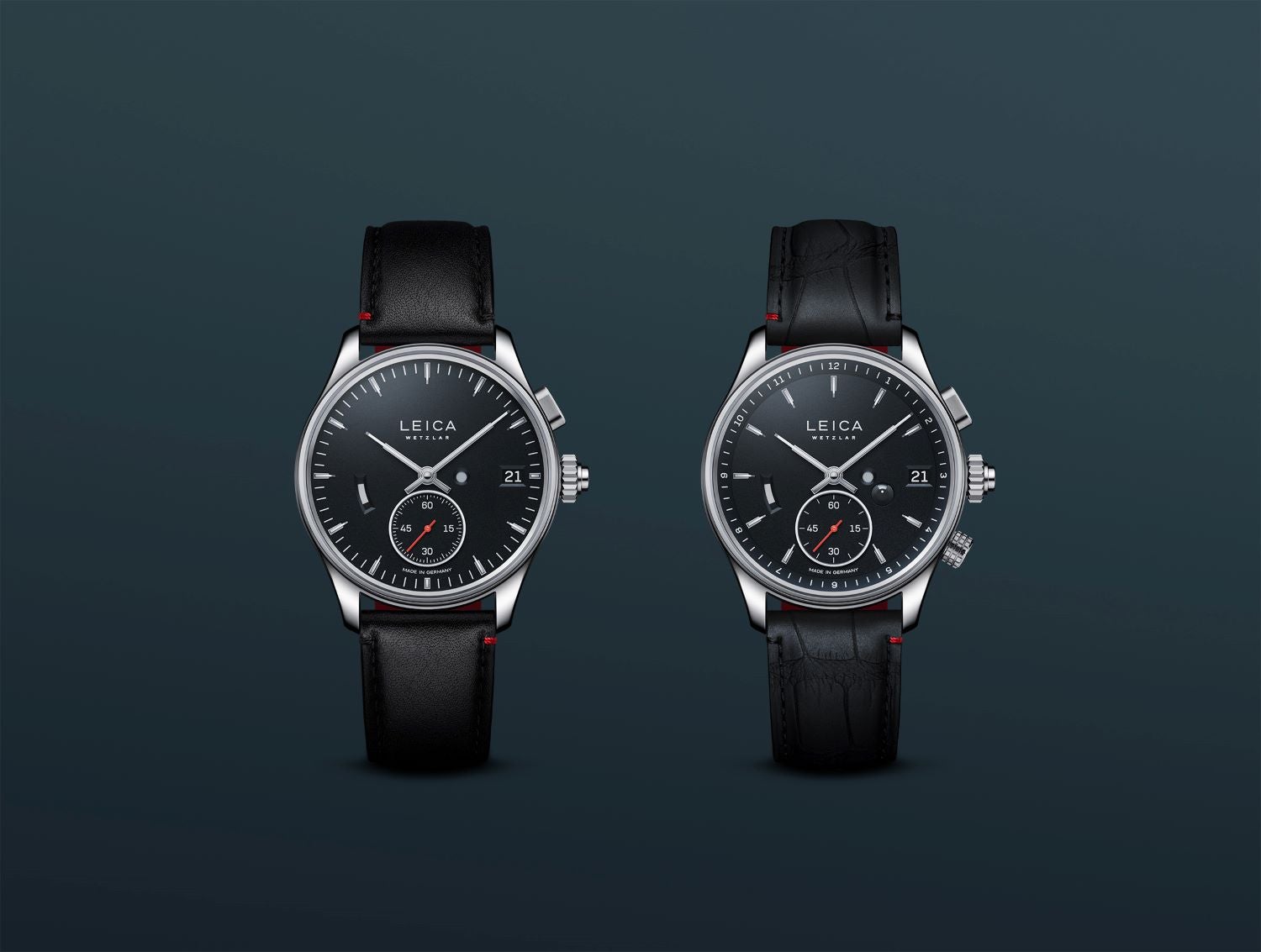 Over the past century, Leica cameras have become synonymous in the photography world with engineering excellence. Now, the prestigious German manufacturer is applying its technical prowess to the coveted world of prestige watches, with the unveiling of the Leica L1 and Leica L2.
Borrowing design details from the brand's enviable back catalog of iconic cameras and sport optics, the watches' exterior was conceptualized by Professor Achim Heine. Prof. Heine has already designed a number of products for the prestigious German manufacturer and has seamlessly integrated a number of subtle nods to the world of photography into the L1 and L2's design.
Unmistakably Leica, a domed sapphire crystal watch glass reminiscent of a camera lens encapsulates a pair of meticulously crafted watch hands and applied indices. This is secured by an intricately shaped 41mm polished stainless-steel case and leather wrist strap. A flash of the brand's signature red hue makes a brief appearance in the underside of the strap and in a handful of single stitches.
[See also: Most Influential Watch Brands in the World]
Both the Leica L1 and L2 boast a sapphire crystal back which showcase the watches' innovative inner workings. The timepieces are powered by a new mechanical movement with manual winding which was created in collaboration with German engineering firm, Lehmann Präzision GmbH. To ensure the preservation of Leica's 'Made in Germany' label, the majority of the watches components were developed and produced in the Lehman factory in Germany's southwestern Black Forest region. 
Both watches also feature a patented push crown and its correlating status indicator on the dial. Professor Heine says: "Together with Markus Lehmann, we expanded and fine-tuned the idea of the push crown. In contrast to conventional designs – whereby the crown must be pulled out to stop the movement and adjust the time – we wanted the crown to be pressed down, like the release button of a camera. The moment you push the crown, the watch stops and the small second-hand jumps to zero. Another click releases the movement again. This is an unusual detail that perfectly fits in with Leica."
The Leica L2 watch will also benefit from a second time zone GMT 12- hour bezel and day and night indicator for a second time zone. 
Leica's majority shareholder Dr Andreas Kaufmann says: "Sometimes in life, things do take a little bit longer, but being patient helps in my opinion to achieve superb results. Therefore, I'm so proud that after nearly eight years we can proudly present the new Leica watches made in Germany in the true Leica design tradition. Due to the complex Leica movement generating small scale production, [the watches are] only available at a few stores worldwide."
The Leica L1 watch is priced at $10,000 and the Leica L2 at $14,000. Both will be available at Leica's Los Angeles store on Tuesday, February 8, 2022, with additional points of sale to be announced, leica-camera.com