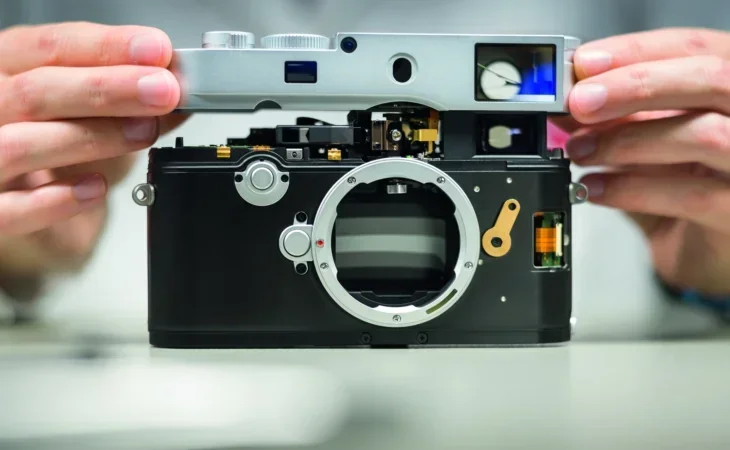 There's a camera, and then there's a Leica camera. It's a must-have accessory wherever you are in the world. The cameras command a high price tag and have become luxury status symbols as a result. But does it live up to the hype? The short answer is yes. Ask anyone who's used one and they'll shout about the exquisite designs, exceptional build, superb image quality and easy (and very unique) shooting experience. But what makes a Leica, a Leica? We spoke to Leica's US president, Mike Giannattasio, to find out.
[See also: Leica Camera Sells for Record $15m at Auction]
What led you to Leica?
I've spent 30 years helping to build brands such as Montblanc, Christian Dior, Breguet and Silhouette. Like Leica, these are pinnacle brands with rich histories, technical leaders in their fields. I was attracted to Leica because it's an iconic brand with a storied history, built on legacy craftsmanship and innovation. The brand exudes passion, driven by the love of photography that flourishes in the hands of our customers. It has the courage to be different and, to date, Leica is the only producer of a rangefinder and a film camera. It achieves timelessness of art by reducing everything to the essential, therefore producing iconic products.
Leica has a storied history. How has the brand evolved over time?
Over a hundred years ago, Leica changed the way we approached photography. No longer confined to a studio, Leica allowed photographers to take their cameras into the streets and into their homes. Leica revolutionized photography by making it accessible, approachable and mobile.
As the camera of choice for photojournalists and artists, Leica has long appealed to creative types. Why do you think this is?
Leica is renowned for its rangefinder system, the Leica M. Throughout our history, photographers who have gravitated towards the M-System do so for three reasons: to focus on the essentials in making a photograph; to make a photograph versus taking a photo; to own the creative process in making a photo.
Photographing with a Leica is unlike any other photo experience. One must slow down, anticipate the scene, get closer to the subject, and wait for that decisive moment that signals one to press down on the shutter. It's the art of shooting less but getting more out of being in control of one's own creativity. With a Leica M, you train the camera how you see, for maximum creative control over a photographer's visual expression.
Can you tell us about Leica's sustainability efforts?
The architectural design and construction of the state-of-the-art corporate headquarters is in accordance with the latest environmental and energy standards, which was moved into the Leitz Park in Wetzlar in 2014. Through the sponsorship of numerous nature conservation projects worldwide, the high-quality and meticulous manufacturing of Leica products has always been done in Germany. Long before the term 'sustainability' was coined, the Leica M cameras and their legendary lenses formed lasting values that were passed down from generation to generation, and still have that value today.
The timeless design, the production with a high proportion of manual work, and the use of selected high-quality materials guarantee robust suitability for everyday use and maximum longevity. This is also reflected in the compatibility of the precision instruments. For example, a contemporary Leica M, such as the current Leica M11, can easily be combined with a lens from 1954. With regular firmware updates often based on customer suggestions, Leica's cameras are continuously 'updated.' With the versatility of the Leica Customer Care offerings, we ensure that even older models can be serviced and repaired many years after they have been discontinued from the product range.
Do you have a favorite Leica model?
It really depends on where I am and what I'm doing. If I want to focus on enriching the moment, I'll grab my M11, a camera that's high-tech and high-touch. I give myself time to focus on not only what catches my eye, but the light and the mood. I let myself become absorbed in the moment and in the image I want to capture. However, if I'm with my family, watching my son at a game, or at a dynamic company event, I capture those moments with my Q2.
What is your biggest inspiration?
In two words: love and passion. Love for family, art and heritage. I am the son of Italian immigrants and have always been driven by wanting to make my mom proud and uphold my parents' vision of living the American dream. As an Italian American, part of my culture, heritage and upbringing is so deeply rooted in the Renaissance and Baroque periods. I'm continuously inspired by my wife and sons, as well as a network of friends developed through my life's journey, which matter the most to me.
What is the Leica Akademie?
Leica Akademie USA continues Leica's long tradition of photographic education through experiential workshops offered in cities across North America. The Akademie's goal is to increase the fun and enjoyment of photography, expand photography knowledge, and bring the total experience to a new generation of photographers. It offers a wide range of programs throughout the year for all types of photographers.
In 2022, most photos are taken on a cellphone camera, and we want to change that. It's our goal at Leica to help educate photographers on how to tell visual stories and, with the right camera and lens, we've learned that anything is possible. The future of Leica and its Akademie go hand-in-hand. It's one thing to own a camera, but another when you can master the craft and continue learning through a hobby that never plateaus. #
[See also: Leica Debuts Highly Anticipated L1 and L2 Timepieces]
This article appears in the 06 Jun 2022 issue of the New Statesman, Summer 2022