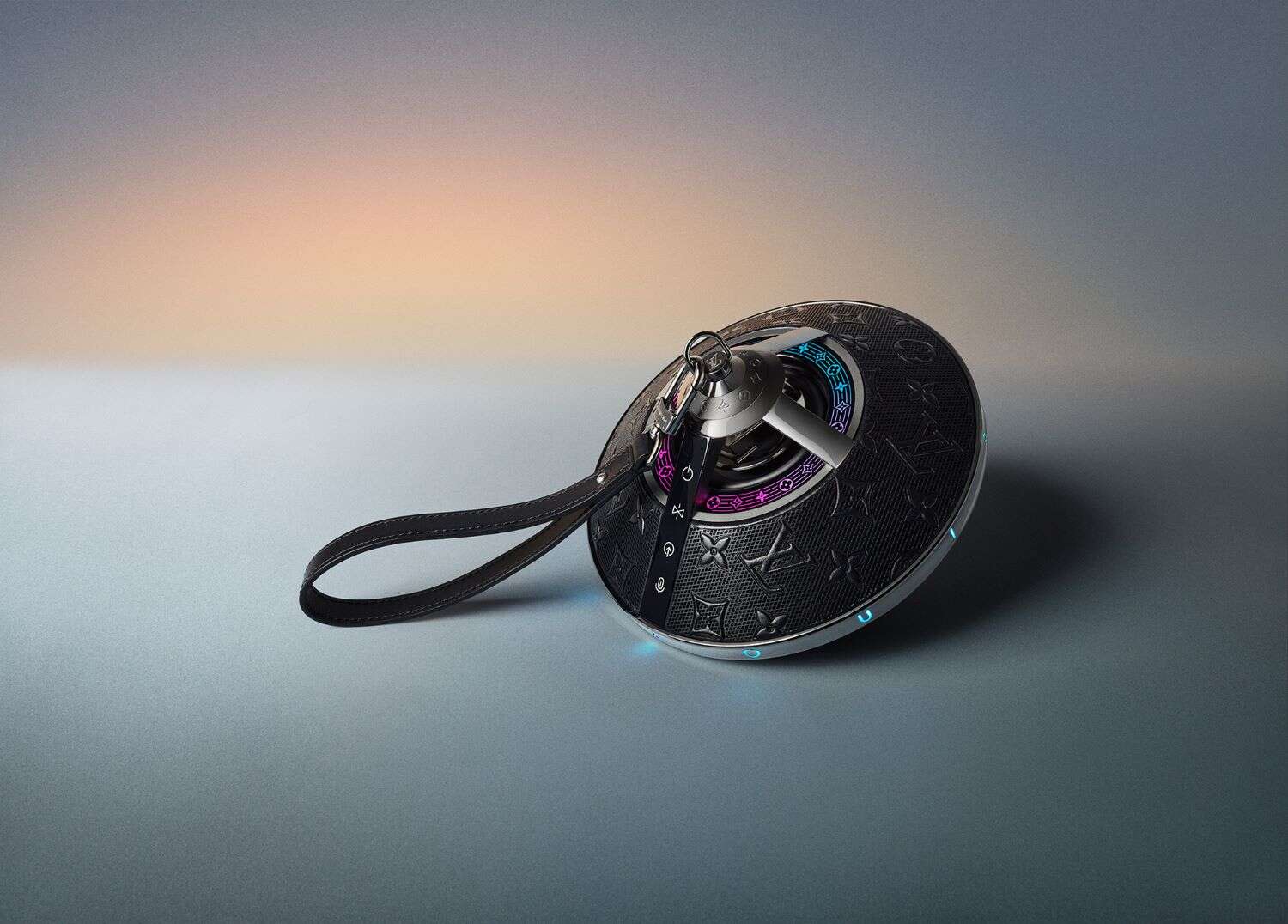 Elegant isn't usually a word that springs to mind when you think of a portable audio device but the new Louis Vuitton Horizon Light Up Speaker looks more like one of the maison's coveted handbags than a piece of audio tech.
Launched earlier in the month, the Louis Vuitton Horizon Light Up Speaker is the latest in a string of chic high-end audio products from the 167-year-old fashion house. 
An ordinary everyday object transformed into something visually extraordinary, the light-up wireless speaker's shape is no accident. The inspiration behind its unique form comes from Louis Vuitton's Toupie 'spinning top' handbag, designed by the artistic director of women's collections, Nicolas Ghesquière.
The unconventional shape also offers acoustic benefits. When placed in its dock, the sound is played at 360 degrees, but by placing the speaker on its side, the sound can be channeled in one specific direction.
[See also: Jacob & Co Reveals Stunning Alec Monopoly Watch]
Bound in leather with metal elements, the speaker features the house's emblematic LV signature. When at home and not in use, Louis Vuitton intends the speaker to be viewed as an objet d'art, showcasing the craftsmanship that is central to the maison.
When switched on, the speaker comes to life in a symphony of high-quality acoustic sound, light and movement. A colorful light show synchronized to whatever the listener is playing will beam in a multi-tonal digital interpretation of Louis Vuitton's iconic Monogram flower. A top ring with LED backlighting provides three different animations in seven graduated hues. 
Weighing 2.2lbs and measuring just 7in, the compact speaker is the ideal travel companion and can be transported by its elegant leather strap, with or without its protective case. 
Though it may be small,  Louis Vuitton Horizon Light Up Speaker is also mighty, offering up to 15 hours of playtime. Bluetooth enabled, the speaker is also compatible with Apple AirPlay 2 and Qplay via Wi-Fi. It can also be paired or grouped in larger numbers to accommodate bigger spaces and multiple rooms. 
All of this can be managed at the touch of a button with the dedicated Louis Vuitton Connect app which controls the speaker's color combinations, animation sequences and mono or multi-room set-up.
Louis Vuitton Horizon Light Up Speaker, $2,890, us.louisvuitton.com
[See also: Fancy Felt: A Closer Look at Louis Vuitton's New Eco Line]