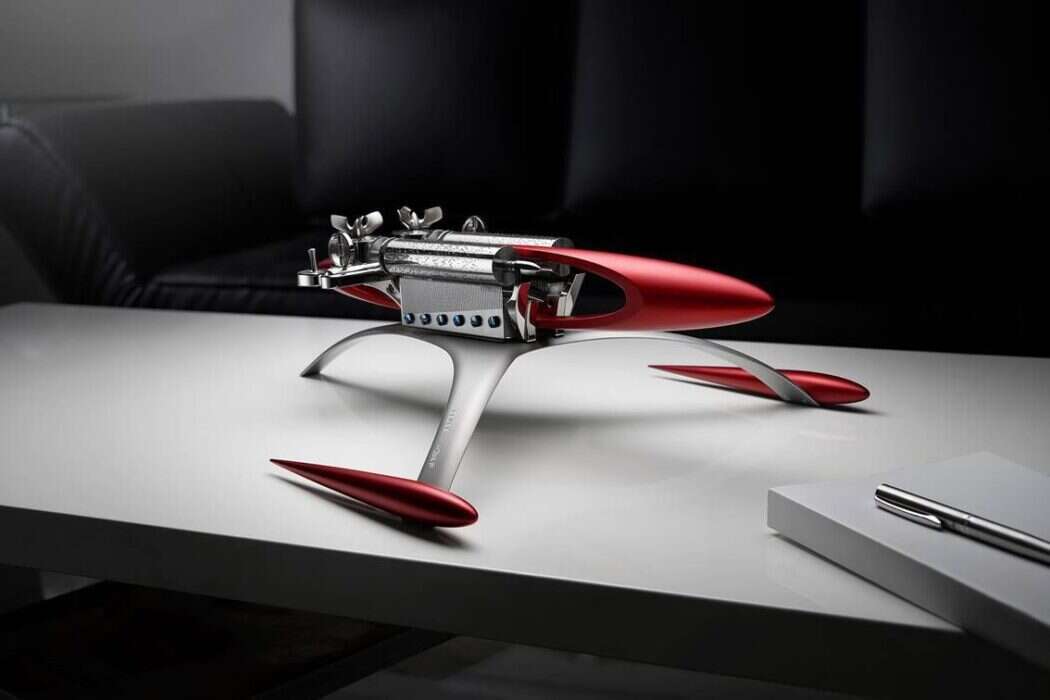 Is it a bird? Is it a plane? No, it's a music box. Important to note, however, that this isn't just any music box; this science fiction movie-looking gadget, named the MusicMachine 1 Reloaded, is as gloriously futuristic in detail as it is in aesthetic.
Swiss independent watch brand MB&F has once again teamed up with Reuge music box makers to showcase its latest creation, the MusicMachine 1 Reloaded. Having previously collaborated all the way back in 2013 over the MusicMachine 1, almost a decade later the two technology powerhouses have reunited to produce another music box that is both an improvement on its predecessor, and a brilliant bit of tech in its own right.
So what's new? The MusicMachine 1 Reloaded has retained the same features as the original 2013 model, including dual propellers and twin silver cylinders. It still, excitingly, looks like an artifact from a time decades ahead. But the 2022 model, which is limited to just 99 pieces in total, is now made of anodized aluminum, as opposed to the wood of the original MusicMachine.
[See also: The Most Innovative Tech of the 21st Century]
"The process of machining aluminum is so appealing, so precise, and its surface is so beautiful," says MB&F founder Maximillian Busser.
"What we have designed now is more complex than the original MusicMachine," he continues. "Nine years later, with what I've learned, how I've evolved, and my tastes have changed, we basically reworked some of the details to have it become what I would want today. I'm not saying that I don't like what we previously did, it's just that being the creator I am today, this is what I would find cooler."
The music has changed too. Busser hand-selected six songs, three of which are melodies of some of cinema's most iconic science fiction films; the Star Trek theme by Jerry Goldsmith, the Star Wars theme, and the Imperial March of The Empire Strikes Back, the latter two by John Williams. And as for the remaining three, Busser drew on MB&F's edgy, rock'n'roll reputation within the high end watch world, ultimately deciding on John Lennon's Imagine, Deep Purple's Smoke on the Water, and Pink Floyd's Another Brick in the Wall.
"In addition to the science fiction themes, I wanted to include three songs that were important to me during the first 20 years of my life," Busser says. "From a long list, I managed to whittle it down to three, but it was quite an ordeal!"
The MusicMachine 1 Reloaded measures 15 inches wide, 19 inches long and about 5.5 inches tall. Like any music box, it must be wound to be played, and each piece holds a movement consisting of a mainspring, a cylinder, a comb and a regulator. The two cylinders are fitted with between 1,279 and 1,399 pins according to the songs they play, and each of those pins is hand polished and hand applied.
The MusicMachine 1 Reloaded retails for $19,500, mbandf.com