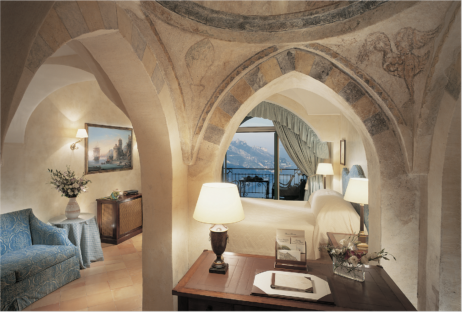 Standing on the highest point in Ravello, Hotel Caruso is 1,000 ft above sea level and has the most beautiful views over lemon and olive groves and the Amalfi Coast. Housed in a restored 11th-century palace, the hotel is filled with frescoes, antiques and paintings by Old Masters. The infinity pool also has incredible views, and there's a daily complimentary boat tour if you want to explore nearby Pompeii, Capri and Positano. We love the meticulously maintained centuries-old gardens with fragrant rosebushes and herbs.
Top suite: Exclusive Suites from $5,050 per night
When life gives you lemons: Tour the Valley of the Mills — just a short trip from the center of Amalfi, it is one of the region's best lemon groves and looks like a place time forgot. Learn how the citrus fruit is cultivated using time-honored methods.
Contact: Gennaro Apicella, hotel concierge, reservations.vmar@belmond.com, +1 845 077 2222, belmond.com