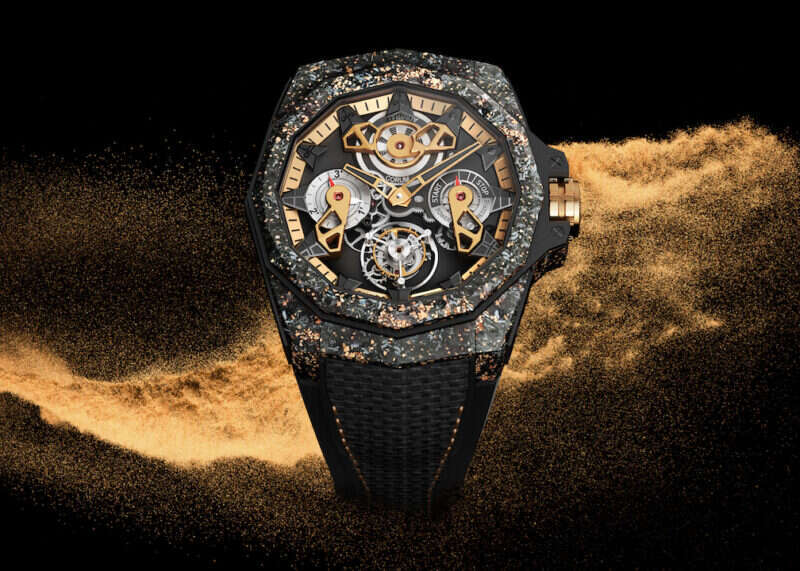 It's a long name, but the newest Corum Admiral 45 Automatic watch owns up. The Admiral collection, a coveted collector's watch geared for the sailing community, goes high-tech and visionary with this new version. The Admiral typically features nautical pennants on its dial in colorful painted beauty. This new version, though, strays from the classic look and materials. For this watch, the brand works with high-tech materials not used for this series before.
The case is crafted of lightweight carbon mixed with 18-karat gold glitter. As the carbon case is created, the gold flecks are randomly incorporated, making each case unique. Not only is the case advanced, but also the automatic movement—developed in-house by the brand—is open-worked to give a better view of the flying tourbillon at 6 o'clock.
The tourbillon escapement is constantly moving and is designed to compensate for errors in timekeeping due to the effects of gravity on the wrist when the watch is in different positions. The hour and minute flange is gold and the nautical pennants are black (instead of in colors) to complete the look. A rubber and synthetic textile strap with genuine gold stitching finishes the high-tech/high-mech timepiece.
$59,800, available at Provident Jewelry in Florida, +1 888 888 4367, corum-watches.com