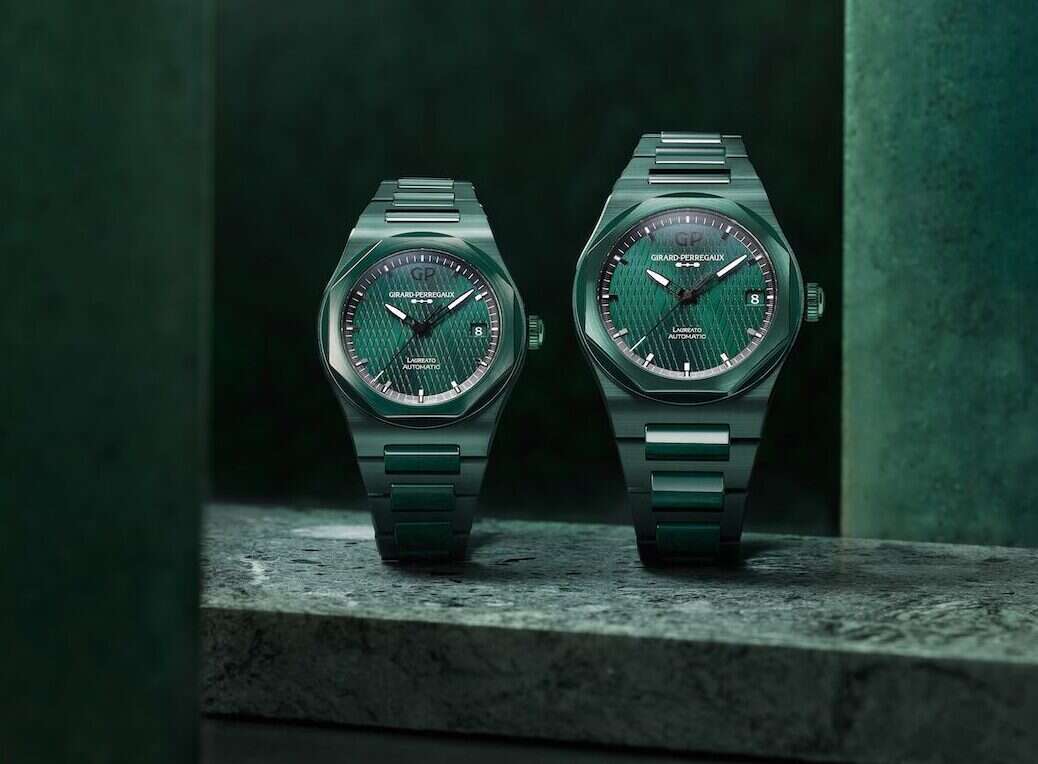 Watches and cars have always enjoyed a close association, despite the obvious differences in scale. Both require precision, passion and mechanical innovation to be at their very best. They also speak to our innate calling to keep pushing, if only to see how far we can go.
There is no real reason for an SUV to drive at 193 mph, like the Aston Martin DBX707, but we want it to. Similarly, a $20 watch can be just as accurate and far easier to maintain than one costing $20,000, but we pine for the latter. True luxury is not about practicality or convenience. On the contrary, the harder the road taken, the more it seems to inspire.
Since 2021, Aston Martin and Girard-Perregaux have been traveling down that road together.
[See also: Aston Martin Opens Ultra-luxury Q Flagship in New York]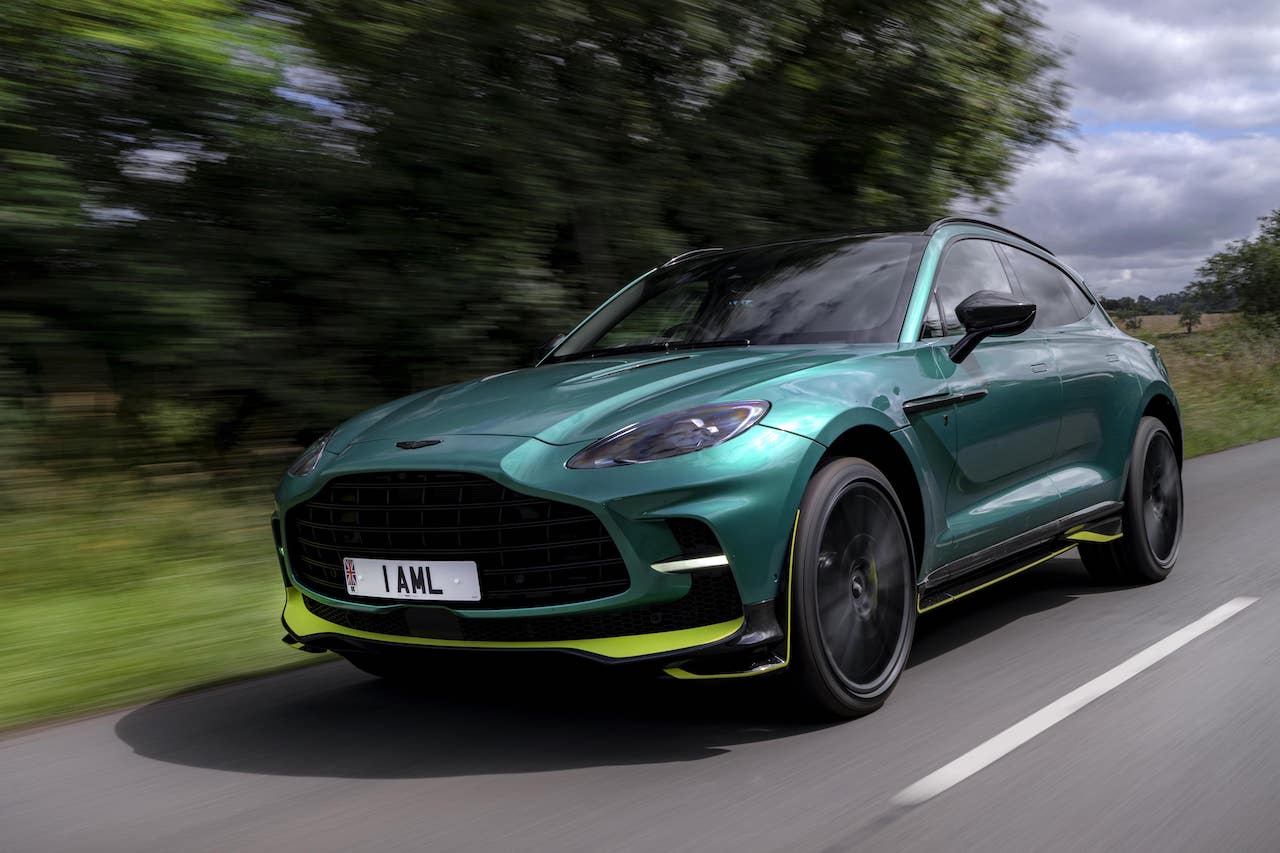 Brand collaborations between watches and cars are nothing new, but this one is proving particularly synergistic. Four watches have been released already. The latest, the Laureato Green Ceramic Aston Martin Edition, was released this summer and, like the previous three, sold out instantly.
Marek Reichman, chief creative officer at Aston Martin, tells Elite Traveler: "If you look at the history of Girard-Perregaux, it makes us look like we're infants. We're 110 years old and they eclipse that by some margin [232 years old]. They were the perfect partner because of their history, their attention to detail, their precision and their unique way of looking at things.
[See also: Elite Traveler Reveals Top 50 Watches in the World 2023]
"Then you have to understand where each brand can benefit from the other and be willing to understand each other's ethos. We had a great conversation about how fast and how quickly we can do things: It takes about four years to create a car from a ground-up sketch. And a watch is not too far away from that… around two-and-a-half years. We had to think of the short-, medium- and long-term."
So far, we have only seen the fruit of the first, short-term stage. All four of the watches have taken existing platforms with slight design or material tweaks. The partnership debuted with the Tourbillon with Three Flying Bridges Aston Martin Edition, limited to just 18 pieces and priced at $146,000.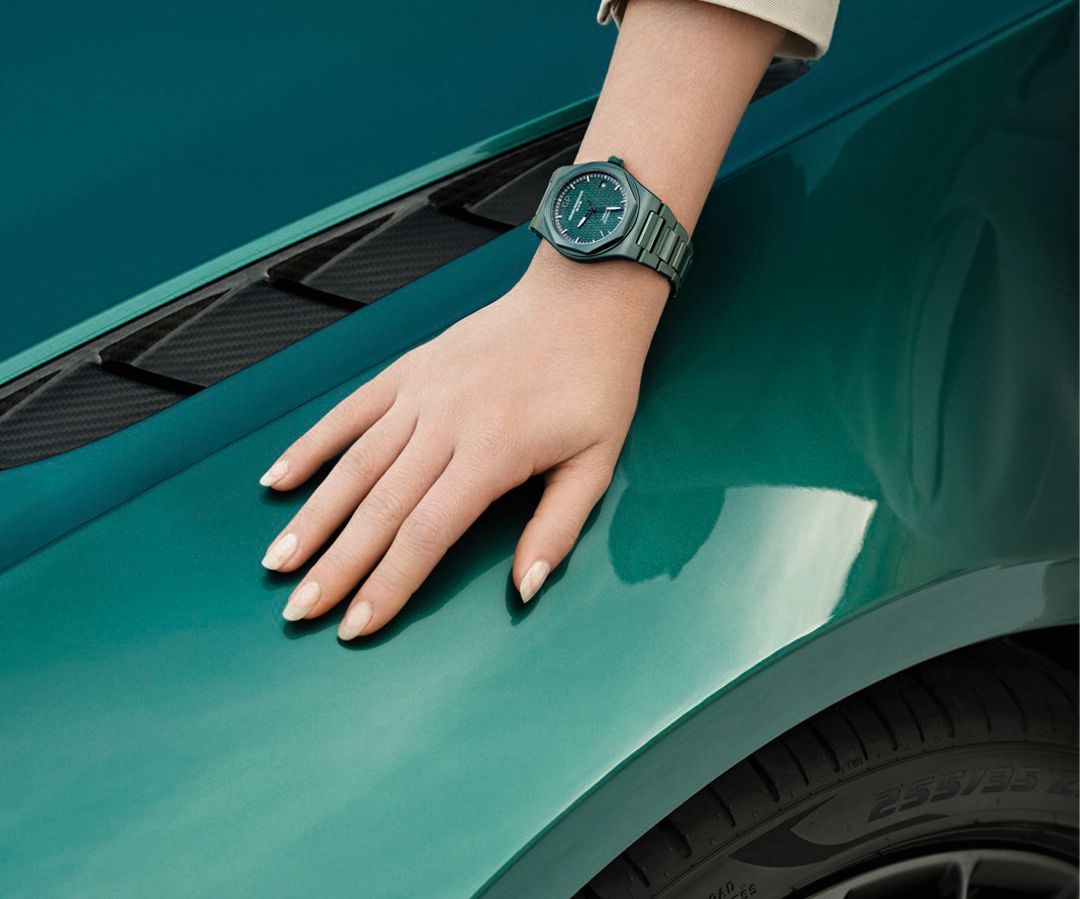 The three subsequent releases have been versions of the Laureato. The watch was first released in 1975 and is one of the iconic steel sport watches, up there with the Audemars Piguet Royal Oak and the Patek Philippe Nautilus.
"I talk so much in my world about perfection in proportion and the golden ratio," says Reichman. "The Laureato follows exactly that in terms of the number of sides, its proportion and its thickness to its width. It's part of that golden ratio. That's why it is a classic.
[See also: Only Watch Auction 2023 Reveals 62 One-off Timepieces]
"The golden ratio will always make something beautiful to the consumer irrespective of its origin, or its original date of release. It will be beautiful time immemorial, because it's simply beautiful to the eye and to the mind."
Clémence Dubois, chief product officer at Girard-Perregaux, adds: "It is a design that is very true to our hearts and is a way for us to express how we're able to scale our craftsmanship up. It is easy to do one piece of haute horlogerie, but to replicate that same level of craftsmanship, passion and dedication in every piece… that is the biggest difficulty."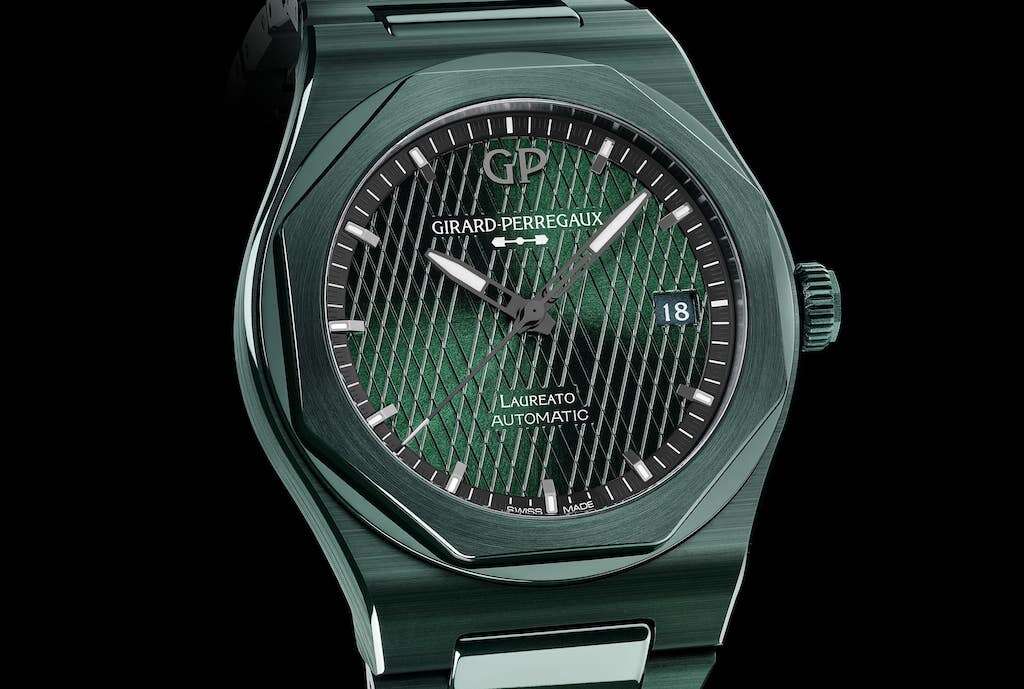 That difficulty increased markedly with the latest collaboration, which features a ceramic case and bracelet in green. Ceramic is very difficult to work with, particularly when harmonizing a certain color across the watch case and the bracelet.
The ceramic arrives at Girard-Perregaux in the form of zirconium oxide microbeads that measure one micron (0.01mm) across. These are then cooked (sintered) at temperatures up to 2,800° Fahrenheit.
The final look and feel of the material are dictated by the temperature and the time spent in the oven. Even a slight variation in the time could change the complexion of the case, rendering it unusable. Making a handful would have been easy, but Girard-Perregaux challenged themselves to make 576 pieces shared between two different sizes (38mm and 42mm).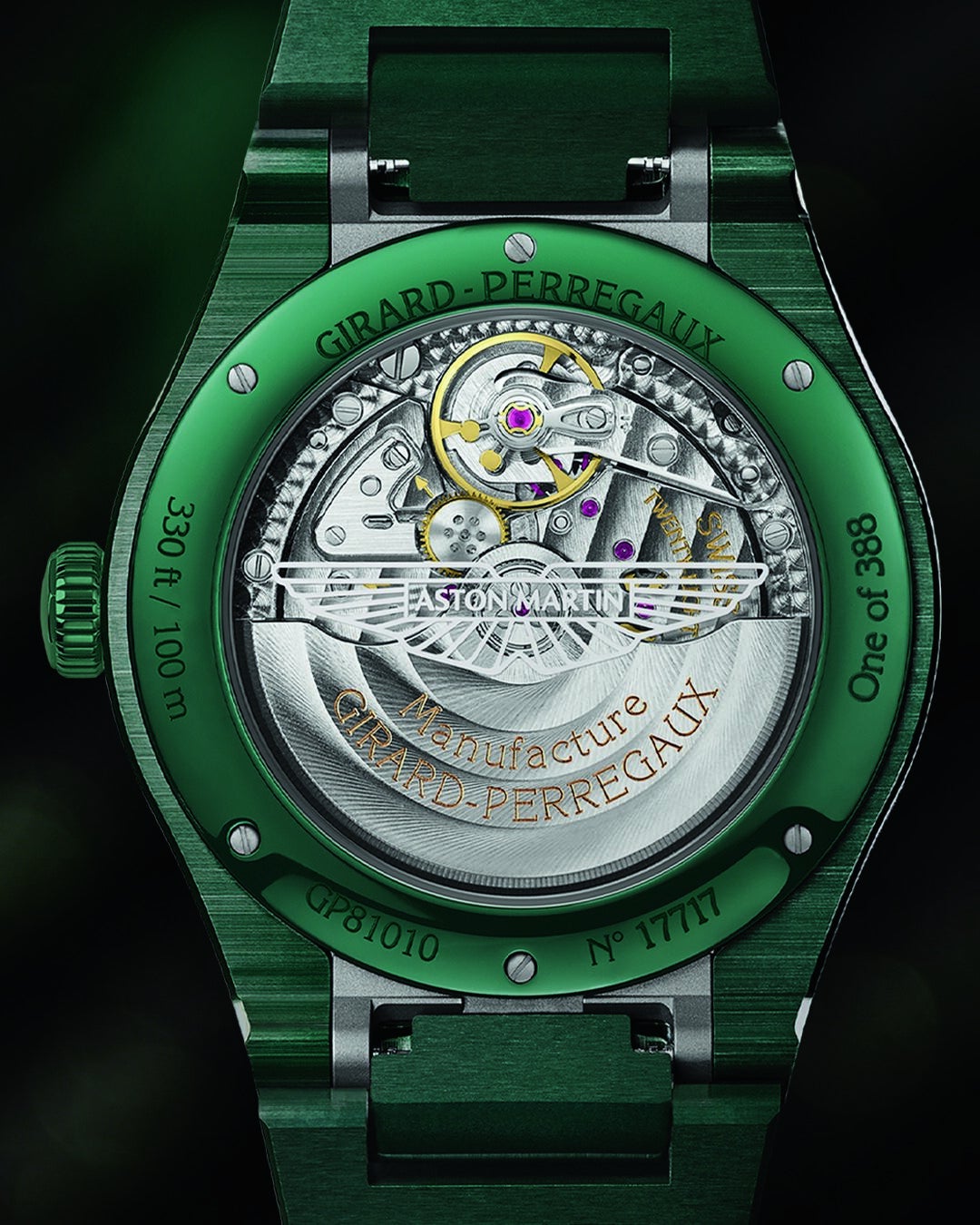 Dubois says: "If we've done a good job, they should [all look the same]. But that's where the difficulty comes in. Ceramic is similar to sapphire. You don't know if the component you're working on is going to be usable until the very end. It's only when you start the finishing that you see if the material is as homogeneous as you want it to be. We cannot bake all the cases at the same time. That is why the recipe must be perfect from the very beginning to end up with the perfect material."
Get it right, and the result is a material seven times stronger than steel, highly scratch-resistant and unaffected by UV light so the color doesn't fade. It's highly coveted by collectors because they can wear the watch day to day at little cost to its future value.
This is also the first-ever Laureato in green, but not just any green. It matches the British racing green of Aston Martin's motor racing livery, including its current Formula 1 car. Other nods to Aston Martin include a British racing green dial in cross-hatch design (a diamond-like pattern, found on an early iteration of its logo), and an Aston Martin logo on the see-through caseback — just in case you weren't clear that this was a collaboration.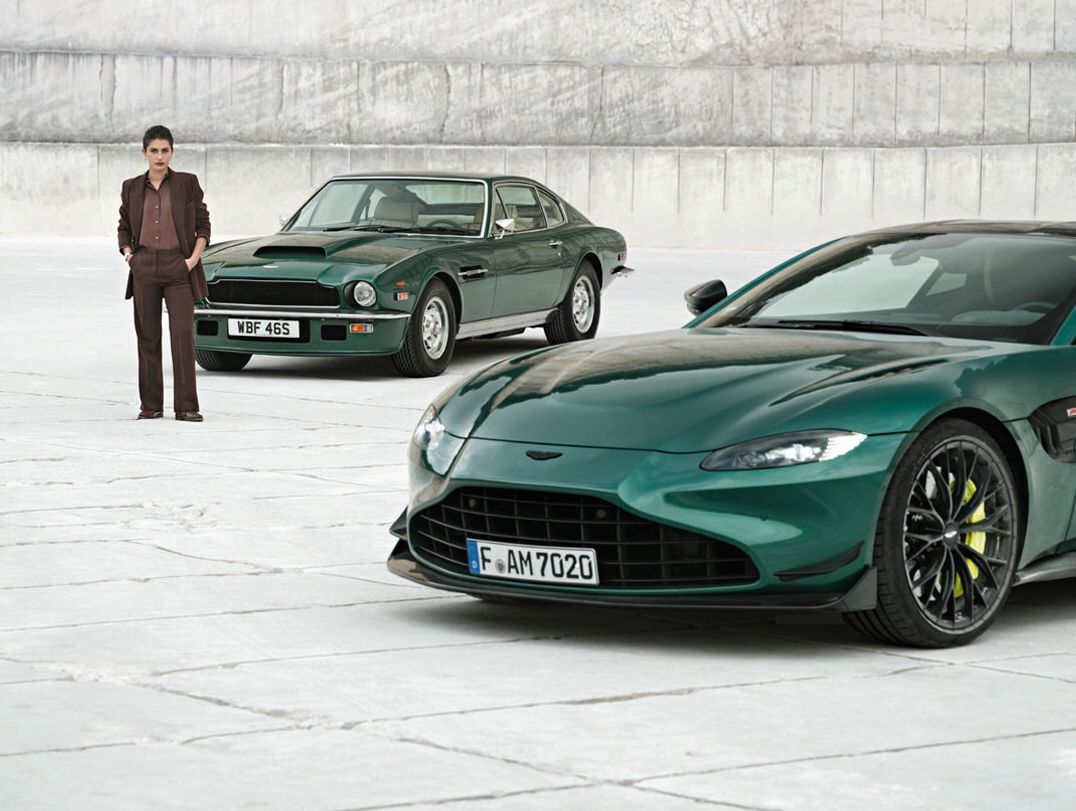 Already, grander projects are on the horizon, with both sides alluding to a special version of the unanimously popular Casquette (haute horlogerie's answer to the humble Casio).
Reichman says: "As Aston Martin moves into hybridization and electrification, it becomes more of a digital journey. And one Girard-Perregaux watch is a beautiful mix of analog and digital, which is exactly what our cars will be in the future. You put those building blocks together, and… maybe."
Girard-Perregaux Laureato Green Ceramic Aston Martin Edition from $25,000. Available at Bucherer TimeMachine, 12 E 57th St, New York, +1 212 758 7300, girard-perregaux.com
[See also: Bowmore and Aston Martin Reveal ARC-52 Whisky]
This article appears in the 12 Sep 2023 issue of the New Statesman, Fall 2023