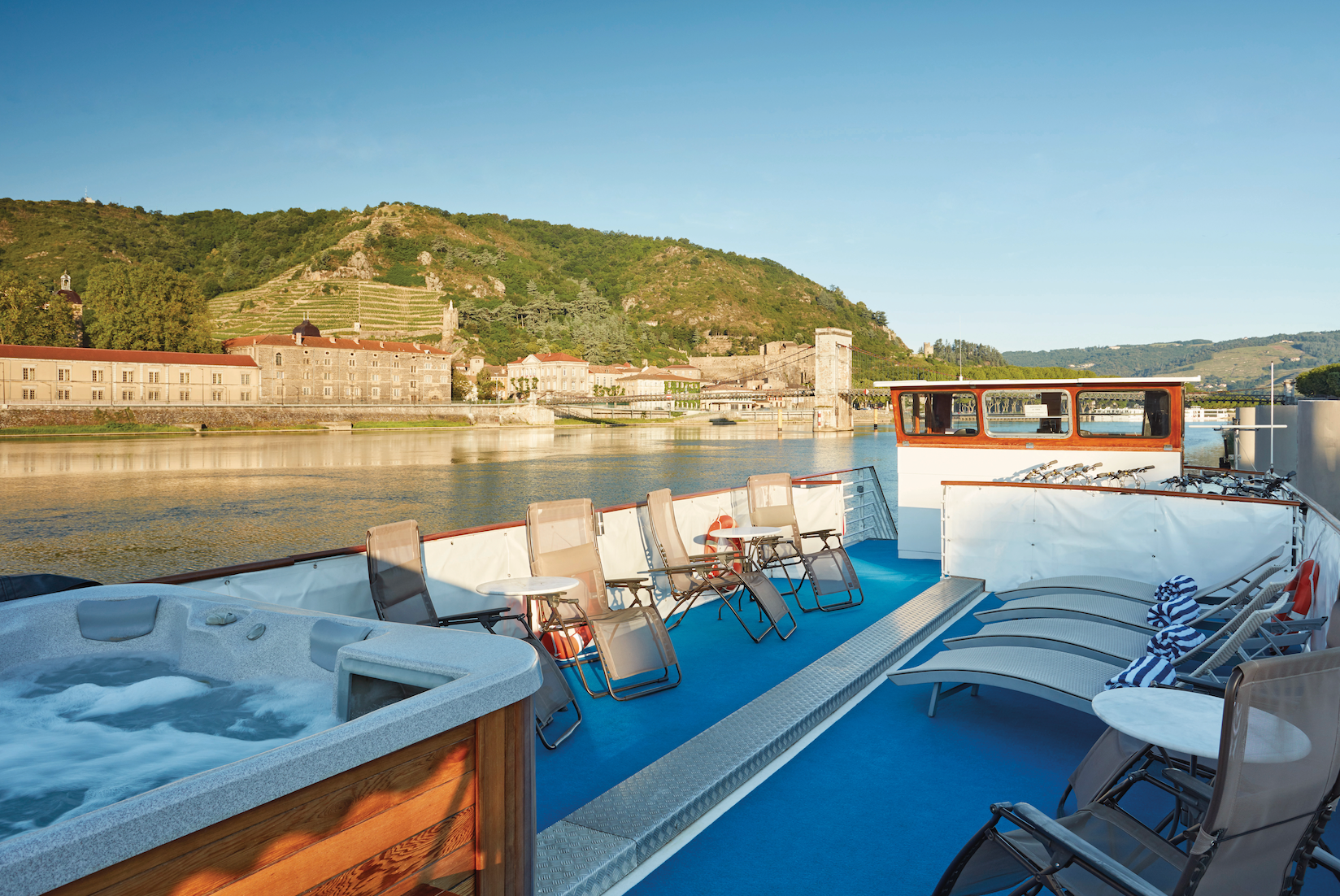 With over 700 Michelin-starred restaurants, France is the spiritual home of fine dining. And though not even the most committed of gourmands can dine at them all, a new luxury river cruise from Belmond gives them the opportunity to experience six of the best in the space of a week.
The Belmond Epicurean Burgundy itinerary is the company's most decadent cruise to date. It takes guests from St-Jean-de-Losne to Lyon and stops to dine at a different Michelin-starred restaurant each day. Ranging from one star to the highest accolade of three, the six restaurants share a total of 12 stars between them.
Guests will indulge in the wonders of French food and wine as they travel through Burgundy and Beaujolais. The itinerary includes stops in the heart of Côte d'Or to dine at Le Jardin des Rempart (one star) in Beaune and Aux Terrasses (one star) in Tournus.
The two-star offerings include La Côte Saint-Jacques, located just outside of the charming town of Auxerre. It is here that Jean-Michel Lorian conjures up beautifully colorful dishes that surprise in their exquisite simplicity.
On the final night, guests visit the legendary Restaurant Paul Bocuse in Lyon, once the longest-standing three-Michelin-starred restaurant in the world. It was controversially downgraded to two stars in Michelin's 2020 guide but remains holy ground for fine-dining enthusiasts. They travel far and wide to try the iconic Black Truffle Soup, which was created for French president Valaery Giscard d'Estaing in 1975.
Making up the final two restaurants are two extraordinary three-star restaurants: Maison Lameloise and Restaurant Georges Blanc. The former has been serving traditional Burgundy fare since 1921. Today, the menu is overseen by Eric Pras with signature dishes including the Burgundy snail tart. The latter is an institution of fine dining and has held three Michelin stars since 1982.
In between meals, guests will be given the opportunity to explore the historical wonders of the region, including a stop at the historic Clos de Vougeot where Cistercian monks first began making wine in the 12th Century.
The Belmond Epicurean Burgundy: A 12 Star Cruise starts from $7,961 per person on an all-inclusive basis including all meals and private transfers. To book or for more information visit Belmond.com or call +44 845 077 2222.