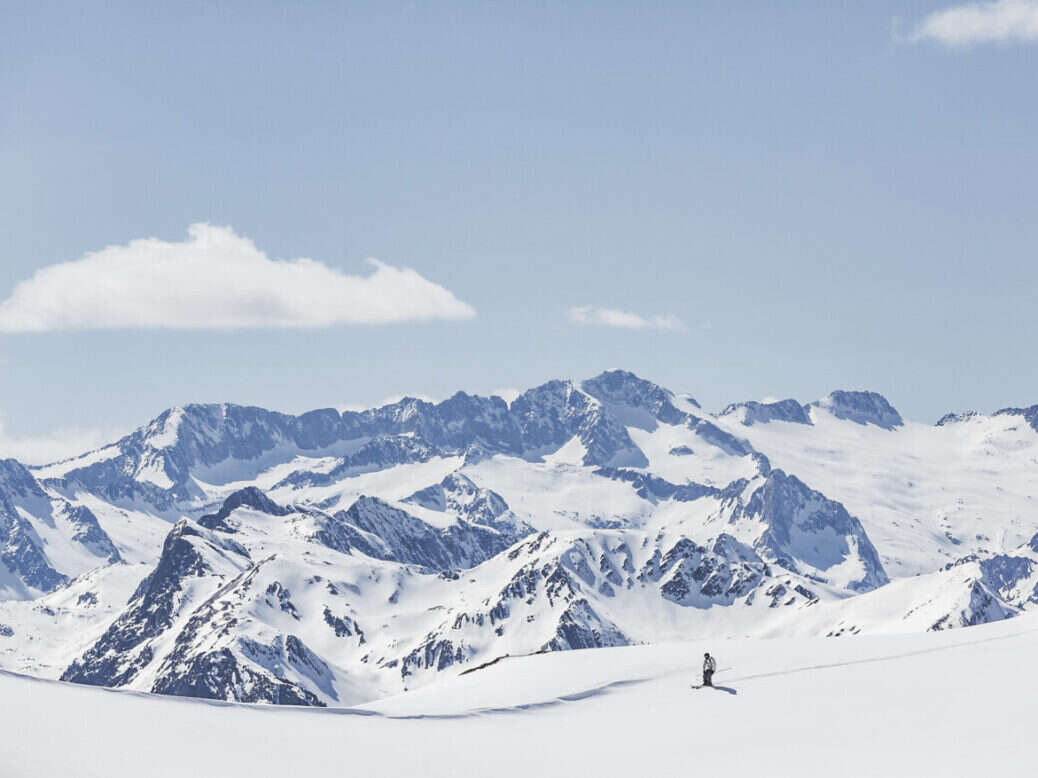 With its balmy summers, white sandy beaches and impressive architecture, Spain might not be the first place that springs to mind when considering the destination for your next ski vacation. But as the second most mountainous country in Europe, Spain boasts over 30 exhilarating (and often overlooked) ski resorts that are less crowded than their famed Swiss and French neighbors.
For those eager to embark on an off-the-beaten-track alpine adventure this winter, Elite Traveler has rounded up the best ski resorts in Spain. From the dramatic Catalonian Pyrenees mountains in the north, to Sierra Nevada in the south, where you can head to the sea for an afternoon of sunbathing after a morning on the slopes, there's something for everyone.
Baqueira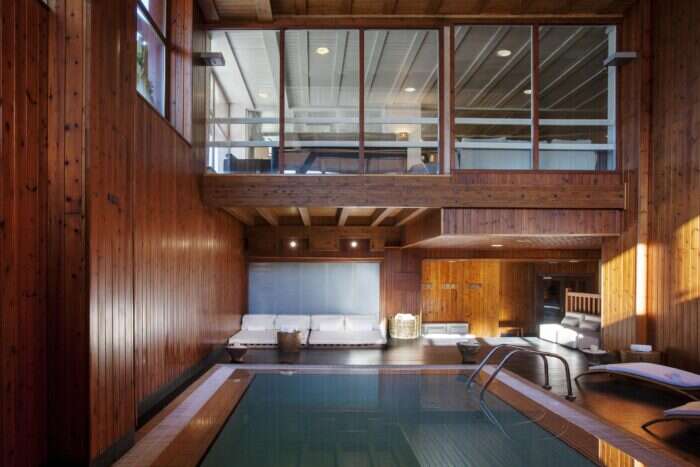 Located in the heart of the Catalonian Pyrenees, Baqueira is the biggest (and most exclusive) ski resort in Spain, favored by King Juan Carlos and the Spanish Royal family. With over 90 miles of marked pistes there are runs suitable for every level from beginners to ski aficionados. Baqueira ski season typically runs from early December to mid-April. Almost all of the slopes are at an altitude of 5,905 feet and above with breathtaking views of the Aran Valley, and there are over 500 snow-making cannons on-hand to ensure guests enjoy the perfect skiing conditions.
After a long day on the slopes, drop by at the Moët & Chandon Winter Lounge to enjoy a glass of bubbly and delicious selection of tapas (stay for the after-dinner DJ if you're partial to an aprés-ski session). As for accommodation, Rafaelhoteles by La Pleta is the ideal base for your alpine adventure. The elegant hotel has its own spa complete with a Swedish sauna and hot tub, three gourmet restaurants (serving traditional Catalan dishes, sushi and raclette), and a cozy bar with an extensive whisky list.
Formigal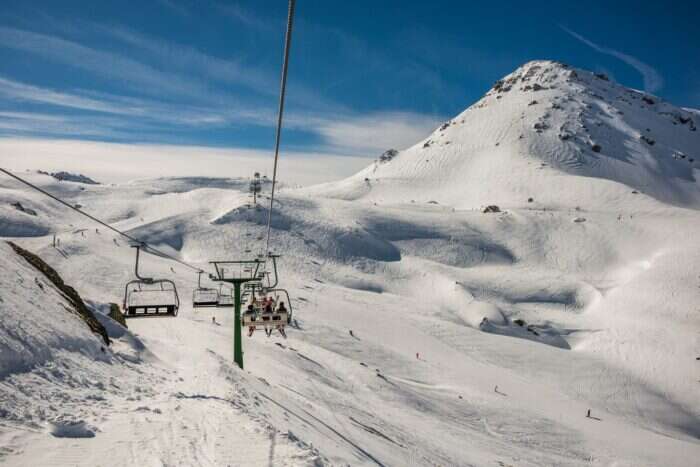 Nestled in the Aragon Pyrenees (less than five miles from the French border) lies Formigal. Ideal for families, the resort boasts a renowned ski school with over 90 instructors and a floodlit tobogganing track. Covering four connected valleys, you'll have access to over 80 miles of pistes and a wide variety of terrain (including 40 black-graded runs). Beyond skiing, there's an array of activities to choose from for an action-packed trip, including snowboarding, ice skating, igloo building and even dog sledding.
Opt to stay in the superior duplex suite at the Aragon Hills Hotel & Spa located less than a mile from the ski station for a touch of luxury. Boasting stunning mountain views and a hydro massage bathtub for warming up after a day on the icy slopes, it's the ideal base for exploring the resort. For nature lovers, it's also worth driving to nearby Lacuniacha – a woodland park where you can spot reindeer, bison and grizzly bears.
Valdezcaray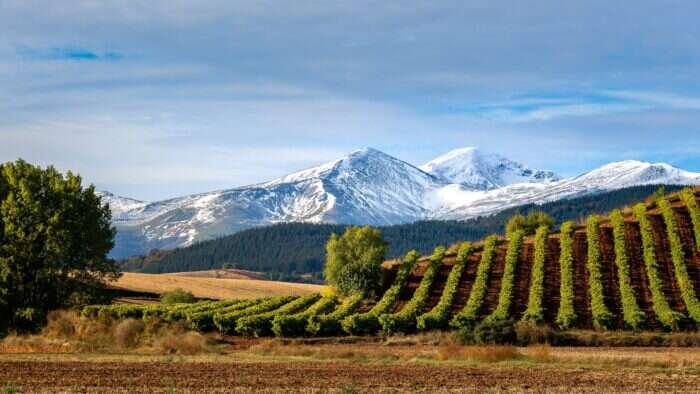 If you're hoping to soak up some Spanish culture on your ski vacation, look no further than Valdezcaray. Situated at the base of the San Lorenzo peak near the picturesque village of Ezcaray in the Iberico mountain range, the resort is less than a two-hour drive from the Basque city of Bilbao – home to an array of iconic contemporary architectural landmarks including the Guggenheim Museum. While Valdezcaray is smaller than Baqueira and Formigal, it still has over 10 miles of marked pistes with a variety of trails.
Away from the slopes, the resort is surrounded by tranquil forests and springs where you can horse ride, hike and fish. Consider staying at the Casa Grande Hotel in the ancient village of Granon (around 15 miles from Valdezcaray) in Spain's Rioja region. Occupying an 18th century stone manor house, the eco-friendly boutique hotel has just 11 guest rooms, each uniquely created by renowned interior designer, Francesc Rifé. As well as having easy access to Valdezcaray, the Casa Grande Hotel is the ideal base for exploring Haro (the wine capital of Rioja), and San Millán de la Cogolla and its famous twin monasteries, Yuso and Suso.
[See also: Exploring Spain's World Heritage Cities]
Sierra Nevada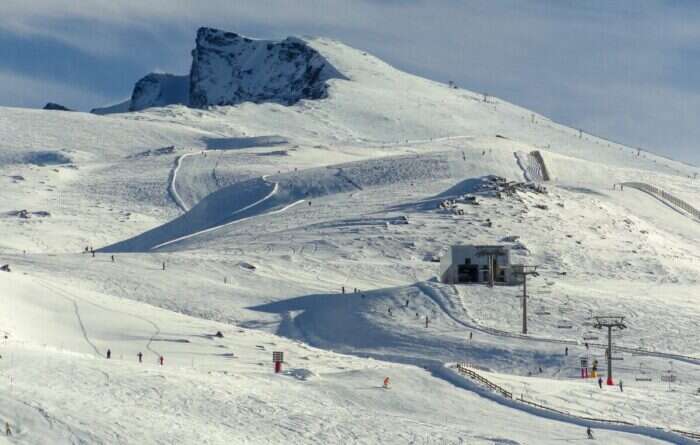 Last but by no means least is Sierra Nevada, Europe's most southerly ski resort. Situated in the province of Grenada just an hour's drive from the Mediterranean coast, you can spend the morning on the slopes and the afternoon topping up your tan at the beach. The resort is known for its thrilling high-altitude skiing (the highest slope is over 1,800 feet) and regular international ski and snowboard events.
Eco-conscious travelers will be pleased to hear that in 2020, a 10-year plan was launched in a bid to completely eliminate the resort's carbon footprint by replacing old mechanical equipment, effectively managing water resources and waste disposal, and reducing energy consumption.
When it comes to finding somewhere to stay, you'll be hard-pressed to do better than the El Lodge Ski and Spa (open from December 1). Crafted from Finnish timber, the ultra-luxurious alpine retreat boasts direct access to the Maribel piste, via the ski-in/ski-out Sun Deck restaurant (where you can also warm your toes with the boot heating service). There's a range of spacious suites to choose from, all of which have a private terrace with a hot tub – the ideal setting for taking in the sweeping mountain views.
In association with spain.info