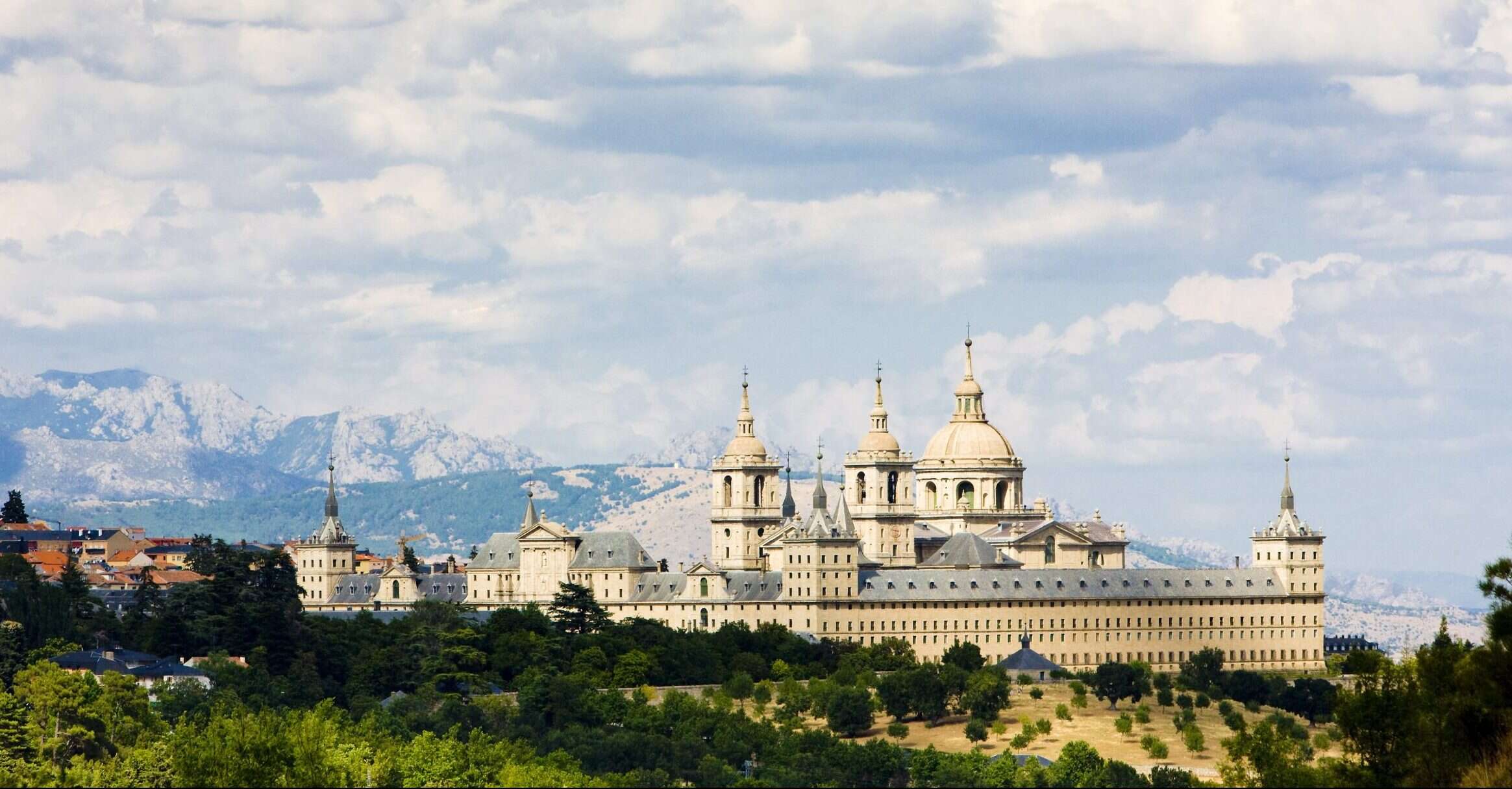 While the British royal family is undoubtedly the most world-famous monarchy, Spain is another European country with a long line of royal family members – and host of impressive must-see royal sites – with a lineage that dates back to the 8th century.
The majority of Spain's significant royal sites are in close proximity to Madrid, making the capital city a perfect base for visitors hoping to enjoy a royal tour of the country. However, those venturing to the south of Spain will also be pleased to find that they can visit one of Spain's most intriguing royal sites in Seville.
From summer palaces and official residences to water gardens and hunting lodges, discover the royal sites you need to visit on your next trip to Spain below, all of which welcome visitors to step inside their magical royal world.
[See also: An Art Trail Through Spain]
The Royal Palace of Madrid, Madrid
Named as the Royal family of Spain's official residence, the Royal Palace of Madrid is a must-see royal site for anyone hoping to immerse themselves in the country's history and is one of Madrid's most visited destinations.
Despite its title of official royal residence, the reigning monarch does not actually live at the Palace of Madrid. The monarch uses Zarzuela Palace as the family home, with the Madrid place being used primarily for state dinners and receptions. When not in use for official events, the Royal Palace of Madrid welcomes visitors to explore its vast halls.
The existing palace was completed in 1755 under the guidance of King Philip V, after a fire destroyed the previous palace that sat on the site. Since then, the palace has received numerous expansions and redecorations, but still remains one of Spain's finest examples of Baroque architecture. The palace's interiors are all that you would expect of such a significant royal site, with highly detailed frescoes, glittering crystal chandeliers and rich tapestries littered throughout. Outside, the adjoining perfectly manicured Sabatini Gardens are also well worth a visit.
You may be surprised to learn that the Royal Palace of Madrid is considered to be the largest of Europe's palaces; covering an impressive 1,453,122 sq ft of floor space with some 3000 rooms, the Spanish royal residence dwarfs the likes of England's Buckingham Palace and France's Palace of Versailles.
The Royal Palace of Madrid is open to visitors seven days a week, year-round. See website for seasonal opening times and holiday closures.
patrimonionacional.es/palacio-real-de-madrid
The Monastery of El Escorial, San Lorenzo de El Escorial
Found in the town of San Lorenzo de El Escorial some 28 miles northwest of Madrid, the eponymous Royal Seat of San Lorenzo de El Escorial was commissioned by King Phillip II for multiple purposes: the reigning king intended it to be a final resting place for his late father, a monastery and a royal palace – although Phillip II is the only monarch who ever resided there.
Since its completion in 1584, El Escorial has served numerous purposes in addition to its intended three, including acting as a boarding school, university and hospital. It also became a burial site for the majority of the county's monarchs in the past five centuries, cementing its status as a must-see royal site in Spain.
Now, the vast building complex is recognized as a UNESCO World Heritage Site, attracting thousands of visitors per year. The building's exterior is a fine example of classic Spanish renaissance architecture, with its austere and perfectly symmetrical structure visible from miles around. El Escorial's interior, however, is beautifully adorned, with the frescoed vaulted ceilings in the monastery's library drawing plenty of attention.
El Escorial is open Tuesday through Sunday year-round, with holiday exceptions; see website for summer/winter opening hours.
patrimonionacional.es/san-lorenzo-del-escorial
Royal Palace of Aranjuez, Aranjuez
As with many monarchs, the Spanish royal family traditionally use one of their many properties as a summer residence; up until the 19th century many reigning Spanish monarchs chose to hold court in the Royal Palace of Aranjuez during the warmer months of the year. Although formally established in the 16th century under King Philip II, Arunjuez's site had been used by the royal family to house a hunting lodge for almost a hundred years prior.
The Italian-inspired palace holds boundless beauty behind its equally impressive exterior. You'll have to see it to believe it, however, as visitors are banned from taking photographs inside the palace walls. Although much of the building is open to the public – including the throne room, king and queen's bedroom and dressing rooms and the ballroom – it is the famous Porcelain Room that stands out. Commissioned by Phillip V, the Porcelain Room's ceiling and walls are adorned with intricate Chinese-inspired porcelain figures and motifs.
Outside, the palace has three beautiful gardens, all of which are open for visitors to explore, with the sprawling Prince's Garden being the largest. The town of Aranjuez itself, which has been declared as a UNESCO Cultural Landscape World Heritage Site, is also well-worth an explore. Thanks to its royal history, the town holds many architectural gems throughout its streets, with the old quarter a particular favorite among visitors.
The Royal Palace of Aranjuez and surrounding gardens are open Tuesday through Sunday year-round.
patrimonionacional.es/royal-palace-aranjuez
Royal Palace of La Granja, San Ildefonso
Found in the small hillside town of San Ildefonso, near Segovia, the Royal Palace of La Granja was initially commissioned as a royal residence in the early 1700s by King Philip V, having recently fallen in love with the surrounding landscape. Despite Philip's intention to retire to the palace when he abdicated in 1724, the death of his heir meant that La Granja had to be used as an official royal residence.
During its time as one of the court's summer residences, the splendid palace played host to a large number of grand events, with royal weddings, formal burials and political meetings all having taken place inside its walls.
Designed in the classic Rococo style, the Royal Palace of La Granja's architecture is jaw-droppingly ornate. Outside, approaching visitors are welcomed by a columned façade that draws inspiration from both French and Italian architecture; inside, Carrara marble sculptures sit underneath mesmerizing frescoes lining the vaulted ceilings. While the palace itself is a beautiful structure, Philip V was concerned with ensuring the surrounding gardens were of equal beauty.
Spread across 1,500 acres, the gardens at the Royal Palace of La Granja are considered to be one of the finest examples of an 18th century French formal garden in Spain, with the abundance of sculptural fountains and water features opening it up to many comparisons to Versailles (which was built by Philip V's grandfather). Although in the current day it is unusual for all fountains to be flowing together (such excitement is reserved for special events), the gardens still make for a wonderful tour.
Royal Palace of La Granja and gardens is open Tuesday through Sunday and is closed on certain holidays; see website for seasonal opening hours and 'Extraordinary Openings.'
patrimonionacional.es/royal-palace-la-granja
Royal Palace of Riofrío, Segovia
Drive just twenty minutes west of the Royal Palace of La Granja and you will stumble upon a lesser-known example of Spain's most significant royal sites: the Royal Palace of Riofrío. The complex was initially commissioned to become the home of Queen Elisabeth Farnese, following the death of her husband King Philip V in 1746; however, it is thought that she never actually lived there and the place was left empty for over a hundred years.
The palace was designed to reflect the former queen's Italian heritage, with architect Virgilio Rabaglio adopting the country's signature square floor plan and orderly appearance that is reminiscent of Roman architecture. The majestic inner courtyard is encompassed by four striking pink façades, which are thrown into stark contrast against the greenery of the surrounding Riofrío Forest.
Although the Palace of Riofrío never became a permanent royal residence, the surrounding forest made it a popular spot for royal hunting expeditions; in modern times, the forest is a protected ecological and biological reserve.
Thanks to a nationwide program dedicated to restoring and maintaining Spain's royal sites for visitor use, the palace received a facelift, including the recovery of much of the original décor from its mid-19th century decoration at the hands of king consort Francisco de Asis. The palace has also received some 500 artworks from other Spanish royal sites, in addition to its own collection, which are on display to visitors.
Both Royal Palace of Riofrío and Riofrío Forest welcome visitors throughout the year, Tuesday through Sunday; see website for specific opening hours.
patrimonionacional.es/royal-palace-riofrio
[See also: The Best Alternative City Breaks in Spain]
Royal Alcázar of Seville, Seville
With origins tracing back as far as the Moorish rule, the Royal Alcázar of Seville is considered to be one of Europe's oldest royal palaces. In its long lifetime, the Alcázar has been home to a number of significant figures, including Moorish king Al-Mutamid, exiled French aristocracy and, for a short period, King Philip V. Now, the upper quarters of the Alcázar still act as the royal family's official residence when in Seville.
It is thought that the Alcázar no longer bears any of its original build; instead, it has become a melting pot of architectural styles, as residents throughout the years refurbished and redecorated, from ornate Mudéjar decoration to striking Gothic designs.
Since 1987 Alcázar has been noted as a UNESCO World Heritage site, with visitors welcomed to visit the palace, as well as its lush gardens. Thanks to its completely unique jumble of historical design, the site has been used as the backdrop for many a film and TV show; you're likely to spot a backdrop you recognize on your visit.
The Royal Alcázar of Seville is open daily throughout the year; see website for tickets.
patrimonionacional.es/upper-chambers-royal-alcazars-seville