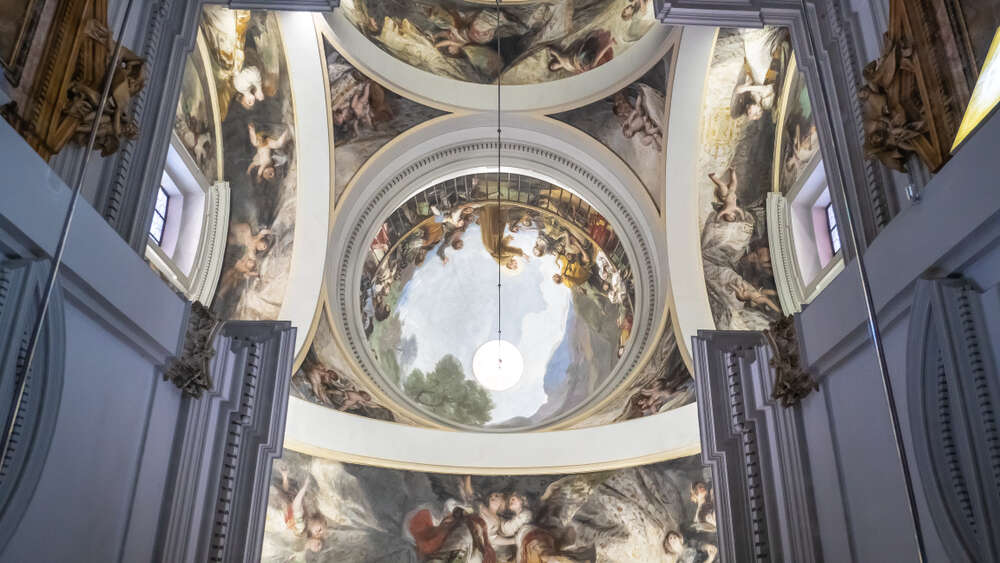 When visualizing Spain's biggest cities of Madrid, Barcelona, Valencia and Seville, one typically conjures up an eclectic mix of buzzing tapas bars, lively nightlife, food markets, packed galleries and historical sites bursting at the seams with snap-happy tourists. Indeed, the hustle and bustle of Spain's metropolitan centers are all part of their undeniable allure. But tucked away from the well-trodden tourist paths are a collection of hidden gems in Spain's biggest cities, offering visitors to Spain's glorious urban hotspots an altogether mellower experience. 
From tranquil parks to rooftop bars, here at Elite Traveler we have curated a list of Spain's hidden gems that offer an escape from the masses and a chance to enjoy the lesser-known but equally as captivating spots in the country's biggest cities. 
Barcelona
As the capital of Spain's Catalonia region, Barcelona welcomes around 18 million tourists per year, making it one of Europe's most visited cities – and for good reason. Not only is the Mediterranean city admired around the world for its art and architecture, but its stylish bars and world-class restaurants (Barcelona is home to 22 Michelin-star restaurants) also make it a must-visit destination. Like all of Spain's cities, its population swells during the summer months but there are still a number of quieter spots away from the crowds to be uncovered.
Gaudi's Crypt
Just outside the western edge of the city, you will find Colònia Güell, a pioneering utopian textile workers' village in Santa Coloma de Cervelló, commissioned by Eusebi Güell (the man behind Gaudi's famed Park Güell). Güell commissioned Gaudi to create the village's church, also known as Gaudi's crypt. Work started in 1908 and Gaudi used its design and construction as a test-bed to develop the architectural innovations that would lead to his most famous masterpiece, Le Sagrada Família. Despite its status as a UNESCO World Heritage site, it remains one of Spain's hidden gems and attracts only a fraction of the visitors of the legendary Spanish architects' better-known creations within the city. 
Serra de Collserola Natural Park
Hop on the metro from Barcelona's city center for 15 minutes then exit at Baixador de Vallvidrera and you will find yourself within the serene surroundings of the Serra de Collserola Natural Park – known as  the 'green lungs' of Barcelona. Spanning nearly 20,000 acres and encapsulating a wealth of Mediterranean flora and fauna the mountainous terrain is perfect for cycling, hiking, birdwatching or a long lazy afternoon picnic. You can also take some time out to explore the ruins of the 14th-century Castellciuro castle and the ancient Iberian settlement of the Ca n'Oliver. The park is also home to the famous Collserola tower designed by Norman Foster to broadcast the 1992 Barcelona Olympic games. Standing at 945ft tall, it offers the best views of the city. 
Terrat at Mandarin Oriental 
Another spot to soak in views over the city is the rooftop of one of Barcelona's most exclusive destinations: The Terrat at Mandarin Oriental. Leave behind the city's bustling streets nine stories below and embrace laid-back luxury as you sip poolside cocktails from the comfort of your sunlounger. This sanctuary in the sky also offers a delectable menu of authentic Peruvian cuisine from acclaimed chef, Gastón Acurio.
[See also: The Best Alternative City Breaks in Spain]
Madrid
Spain's capital city has an electric energy and offers an altogether more Spanish feel than its cosmopolitan coastal sibling, Barcelona. Spain's royal city is overflowing with art galleries housing the works of some of the country's most famous sons including Goya, Velázquez and of course Picasso. As a result, it attracts a cultured crowd from all corners of the globe, as well as foodies eager to sample the vast culinary delights dished out everywhere from the city's food markets through to its wealth of Michelin-starred establishments. 
Four Seasons Madrid Spa
The newly opened Four Seasons Madrid is the group's first Spanish residence and its spa is the biggest in the city, spanning two floors at 15,000 sq ft. After a day of sightseeing, treat yourself to one of the many rejuvenating treatments on offer such as the Restorative Massage or the Fortifying Healing Facial. A beautiful glass-walled swimming pool with boundless natural light is the perfect place for a dip while the adjacent sun terrace provides exquisite views across the city. 
Parque del Oeste 
Leave the crowds of Retiro Park behind and wonder over the Parque del Oeste, a favorite amongst Madrileños. Take in the sites and smells of the award-winning rose garden which houses over 600 varieties of roses and swing by the Egyptian temple gifted to Spain by the Egyptian government during the construction of the Aswan dam. The park is also home to an unassuming little church built in the 18th century called the San Antonio de la Florida Chapel. It's nothing particularly special from the outside, however, step through its doors and you will be greeted by sweeping rooftop frescos by legendary painter Goya. This under-the-radar masterpiece has stood here since 1798, with the chapel also the old Spanish master's final resting place. 
Museo de la Real Academia de Bellas Artes de San Fernando
Madrid's Royal Academy of the Arts has a glittering alumnus which includes Picasso and Dali and adorning its walls you will find works by Arcimboldo, Velázquez, Rubens, Van Dyck, El Greco, Goya, Sorolla and more. Despite this, it is often overlooked for the more-famous Prado, Thyssen-Bornemisza or Reina Sofía and is therefore much quieter. It has been a center of excellence since King Fernando VI founded the academy in 1752, and remains an exceptional collection of works.
Seville
The capital of Andalucia, Seville's eclectic mix of Moorish, baroque, renaissance and gothic architecture tells the story of the city's rich history. Warm summers and mild winters make it a popular destination all year round as tourists come to lap up its unique charm and explore the enormous cathedral, stunning palace, laid back bars and flamenco clubs; but between the narrow medieval lanes and Roman ruins, you will find a handful of Spain's hidden gems in the form of parks, bars and most notably, the city's ancient baths. 
Aire Ancient Baths
Tucked away behind the cathedral is a 16th century Mudéjar Palace which was built on the site of an original Moorish hammam. The original baths are remnants of Spain's Moorish rule and have been restored to offer a tranquil oasis within Seville's lively old town. Treat yourself to some downtime as you float back in time in one of the stone pools surrounded by candlelight or indulge in a Himalayan Salt treatment. The best time to visit is just before dusk where you can take in magnificent sunsets from the rooftop pool. 
[See more: An Art Trail Through Spain]
Valencia
Spain's third-largest city brings together everything you could wish for in one neat and accessible package: miles of golden sandy beaches, amazing architecture, bags of culture and a thriving gastronomy scene (Paella was invented here). It can get seriously busy during the summer months but luckily there are a wealth of green spaces and coastal expanses to escape the crowds including the picturesque Parque Natural de la Albufera.
Parque Natural de la Albufera
Located on Valencia's outskirts, Parque Natural de la Albufera spans over 52,000 acres and is home to one of the country's most important wetlands. The protected area provides a vital habitat for 350 bird species along with an abundance of other plants and wildlife. A boat trip on the placid waters of La Albufera salt lake is a must and will be particularly memorable during sunset as local fisherman bring home their catch. There are a number of beaches as well as six walking routes perfect for a leisurely stroll.