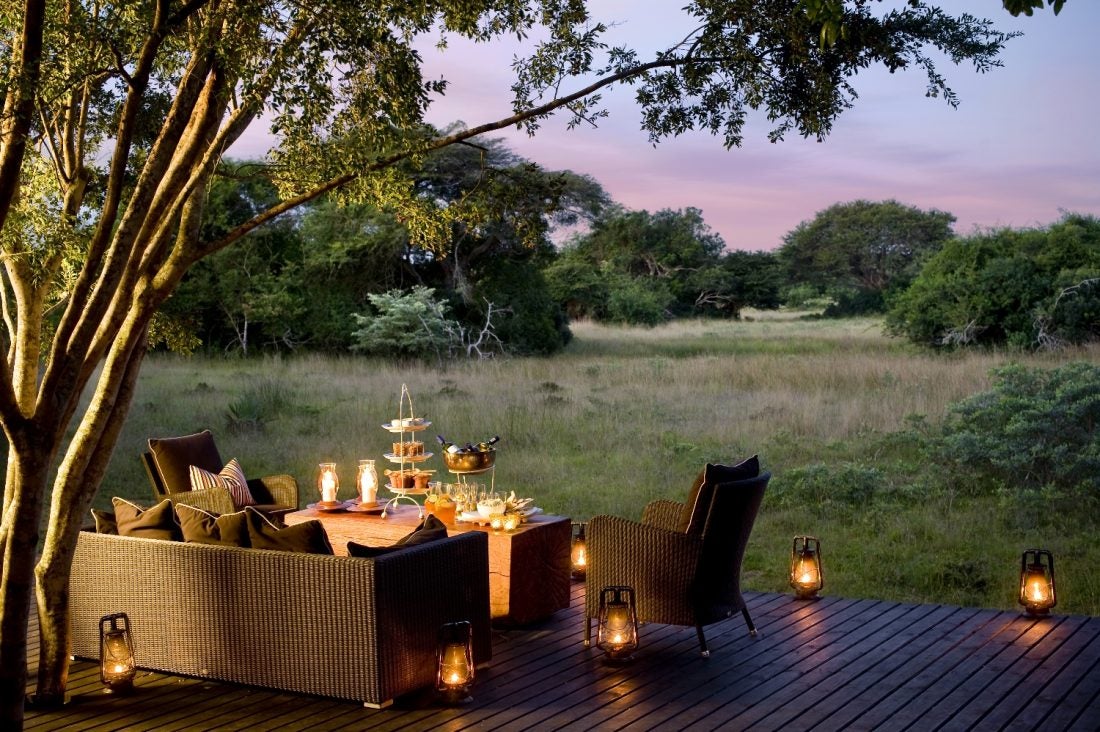 Conservation-led luxury travel specialist andBeyond is celebrating its 30th anniversary by launching a series of special itineraries inspired by its founding ethos of 'Care of the land, care of the wildlife and care of the people.'
The pioneering South African travel firm has spent three decades building its sustainable luxury travel model, which seeks to make luxury conservation-led travel sustainable through its partnerships with local communities and environmental approach. 
Having now exported its model of responsible travel from Africa to both Asia and South America, the andBeyond 30th-anniversary limited-edition itineraries are set to highlight the company's conservation successes and achievements. The small group trips – which will be led by andBeyond's conservation experts – aim to encourage greater awareness of sustainable travel.
The first collection of bucket-list-ticking journeys has just been launched for 2022; they include a glimpse of South Africa's magnificent marine phenomenon, the Sardine Run, as well as the opportunity to follow in the footsteps of an andBeyond conservation program that helped to reverse local lion extinction in Rwanda. Meanwhile, in Argentina, travelers can gain an insider's view into some of the country's most significant conservation projects. Elite Traveler takes a closer look at the three new itineraries. 
Africa's Greatest Marine Migration Expedition 
Taking place in June 2022, andBeyond's 10-day Africa's Greatest Marine Migration Expedition offers keen divers the once-in-a-lifetime chance to experience the annual Sardine Run. The naturally occurring spectacle sees the mass movement of enormous swirling shoals of sardines along the east coast of South Africa, attracting a wealth of marine predators including sharks, dolphins, whales and other giants of the deep. The expedition will be hosted by ecologist Dr. Tessa Hempson, providing guests the chance to gain a unique insight into one of the world's greatest marine phenomenons.  
Following six nights on the Eastern Cape's wild coast, travelers will move north to explore the warmer waters and bountiful coral reefs of Sodwana Bay. They will also enjoy game drives and bush walks at the nearby andBeyond Phinda Private Game Reserve while staying at the five-star Forest Lodge (where guests will spend their final three nights). 
Impact Journey into South America Expedition
In October 2022, andBeyond's Impact Journey into South America itinerary – hosted by award-winning conservationist, Les Carlise – traces how andBeyond exported its 30-year impact model of conservation-led responsible travel from Africa to South America. 
From jaguar breeding programs in Argentina's lush Iberá Wetlands to puma sanctuaries within the dramatic surrounds of Patagonia's Torres Del Paine National Park, guests will be given a front-row seat to witness the groundbreaking conservation work that is protecting the region's precious flora and fauna. 
The adventure ends at andBeyond Vira Vira in the Chilean Lake District, where guests can indulge in sustainable, garden-to-table dining, as well as a host of cultural and outdoor experiences, making the most of this unique setting. 
[See also: Great Plains Reveals New Botswana Experience Itinerary]
Return of the Lion Expedition
The third of andBeyond's 30th-anniversary itineraries to be announced is the Return of the Lion Expedition, a hands-on conservation experience also taking place in October 2022. 
Showcasing what the travel and conservation community is capable of when working for the greater good, the trip follows in the footsteps of a group of lions translocated from andBeyond Phinda Private Game Reserve in South Africa to Rwanda's Akagera National park, reversing the 15-year extinction of the species in the locality. 
At andBeyond Phinda Private Game Reserve in South Africa, guests will also have the unique chance to take part in active conservation initiatives including tracking the reserve's rare pangolin whilst staying in the sumptuous surrounds of andBeyond's Phinda-Vlei-Lodge. At Akagera, guests will track and participate in the monitoring of the reserve's new pride of lions as well as exploring some of Africa's most untouched wilderness areas.
andBeyond's 30th-anniversary itineraries, from $11,950 per person, andbeyond.com