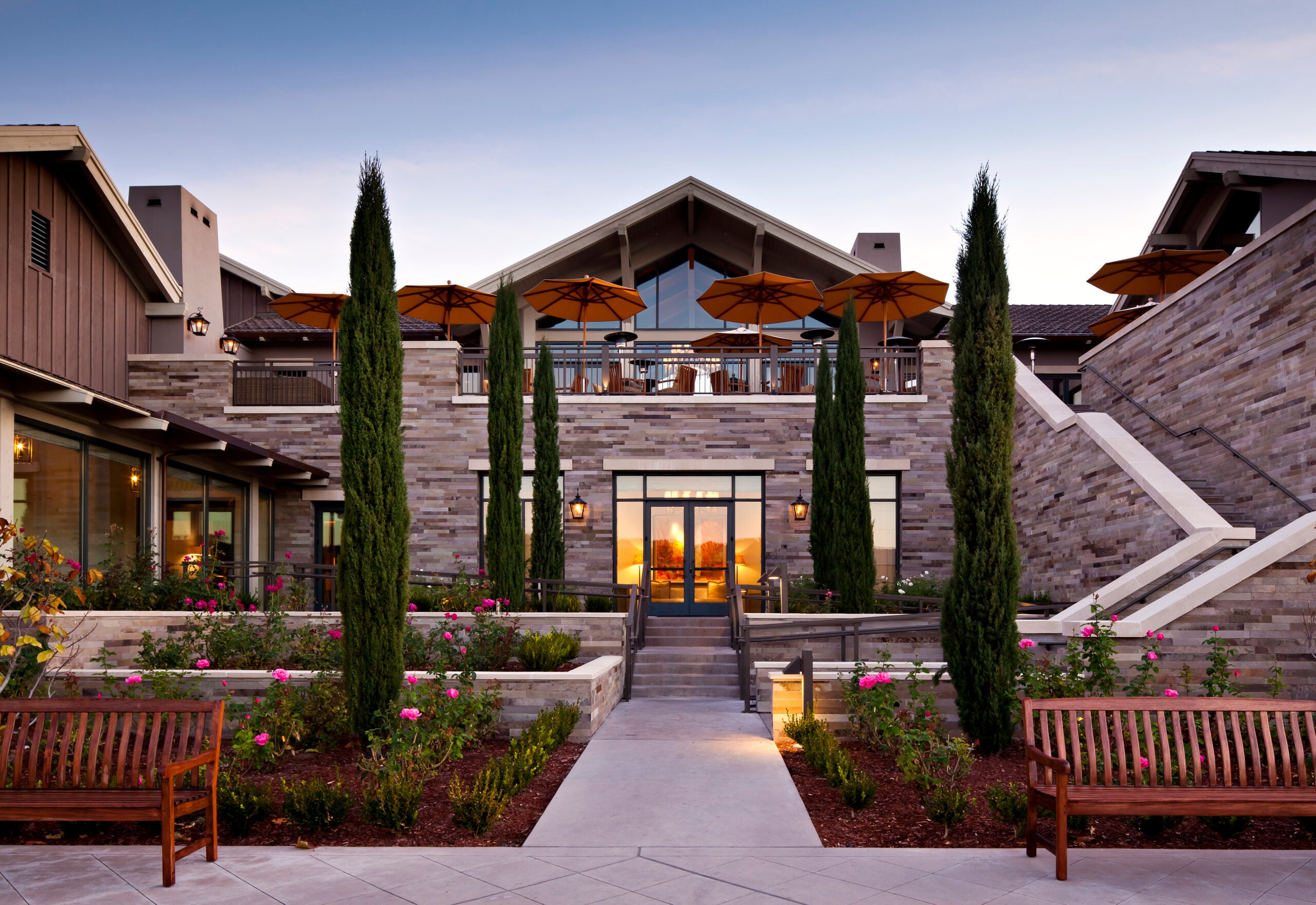 From the majestic Santa Cruz Mountains to the sun-kissed beaches of Santa Barbara, there is a diverse array of natural wonders to behold in California. The Golden State Getaway from Rosewood allows you to enjoy them all in style and with ease. Starting with a stay at Rosewood Sand Hill and concluding at Rosewood Miramar Beach, the experience is a four-day exploration of the best that California has to offer. Each location has a unique sense of place, but the thoughtful itinerary seamlessly connects the two by accentuating the easy-going spirit common to the whole state.
Rosewood Sand Hill
Located in the heart of Silicon Valley and set against the stunning backdrop of the Santa Cruz Mountains, Rosewood Sand Hill is a relaxed yet luxurious retreat. The hotel's California Ranch architecture highlights the natural beauty of the landscape, and amenities include poolside cabanas, culinary delights featuring local ingredients, and a world-class spa.
As a guest of the Golden State Getaway, you'll get to spend your first two nights in one of Sand Hill's spacious suites. The bright, airy interior comfortably opens up to a stylishly furnished outdoor space perfumed by surrounding gardens. Thoughtful details like a glass of Blanc de Blancs Champagne and chocolate awaiting your arrival set the tone for the rest of your stay.
[See also: Learn the Bladesmith Trade at Four Seasons Hualālai]
Next, head to a private cabana by the pool for an exclusive brunch. Curated in collaboration with acclaimed chef Ravi Kapur of Liholiho Yacht Club, the menu celebrates local, sustainably sourced ingredients through the lens of chef Kapur's unique culinary heritage. Refreshing cocktails featuring Flor de Cana rum and The Bad Stuff tequila complement dishes like furikake seasoned Kennebec potato chips with caramelized onion dip and a poke bowl with line-caught tuna, avocado, radish, spicy aioli and radish sprouts.
If you're looking for some inner peace, join a one-hour yoga session on the Vista Lawn surrounded by mountain views or make your way to Sense, A Rosewood Spa, where you'll receive an exclusive spa treatment and access to the resort's relaxation center.
Rosewood Miramar Beach
After checking out the charms of northern California, cruise down the iconic Pacific Coast Highway or hop onto a quick one-hour flight to discover what the southern part of the state has in store. Situated in an idyllic area known as The American Riviera, the Rosewood Miramar Beach has a wide range of options to help you unwind.
Take a load off in a beachfront guestroom or studio, where you'll be steps away from the Pacific. Those yearning to spend time on the pristine shores of Miramar Beach will appreciate the bespoke beach service and a host of activities. Catch some waves on a surfboard or in a kayak, relish a sunset stroll, or decompress in a private yoga session on the beach.
[See also: Las Ventanas al Paraíso MD Frederic Vidal on the Future of the Resort]
If you're looking for something more placid, hang out by the family-friendly Manor Pool or the grown-up Cabana Pool. Flanked by lush greenery, the Manor Pool also has a neighboring ice cream and burger shack called the Scoop Shop that offers poolside service. Although the Cabana Pool is only open to guests 21 years and older, its distinctive scalloped border brings a playful touch. Both pools have private cabanas designed by DIOR.
Less aquatic amenities include a top-of-the-line fitness studio, another excellent outpost of Sense, and the newly launched Revere Room helmed by executive chef Massimo Falsini. Golden State Getaway guests will be treated to a lunch that focuses on hyperlocal ingredients. Nourish yourself with plant-based bowls and regenerative juices made with produce from nearby farms and purveyors.
Another perk of the Golden State Getaway is a one-on-one styling session at The Webster. The brand's founder Laure Hériard Dubreui has specially curated a collection inspired by Santa Barbara's laidback seaside vibe including a smocked linen dress from Jil Sander and bandana-printed basketball shorts by Amiri. An online shoppable edit also showcases offerings that capture the vibrant sophistication of Rose Wood Sand Hill's Bay Area surroundings. As a bonus, you'll leave with a complimentary signature candle.
While there's a world of itineraries that give travelers a glimpse of a local culture, the Golden State Getaway provides a uniquely immersive experience of both northern and southern California. Placed side-by-side, the distinct features and common restorative aura of each location truly shine.
Available now through the end of the summer season, the Golden State getaway starts at $4,295 at Rosewood Sand Hill and $9,950 at Rosewood Miramar Beach.