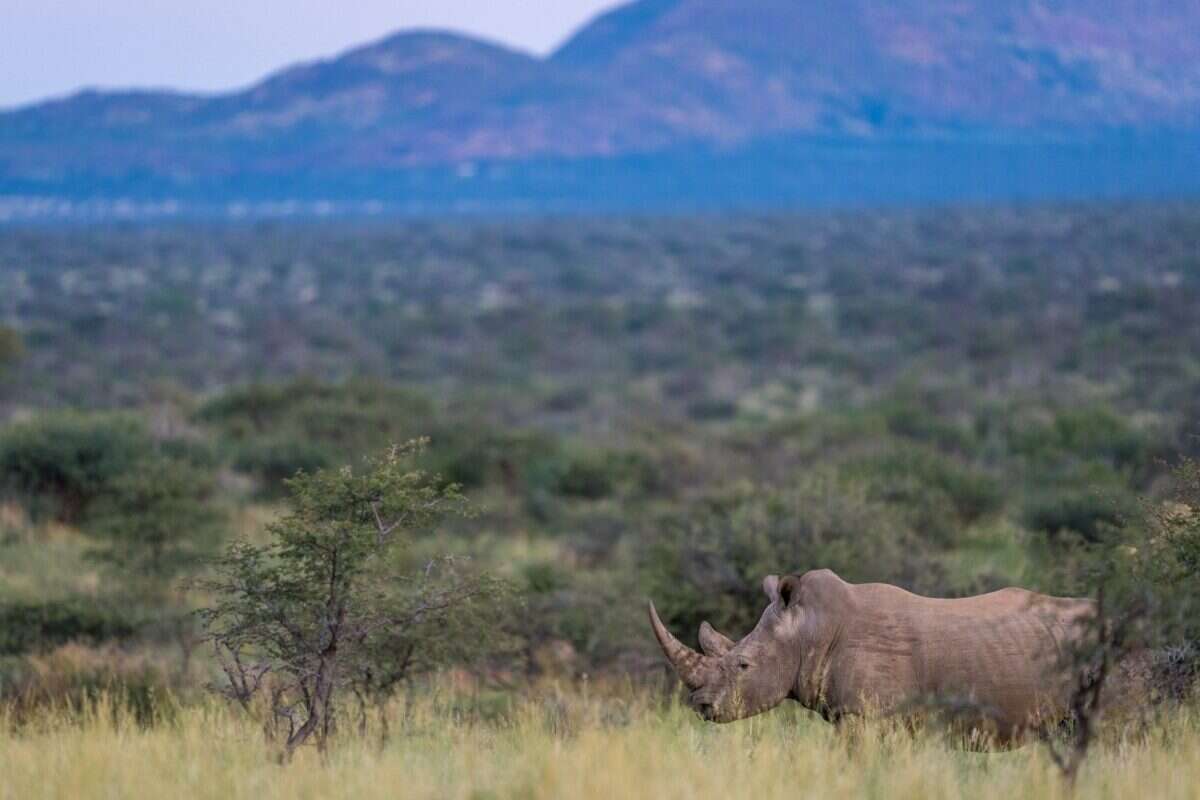 If you're hoping to give back on your next trip away, you'll be hard-pressed to find a more exciting, immersive experience than Tswalu's brand-new Rhino conservation offering. Running from April through September, South Africa's largest privately-owned game reserve is giving guests a unique opportunity to help bolster the endangered rhino population in the remote wilderness of Southern Kalahari.
During the truly unforgettable day, intrepid travelers will be fully immersed in the incredible wildlife, joining expert trackers and veterinarians as part of the ground crew darting young rhinos in the private reserve. Once asleep, the animals are given a recorded number and planted with a tiny microchip to track feeding patterns and data on breeding.
A DNA sample is also collected that is added to a global database to help prevent the illegal trading of horns. Guests are given the chance to assist with inserting the microchip and monitoring the rhino's breathing and body temperature as it is anesthetized.
[See more: Exclusive African Safari Camps Championing Sustainability]
Priced at $7,265, the hands-on experience includes the fees needed to cover the wildlife veterinarian, the specialized drugs in the darts and flying expenses. Guests can also donate directly to Tswalu to further support the reserve's rhino recovery initiatives.
The rhino conservation experience is just the latest example of Tsawlu's critical conservation work. Founded by the late entrepreneur Stephen Boler, the reserve has successfully introduced dozens of indigenous species over the years including black-maned lions, wild dogs and black rhinos. Vital work is carried out through the Tswalu Foundation which supports ecological research on the reserve.
In 2020, Tswalu also joined The Long Run – a conservation organization endorsed by the Global Sustainable Tourism Council that holds businesses to account, ensuring they operate according to the highest standards of sustainability both through conservation and support for the local community.
While accommodation is not included with Tswalu's rhino notching experience (all of the money goes directly into conservation costs), if you've traveled all the way to Northern Cape, it's well worth booking a stay at one of Tswalu's ultra-exclusive camps. Situated at the foot of the Korranaberg mountains in the heart of the 27,000-acre reserve, Motse features nine individual legaes (Tswana for 'home') beautifully designed to blend seamlessly into the surrounding natural landscape.
The other intimate camp, Tarkuni, is a stunning private villa that sleeps up to 10 guests across five sumptuous suites, complete with a plunge pool and roomy outdoor terrace. And, for those that want to get even closer to nature, opt to sleep out under the stars at Naledi or Malori.