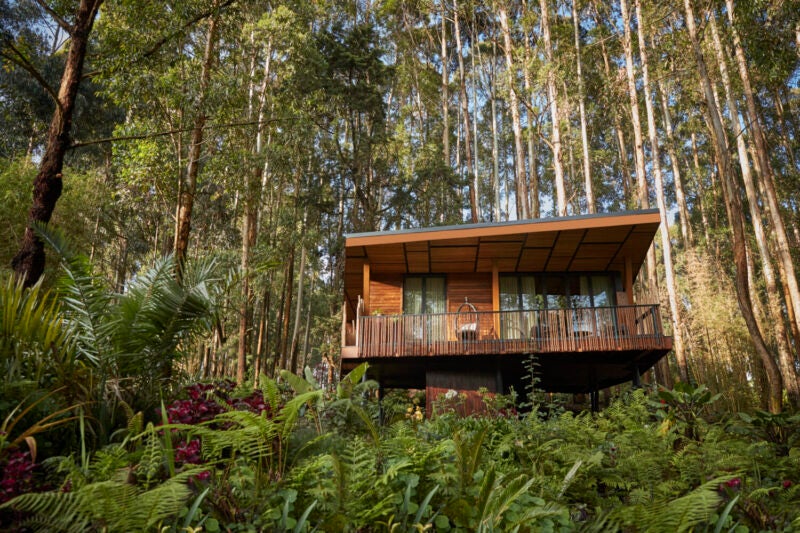 No matter the number of renowned resorts and hotels you've visited or the number of countries and cities you've ticked off your bucket list, there is nothing quite like the experience of being on safari. Whether it's mountain gorilla trekking in Rwanda or searching for the 'Big Five' in South Africa, across the African continent there is a range of luxury safari lodges that offer the chance to bear witness to wildlife in its natural habitat.
Though choosing properties to include on a list of the most immersive safari suites was a welcome challenge, the camps featured here are truly worthy, going above and beyond to create unforgettable experiences for guests. Inherently sustainable, often working with local communities and with five-star levels of bespoke service, these safari camps and lodges are unsurpassed when it comes to getting up close and personal with the natural world.
[See more: Exclusive African Safari Camps Championing Sustainability]
The Mhondoro Villa in the Mhondoro Safari Lodge & Villa
Situated within the beautiful Welgevonden Game Reserve in South Africa's Limpopo Province, the Mhondoro Safari Lodge & Villa is one of the most exclusive luxury safaris on our list. Well known for its family-friendly status, Mhondoro has a variety of safari options for all ages, including bush walks, rhino tracking, star gazing and an underground waterhole hide for truly close encounters with the reserve's wildlife.
Mhondoro's signature suite, the Mhondoro Villa, is the perfect home-away-from-home while guests enjoy the sights and experiences that the safari has to offer. Whether visiting as a family or a honeymooning couple, guests will find there is plenty of room to stretch out across the 5177-sq-ft suite, which includes three bedrooms, three bathrooms and a large living and dining space. As well as this, the Villa boasts its own private pool, gym, and game viewing vehicle with a ranger for any spontaneous safari excursions.
Silverback Suite, One & Only Gorilla's Nest
In the heart of Rwanda is the incredible Volcanoes National Park. Home to endangered mountain gorillas, these historic volcanic mountains became the first national park on the continent. This is, in part, why One & Only Gorilla's Nest is so special. It's a unique luxury safari lodge that boasts the closest proximity to the national park, allowing for easy access to unforgettable treks in the mountains and the chance to view mountain gorillas in their natural habitat.
The most luxurious accommodation at Gorilla's Nest is the tasteful Silverback Suite, a one-bedroom residence with ample living space and astonishing views of the surrounding forest. Guests will be immersed in the natural splendor of the landscape around them as the suite features multiple levels of outdoor terraces for lounging and wildlife spotting. There is also a private pool or, inside, guests can warm up in front of the open fireplace and enjoy the local art adorning the walls.
Singita Castleton, Singita Sabi Sand
Another luxury safari lodge on our list that lies within South Africa, the eponymous Singita Sabi Sand lies within Sabi Sand Game Reserve, an untamed 45,000-acre reserve that is situated adjacent to the famous Kruger National Park. Thanks to its location, Sabi Sand benefits from being in 'Big Cat Country'; guests can enjoy adrenaline-pumping, immersive safari experiences, but know that when they return to Sabi Sand they will be within a relaxed, private retreat.
As the former home of Luke Bailie's (Singita's founder) grandfather, the property has the homely feeling and rustic charm of a country farmhouse, blending this effortlessly with the sophistic elements found in a five-star safari resort. Singita Castleton consists of a large, communal main house and six individual cottages that have wide views of the surrounding landscape. Altogether, Singita Castleton can accommodate up to twelve guests, allowing for larger parties to enjoy the unforgettable experience together.
Grootbos Villas, Grootbos Private Nature Reserve
Nestled between the sea, forests and mountains on the tip of Southern Africa is Grootbos Private Nature Reserve, an award-winning eco-reserve that boasts an incredible foray of flora and fauna. While guests can enjoy a traditional safari to see over 23 species of mammals found on the reserve, what sets Grootbos apart is its marine safari, where guests can witness the marine 'Big Five' – whales, sharks, dolphins, seals and penguins – in their natural habitat.
There are several types of accommodation within the expansive Grootbos estate but the most luxurious are the Grootbos Villas, two exclusive-use villas that offer a private sanctuary away from the rest of the buildings. While staying at a Grootbos Villa, guests will have a private chef, butler and guide, as well as use of a private airstrip and wine cellar. Each of the villas has immaculate bedrooms (either six or four), homely living areas, a state-of-the-art kitchen and a private pool and gym.
The Sambu Suite, ol Donyo Lodge
A pioneer in the eco-tourism field, ol Donyo Lodge is set apart from other safaris thanks to its unique design, which was created with local communities, the wildlife and the landscape in mind. Situated in the Mbirikani Private Ranch in Kenya, the Lodge is a member of the Great Plains Conservation in collaboration with National Geographic filmmakers, the Jouberts. At ol Donyo Lodge, guests can expect daily game drives and views across the savanna, including the great Mount Kilimanjaro.
While the main house at ol Donyou Lodge is a colonial-style lodge with ten bedrooms (sleeping up to 20 guests), for a more private getaway nothing beats the Sambu Suite. Set a short distance away from the main building, the Samba Suite features two large bedrooms with luxurious, oversized beds. The suite has been designed in a traditional safari style – think rich wood furniture and antiques – and also includes its own infinity pool that directly overlooks an acacia forest.
andBeyond Phinda Homestead, Phinda Private Game Reserve
Home to over 400 species of birds as well as Africa's 'Big Five' – lions, leopards, rhino, elephant and buffalo – the Phinda Private Game Reserve is an immense 70,500 acres of protected land in KwaZulu-Natal, South Africa. The founders of andBeyond brought the site back to its natural splendour after identifying it as a key conservation area that was previously derelict because of overgrazing. Now, andBeyond has several kinds of accommodation on the reserve – but our suite of choice is the Homestead.
Designed as a contemporary farmhouse, andBeyond Phinda Homestead blends with the natural environment that surrounds it. Available for exclusive use, the Homestead is perfect for small groups of friends or family. Each of the four bedrooms are spacious and inviting; there is also a large kitchen, a private gym and a private spa. Everything from the meals to the game drive times are tailored to guests' preference, making for the ultimate personalised, immersive safari experience.
Forest Villa, Wilderness Safaris Bisate Lodge
Another luxury safari resort set on the edge of Volcanic National Park in northwest Rwanda, Wilderness Safaris Bisate Lodge is uniquely situated on the slopes of an eroded volcanic crater. Not only is the location noteworthy, but Bisate Lodge has been designed in a style traditional to Rwandan royalty, with Wilderness Safaris making a significant effort to ensure the Lodge leaves no trace on the ground it rests on.
Bisate Lodge does not have one particular stand out suite; instead, the boutique safari resort has six en-suite Forest Villas, all of which benefit from panoramic views of the (extinct) Bisoke and Karisimbi volcanoes. The Forest Villas have iconic domed roofs and sophisticated interiors, complete with furnishings made from natural materials, including local artwork. While gorilla trekking is the main attraction, guests can enjoy a range of experiences around the Lodge – or sit back and relax on their own private verandas to admire the views.
[See more: Inside Wilderness Safaris Bisate Kwanda Day Lounge]
Baobab Treehouse, Xigera Safari Lodge
Almost completely run by solar panels and built with sustainability in mind, Xigera Safari Lodge is nestled discreetly among ancient trees along the banks of a waterway in the Okavango Delta, Botswana. Xigera has a reputation for being the perfect spot to sight water buffalo, lions and other wildlife that come to drink along the waterway. As well as walking safaris and traditional canoe trips, Xigera offers its guests a range of wellness options, including yoga and spa treatments.
For a truly unforgettable experience, choose the Boabab Treehouse while staying at Xigera. Set away from the main lodge (with a guide close by), the Treehouse is a truly immersive luxury safari suite, offering guests the chance to surround themselves in wilderness. Though it is a sculptural masterpiece to look at, staying within the Treehouse is even more awe-inspiring. Set across three floors, it features a main bedroom and an open-air deck on the roof to safely watch wildlife pass below.
[See more: The Most Exclusive Safari Lodges in South Africa]