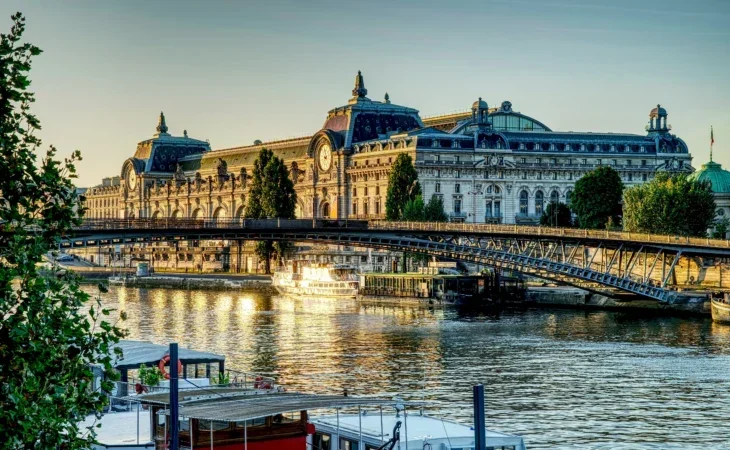 Self-professed 'travel alchemists,' Ariodante Luxury Travel offers a unique itinerary that is sure to entice art buffs. Traversing some of Europe's culturally rich cities, this tour follows the trail of Van Gogh's life as you discover the torment behind the genius. One of the biggest mysteries surrounding the famed artist is what led him to sever his ear in December 1888, and Ariodante invites you to uncover the inner workings of his mind.
Your trip begins in the UK, and you'll journey across Europe as you delve into the artist's life. Guests gain backstage access to museums, meet world-renowned experts, and see rare documents in libraries. The aim? By the end, participants will have a better understanding of Van Gogh as both a person and an artist, and will see his artwork through fresh eyes.
The tour is completely bespoke; destinations and subsequent accommodations are selected based on your particular interests — whether that be the early Van Gogh or his relationship with Gauguin. To get you between each highlight of the trip, private jets and helicopters will transport you while luxury vehicles await you on the ground.
And as you travel, you can rest assured that everything is being done to minimize environmental impact, with all trips being carbon offset by 200%. Trips range from two days to two weeks, but to give you a taste of what Ariodante can offer the budding art enthusiast, this itinerary for a seven-day jaunt showcases some of the highlights.
[See also: The Most Immersive Safari Suites in the World]
Day 1
Begin in London, where you will visit Van Gogh: The Immersive Experience Vincent Van Gogh Expo, a 360-degree artistic immersion where you watch the artist's paintings come to life in an animated display. Don a VR headset as you walk alongside Van Gogh to discover the inspiration behind eight of his most famous artworks. Then, back to reality — visit the National Gallery, which houses original Van Gogh paintings, such as his famous Sunflowers.
Day 2
Journey on to Amsterdam and Brussels, where you will uncover Van Gogh's youth and what inspired him to become an artist. Having grown up in the Netherlands, Van Gogh moved to Brussels in 1880 and began to hone his drawing skills. Out of work, he moved back to the Netherlands with his family where, in the ensuing years, he took art lessons and began to seek solace in his work. Visit Amsterdam's Van Gogh Museum, located in the heart of the city's Museum District. The largest private collection of his artworks, it opened in 1973 and displays his personal letters as well as decades of research into his artistic and personal development — something sure to help you in your quest to uncover the truth behind the artist.
Day 3
Board a private jet to Paris, where you follow Van Gogh in the next stage of his life. Walk around the beautiful Montmartre, where he lived with his brother Theo and dedicated himself exclusively to his art. Learn about the Impressionism and Post-Impressionism movements from experts, and visit some of Paris' most famous museums and galleries, including the Musée d'Orsay, which houses an impressive 27 original Van Gogh paintings, including the famous Starry Night.
Day 4-5
Travel down to Provence in southern France and discover the region where Van Gogh was most prolific. While there are none of his paintings here, he worked on 350 pieces during the months he spent in Arles and St Rémy de Provence. And, it is here where he infamously cut off his ear and was subsequently committed to an asylum. Through private visits to famous museums as well as restoration workshops, you can get a glimpse at what his inspiration stemmed from: the breathtaking landscape. Narrow streets and cafes are set against the picturesque countryside — the epitome of French charm.
Day 6-7
Head back to Paris and Auvers-sur-Oise, where Van Gogh spent his final days. Discharged from the asylum, Van Gogh moved to Auvers and spent most of his time painting the scenery. Revisit the Musée d'Orsay, where you will be able to use your discoveries of the artistic genius to take a fresh look at Van Gogh's famous paintings.
From $69,430 per person based on a group of up to six people on a seven-day trip. Contact Ricardo Araujo, founder and CEO, contact@ariodante.uk, +44 798 514 6633, ariodantetravel.com
[See also: Elite Traveler Reveals Top Adventures 2022]
This article appears in the 06 Jun 2022 issue of the New Statesman, Summer 2022