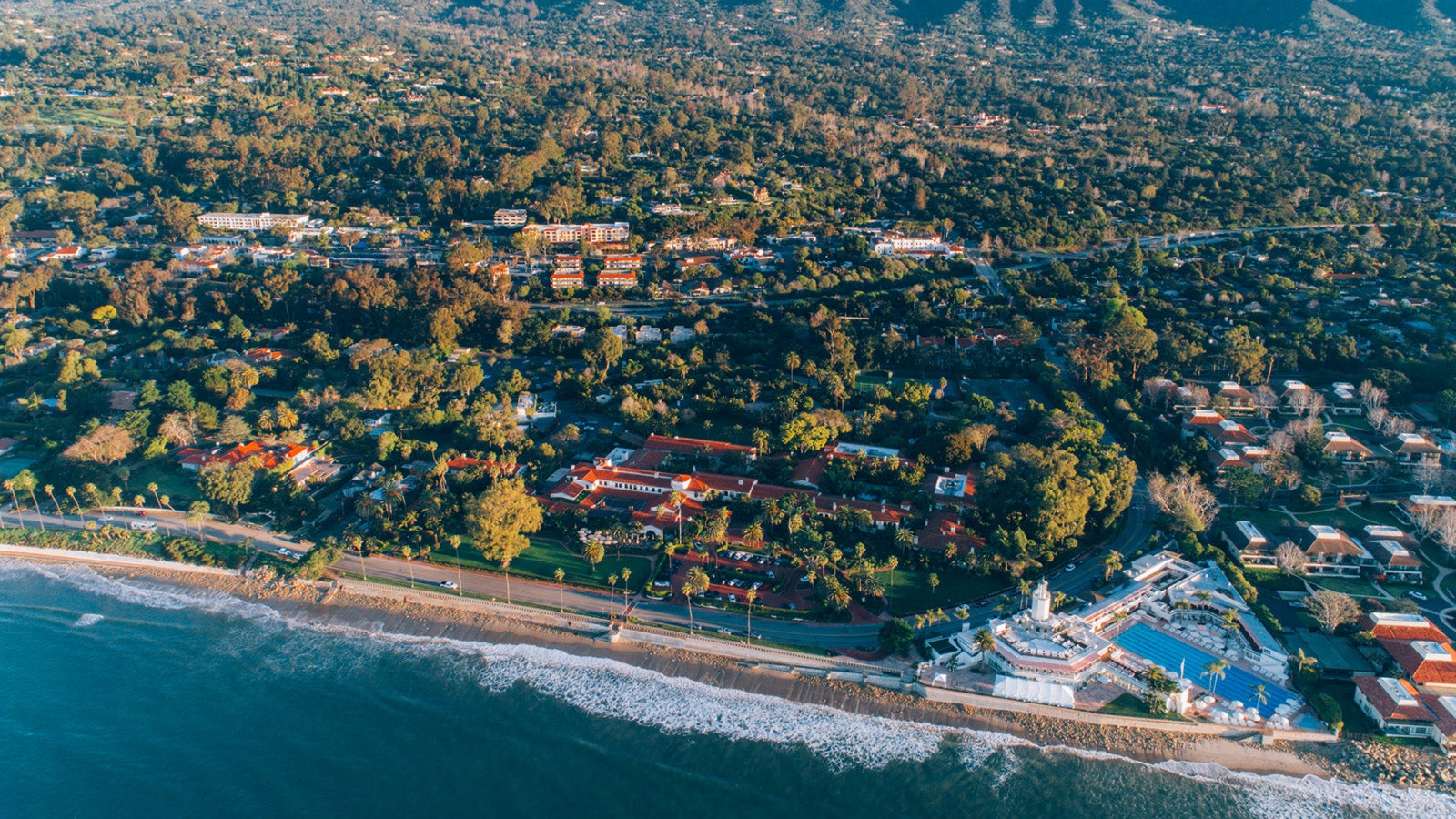 Your Santa Barbara, California vacation awaits you from the moment you touch down at LAX — at least if you book the Ty Warner Villa at Four Seasons Resort Santa Barbara, The Biltmore. The hotel is now offering an incredible helicopter experience, called Escape Into Sky-High Solitude' exclusively for guests of the palatial Ty Warner Villa at the resort, which includes a journey through PS. 
PS, also known as The Private Suite, is a luxury private terminal serving commercial flights, and a total gamechanger for those who want to skip the lines and often stressful airport experience altogether. If you are arriving from a previous flight, when you immediately exit the aircraft, someone will be waiting for you to collect your belongings and shuttle you to the PS terminal in a brand-new BMW.
At the PS terminal, your luggage (if checked) will be waiting for you in your private suite. The suite has a TV; lounge area; bathroom; wet bar stocked with champagne, wine, healthy snacks, coffee and travel must-haves (everything from hair combs to cough drops to car chargers and neck pillows); and floor-to-ceiling windows overlooking the tarmac — don't worry, you can close blinds for extra privacy. There's even a menu to order healthy dishes (this is California, of course), or a latté. If you're coming in on an international flight, you are able to complete the customs clearance in the privacy of the suite. 
Once you've freshened up and (hopefully) indulged in some bubbly, depart from LAX in a helicopter, in partnership with Helinet Aviation. Fly along the California coast, and enjoy the ocean, mountain and aerial views over the region during your extremely short flight. You'll land close to the resort at an undisclosed location, where you'll have a private transfer directly to your haven: the Ty Warner Villa, with snacks and wine waiting for you in the car.
The palatial one-bedroom villa has 180-degree views over Butterfly Beach, directly across the street. Here, you have utter privacy — you even have your own driveway and parking space within the enclave. The sumptuous villa was introduced in June 2019, and it has a private plunge pool with a spacious outdoor lounge, plus a croquet lawn shielded by extra-tall shrubbery; indoor and outdoor fireplace; a large living room with a fireplace, TV and dining area; a separate outdoor lounge with a ping-pong table and fireplace, plus an out-of-this-world rain shower in the massive master bathroom (there's a powder room that can be accessed via a hallway). There is the option to connect an additional bedroom. The villa is a standalone structure adjacent to the main property, meaning it's a short walk to Bella Vista restaurant and Ty Lounge to grab a fresh breakfast, lunch dinner or a Biltmore Fuerte cocktail, Santa Barbara's signature cocktail developed by Four Seasons' expert mixologists.
When it's time to leave, it'll be hard to pull away, but luckily you'll have a helicopter ride back to LAX and your final experience at PS. The luxury terminal has its own TSA security checkpoint (chances are you'll be the only one using it at your time of departure), and a BMW will once again whisk you to your aircraft, where you'll board the plane via a staircase. Your baggage will be checked by someone from PS, and off you go. 
You'll go home with a monogrammed Naked Cashmere blanket as a memento of your stay.
For more information, visit fourseasons.com/santabarbara and reserveps.com