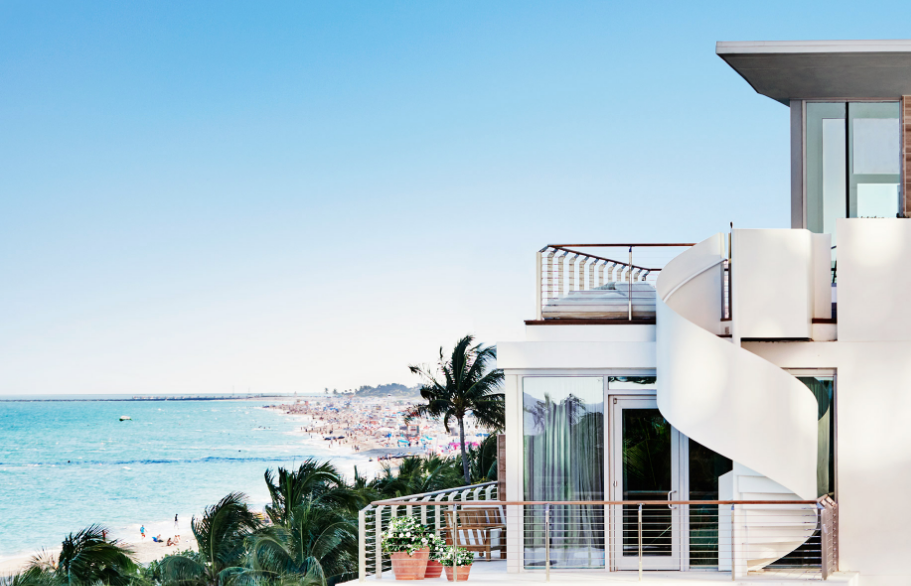 Miami Beach is the place to be next week as Art Basel 2017 kicks off in the city. In its 16th year (the first fair took place in 2002), Art Basel Miami Beach is drawing collectors, curators and enthusiasts off the South Florida coast where more than 250 of the world's leading modern and contemporary art galleries will display works across an array of mediums. The annual art fair is set to showcase over 4,000 artists from around the world, putting the spotlight on young up-and-comers as well as established names. Of course, Art Basel is as much about the Art Basel Miami Beach events and exhibitions as it is about the lavish hotels and sumptuous spas Miami Beach has to offer. This your Elite Traveler Guide to Art Basel Miami Beach 2017.
Image courtesy of Es Devlin
What to See
Art Basel Miami Beach began in 2002 as a sister fair to the original event taking place in Basel, Switzerland each year. Held at the Miami Beach Convention Center, the expansive floor plan encompasses gallery exhibitors, recent works from the past three years, historical presentations, new talent and more.
Make sure you get to Collins Park for the Public sector of Art Basel, produced in collaboration with The Bass museum (reopened this October after years of renovations, it's another must-see while in the area). Among the palm trees, large-scale sculptures and installations will be exhibited, perfect for observing while the Miami sun is out. Spend more time outdoors for the Film sector, which will present outdoor screenings at SoundScape Park on a 7,000-sq-ft projection wall of the Frank Gehry-designed New World Center. If the sheer amount of art seems overwhelming to take on alone, guided tours are available daily through Art Basel partner Art Nexus.
Outside of the convention center, The Institute of Contemporary Art is a necessary stop on the list. In its new 37,500-sq-ft building, the ICA debuts with The Everywhere Studio, an exhibition exploring the artist's studio from the post-war period to the present day. At the center of the Wynwood Arts District, Wynwood Walls will unveil 12 new street art murals and sculptural installations as part of its humanKIND theme.
Flesh Nest, Andrew Thomas Huang
In Downtown Miami, attend Flatland: A Journey of Many Dimensions at Mana Downtown where abandoned storefronts around historic Flagler Street will be brought to life by a group of 17 artists. Five vacant buildings will be transformed according to the concepts of  dissociation, liminality, other worlds, resurface, and flatland using technology such 3D projection mapping and virtual reality.
Adjacent to Art Basel, Design Miami/ is a coinciding fair centered on furniture, jewelry and design objects. Check out the Panerai booth to learn about the brand's partnership with Mwabwindo School in Zambia, for which artist Rashid Johnson will create a mural and designers Christ & Gantenbein will supply unique furniture. Be sure to see the collaboration between Luftwerk and Perrier-Jouët, too.
Art Basel Miami Beach will take place from December 7 to 10, 2017. The Miami Beach Convention Center is located at 1900 Washington Avenue, Miami Beach, FL 33139. For more information, please visit artbasel.com/miami-beach.
Where to Stay

The Betsy South Beach
As an official partner of Art Basel, The Betsy will celebrate the event by showcasing the works of regional artists throughout the hotel in addition to unveiling two permanent installations. The Gallery will display works by Milan-born artist Paola Cassola, The Lobby Salon will welcome illustrations by Rick Newton and The Conservatory will host multimedia works by Eurydice. Book the Skyline Penthouse in the hotel's Art Deco Wing and enjoy a baby grand piano, king-size bed, and wraparound terrace overlooking the Atrium.
The Betsy South Beach, 1440 Ocean Drive, Miami Beach, FL 33139, thebetsyhotel.com
Faena Hotel Miami Beach
Fans of famed British artist Damien Hirst can visit the garden at Faena Hotel Miami Beach for a look at his 9ft gilded skeleton of a wooly mammoth, Gone but not Forgotten. In addition to an array of parties surrounding the event, Faena is also hosting exhibits on the beach, including Peter Tunney's The Sinking of The Taj Mahal. From the Elite Traveler list of Top 100 Suites 2017 in the Beaches category, the Faena Suite is the one to reserve. The four-bedroom suite affords ocean views from a wraparound balcony and comprises four bedrooms in its 3,549 sq ft of space.
Faena Hotel Miami Beach, 3201 Collins Avenue, Faena District, Miami Beach, FL 33140, faena.com/miami-beach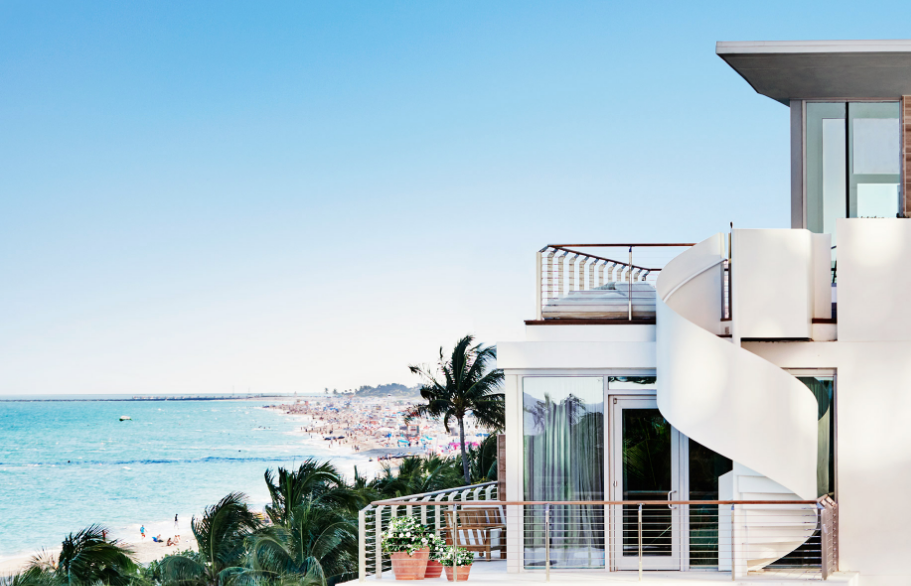 Miami Beach Edition
The sleek boutique Miami Beach Edition hotel has lined up events as well as exclusive exhibitions around Art Basel. Artist Moral Turgeman will demonstrate The Blind Portrait, while Es Devlin's Room 2022 installation will open as an experiential space in the hotel. American Express Platinum and Centurion Card Members will have access to Platinum House, featuring a curated menu of food and beverages, morning fitness classes, beauty services, professional photography and musical performances. Named as one of our Top Suites of Miami, the stunning Bungalow Penthouse is by far the best accommodation for a luxury stay. The duplex suite features a private rooftop plunge pool for unwinding after a day spent touring the galleries, as well as a king-size bed, marble bathroom with rainforest shower and soaking tub, and wraparound balcony.
Miami Beach Edition, 2901 Collins Avenue, Miami Beach, FL 33140, editionhotels.com/miami-beach
Where to Relax
Image courtesy of The Standard Spa, Miami Beach
The Standard Spa Miami Beach
On Belle Isle, The Standard Spa is set among lush gardens just outside the bustle of South Beach. Taking a modern approach to spa treatments, the spa highlights hydrotherapy with a Turkish-style hammam, aroma steam room, Roman waterfall hot tub, Finnish sauna, arctic plunge, treatment baths, mud lounge, and infinity pool. A comprehensive treatment menu includes facials, massages and nail services as well as fitness training and wellness coaching. Try the Face + Body Full Body Glow, where a spa therapist will analyze your skin type and condition before detoxifying and treating signs of sun damage.
The Standard Miami Beach, 40 Island Ave, Miami Beach, FL 33139, standardhotels.com/miami/spa

The Spa by Thémaé at The Setai Miami Beach
It's always tea time at The Setai, where the newly reimagined spa incorporates four types of teas (rooibos, white, green and black) into treatments. In partnership with Paris-based cosmetics brand Thémaé, the spa centers its services around the revitalizing benefits of tea for treatments such as The Setai Ceremony: a back massage combined with anti-aging facial featuring a cleansing tea-leaf mask. Relax in one of four private spa suites, all of which can accommodate two guests, providing a private bath and steam room as well as ocean views.
The Setai Miami Beach, 2001 Collins Avenue, Miami Beach, FL 33139, thesetaihotel.com

Bliss Spa Miami at W South Beach
W South Beach, 2201 Collins Avenue, Miami Beach, FL 33139, wsouthbeach.com
If your idea of serenity involves a brownie buffet rather than a green juice, Bliss Spa Miami at W South Beach offers the laid-back approach to wellness that you're after. Swapping droning spa music for rhythm and blues, the spa features a full menu of massage and body treatments as well as waxing, skin care and nail services. The signature Triple Oxygen Facial will revive skin before an event, while the Hot Milk & Almond pedicure will soothe feet after a day spent buzzing between exhibits.
For more of the top suites to book and the best restaurants to dine in, be sure to check out our Guide to Miami in the November/December 2017 edition of Elite Traveler. And for the coolest places to have a cocktail after the sun goes down, see our list of Miami Hotspots.