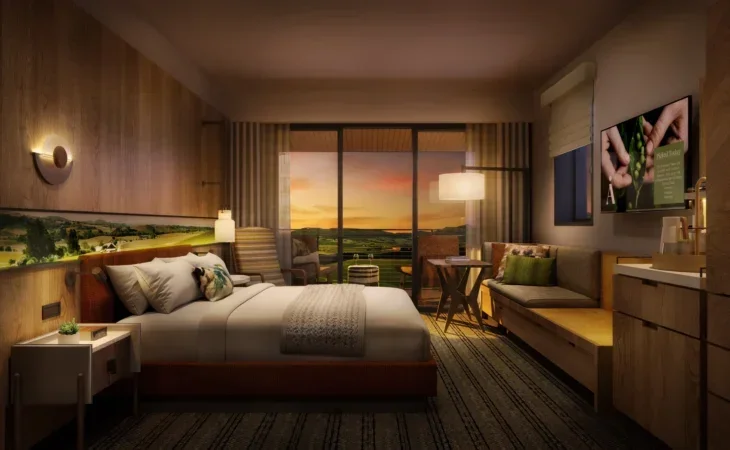 Michelin-recognized chef Charlie Palmer has teamed up with Four Seasons culinary veteran Christopher Hunsberger to launch Appellation: a new brand of culinary-first hotels.
So far, plans have been outlined for three initial properties: Appellation Sun Valley in Idaho, which will open in 2023, and two California destinations in Healdsburg and Pacific Grove, which are set to open in 2023 and 2024 respectively. The exact size and capacity of each new hotel is still under wraps, but the brand has shared that they will range from a boutique 75 room up to a sizeable 225.
From the moment you enter one of the yet-to-be-built Appellation hotels, the culinary focus is immediately apparent. In place of the traditional reception desk, the lobby will be home to a prep kitchen, with chefs waiting to greet guests. On guestroom floors, every detail will be carefully imagined to reflect the food-forward nature, from a pantry stocked with local delicacies and a craft cocktail kit to the cookbook library crammed with titles hand-selected by chef Palmer himself.
[See also: Wine Country Luxury: Inside Four Seasons Resort Napa Valley]
"We're flipping the traditional 'hotel first, restaurant second' notion on its head and setting a new standard for immersion in local culture and community through food," says chief operating officer Christopher Hunsberger. "With Appellation, the intersection of culinary and hospitality is seamless. It is the hotel experience both of us have always wanted."
"Appellation is about an experience that is impressive, but unpretentious. When people are comfortable at every level the food tastes better, the laughter is louder and the memories are stronger," adds Palmer.
Together, the pair have an impressive wealth of experience behind them, with Palmer having helmed the iconic Michelin-starred Aureole for 32 years, as well as receiving multiple James Beard awards. The duo first met over 20 years ago when Palmer launched a restaurant partnership with Four Seasons where Hunsberger then worked as global head of product.
Each Appellation hotel will be home to a signature Charlie Palmer restaurant and will naturally offer plenty of food-focused activities and events. Designated Maker Spaces will play host to over 50 workshops and classes led by local craftspeople or cooks, including a knifemaking workshop.
[See also: The Most Anticipated Hotel Openings of 2022]
However, far from being a gimmicky themed hotel, Appellation has been carefully designed to celebrate the integral role that food plays within our lives and the sense of the community that it instills. The focus will be put on the local cuisine and purveyors of the area of each hotel, embodying how food defines a location.
As well as the culinary-focused amenities, Appellation will naturally have all the other facilities that come as standard at a luxury hotel, from event space to comprehensive fitness facilities. Some select locations, including Appellation Sun Valley, will also have branded residences.
The goal isn't just about creating luxury getaways for discerning gourmands, either. Appellation will also be committed to supporting the development of nurturing the next generation of budding chefs, with both Palmer and Hunsberger focused on identifying and training local talent.
[See also: A Guide to All Green Michelin Star Restaurants in the US]