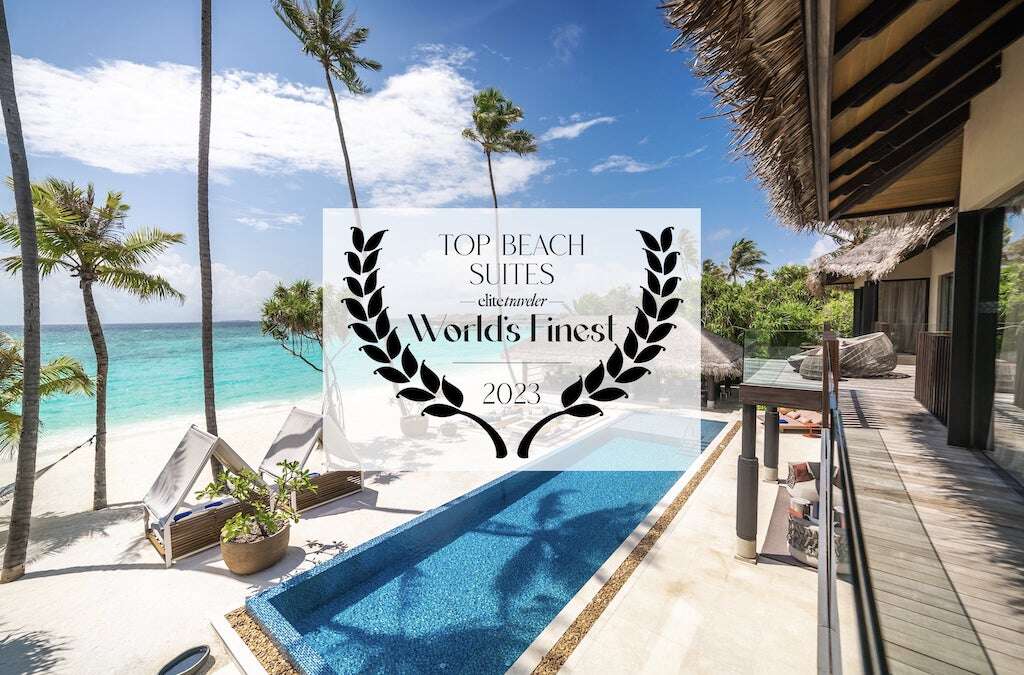 Elite Traveler is pleased to present the inaugural Top 50 Beach Hotel Suites in the World, featuring a collection of accommodations that take the classic concept of sun, sea and sand to the next level.
Our World's Finest Suites database is growing rapidly, with almost 1,000 entries just three years after launch. All of the suites featured in the database meet the minimum standard of five-star luxury, but some are better suited to certain vacation types than others. It is for this reason that we are rolling out the introduction of Suite Types, allowing users to search for the very best suites according to the vacation that they're planning.
These micro-lists will be released through 2023 and include Top Family Suites, Top Wellness Suites and Top City Suites among others. This month, we're tackling the best of the best when it comes to the beach vacation.
We all understand what we mean by a beach vacation, and in many ways that makes this our hardest index to date. Once you get five-star luxury on a beautiful stretch of coastline, how do you separate yourself from the rest? We had a huge shortlist to choose from, but instead of making a longer list, we simply asked for more from the suites we have chosen.
All the suites below offer spectacular proximity to the best stretches of coastline in the world. Many have beaches dedicated to the suite, so you never have to worry about someone else sitting on your sunbed again. Then there are other amenities that you may not think about, but are essential to a memorable beach vacation: great cocktails, beachside service, a private pool to rinse off and epic sunrise/sunset views.
You'll find all of the above and more in our latest index, which includes hotels from six continents.
For a classic beach vacation, look at the Ocean Front Six-bedroom Villa at Rosewood Baha Mar. The Ocean Front Six-bedroom Villa is right on Cable Beach. The gorgeous whitewashed villa can accommodate up to 14 guests for an unforgettable gathering for a large group of family or friends.
For something a little different, the Premium Suite Sea View & Pool at Borgo Santandrea on Italy's Amalfi Coast is nothing short of stunning. While it sits 100ft above the beach, you can get down to a rocky stretch just for hotel guests via a charming stone staircase. While it may not be completely private, getting any stretch in the Amalfi Coast at all is no mean feat.
Click here to explore the Top Suites database in full.