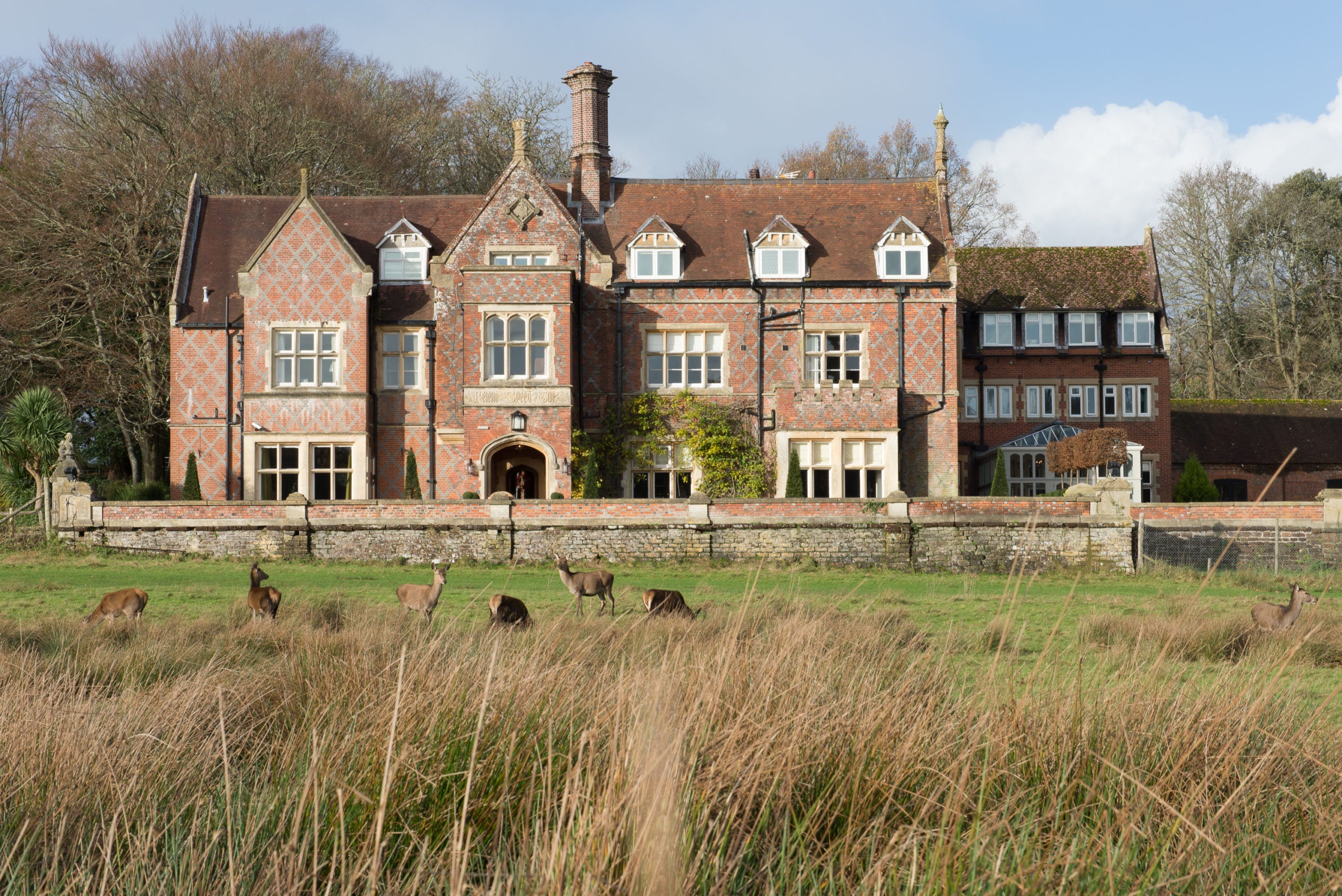 Just a two-hour drive from London you find Burley Manor set within the enchanting environs of the New Forest. The New Forest is made up of spectacular untouched woodlands, heathlands, and coastlines where ponies have roamed free since medieval times. It covers vast swathes of southern England, stretching from Hampshire in the east to Wiltshire in the west. The first recorded owner of Burley Manor was in 1212 and it has served as a hotel since 1935 (other than a brief stint being used by the military during WW2). With deer grazing the grounds, it is the definition of picturesque.
Stay
The rooms and suites are spread across the original Grade II-listed Manor house and the more modern Garden Wing. The Garden Wing welcomes four-legged friends and when they say welcome, they really mean it. Gourmet dog treats, bed, bowls, and towels are all provided along with as many pets from friendly staff as your pooch is up for. The huge, comfy Hypnos bed (for humans) was a real hit plus warm little touches such as the jars of homemade biscuits. The room also had its own a terrace overlooking the grounds, again with easy access to let dogs out to explore.
The Huts at Burley Manor will launch in spring 2020. Just a short walk from the manor, the huts will be nestled in surrounding woodland with beautiful views of the lake. An adult-only hideaway, they offer a charming and rustic escape for couples looking for a private getaway in one of the UK's most beautiful national parks. There will be three large, luxurious huts and two smaller and more traditional ones. Perfect for stays all year round, the huts have been hand-crafted by a local Somerset family-owned company called Blackdown, and are based on an original Victorian design, each with individually designed interiors to mirror the warm tones of Burley Manor. Cozy, comfortable and romantic, each hut has been kitted out with everything guests might need including a wood burner in each living area.
Taste
The team behind the hotel's on-site restaurant spends significant time finding the highest-quality ingredients from local producers and changes its Mediterranean-inspired menu frequently to follow the seasons. The restaurant's rustic aesthetic and lively atmosphere makes for a fun-filled evening. The menu offers authentic sharing dishes from Greece, Spain, Morrocco, Lebanon, and Turkey, but with a few clever twists.
Enjoy
Spend time meandering around the gardens or take a dip in the lovely pool (June to September). There are plenty of scenic spots to enjoy some quiet time if the weather is on your side. While indoors, two spa treatment rooms are the destination to head to as a perfect end to a long day out walking. Chloe the therapist in the spa was an absolute dream, definitely a star attraction.
Contact
+44 1425 403522, burleymanor@newforesthotels.co.uk, burleymanor.com