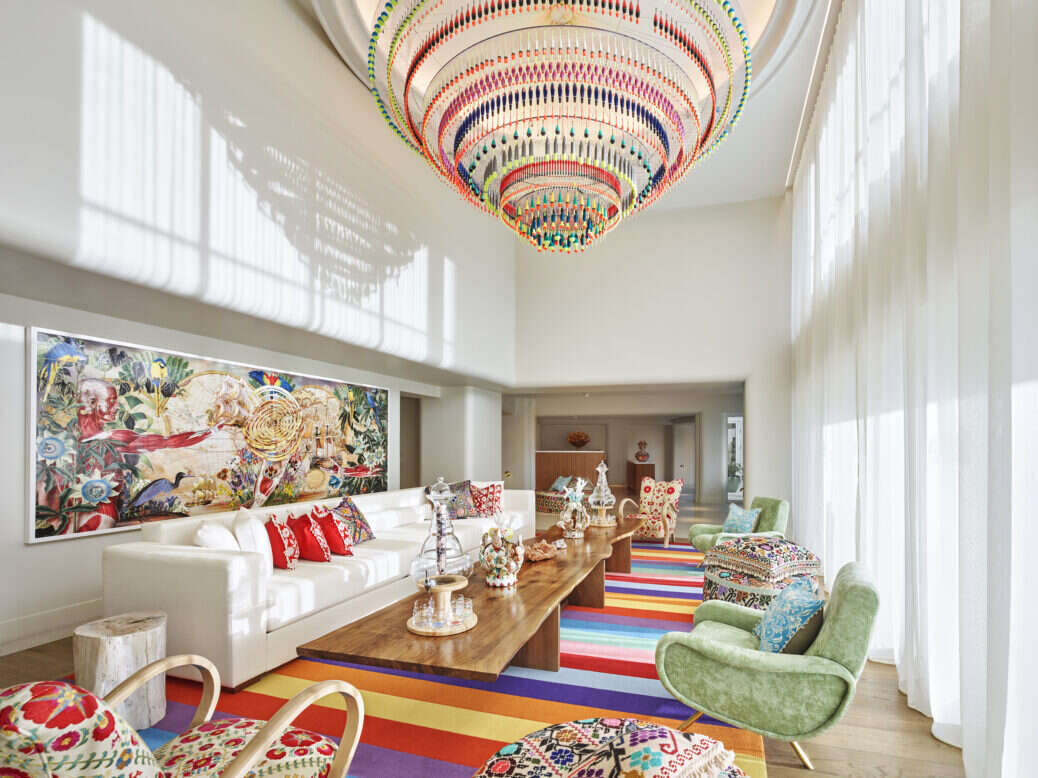 When going abroad one often yearns to assimilate with the cultures, try different cuisines and learn about a country's history. We go to museums and galleries hoping that they can give us insight into the lives of individuals within these societies and the significant events that shaped their landscape. However, museum trips and wandering through exhibitions can be extremely tiresome, leaving little energy for the remainder of the day. If only exploration could be proximal. 
At this selection of art hotels, cultural immersion is inescapable and constantly fascinating, as partnered with museums, creatives and founders of their own art foundations, they house art within their walls. From dedicated artist suites, to personified Japanese sculptures and art-historian led trails, these hotels recognise the importance of art in all aspects of life, integrating it into their hotel experience so that you come away feeling educated and enthused.
[See also: Hall des Lumieres Digital Art Space to Open in New York]
MONA Pavilions – Tasmania, Australia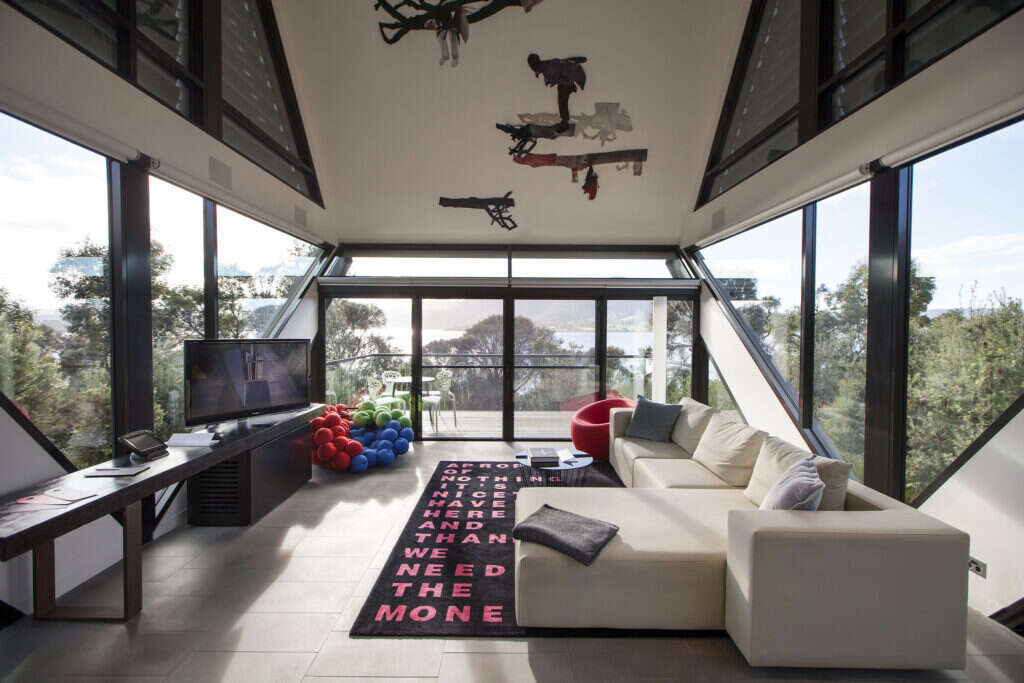 Along the shimmering shore of River Derwent, this Tasmanian treasure has super luxury dens that are now available for you to stay in and experience complete cultural immersion. Stemming from the Mona museum – the largest privately funded museum in the Southern Hemisphere – the Mona Pavilions consist of eight extravagant dens each named after an influential Australian artist or architect and decorated with artworks from the Mona collection. 
Whether you stay at Walter, and experience the creations from the award-winning designer who conceptualised Australia's capital city, or admire the textured smudges of Arthur Boyd from your bedroom, art surrounds you entirely during your stay at Mona Pavilions. A stocked wine bar, complimentary breakfast and king-size beds ensure that your perusal is comfortable and well-accompanied and a sauna, spa and heated infinity pool further inspire relaxation. Guests of the Pavilion are of course also welcome to enjoy the abundance of ancient, modern and contemporary art found in the museum itself. 
[See also: David Hockney to Open Immersive Exhibition in London]
The Silo Hotel – Cape Town, South Africa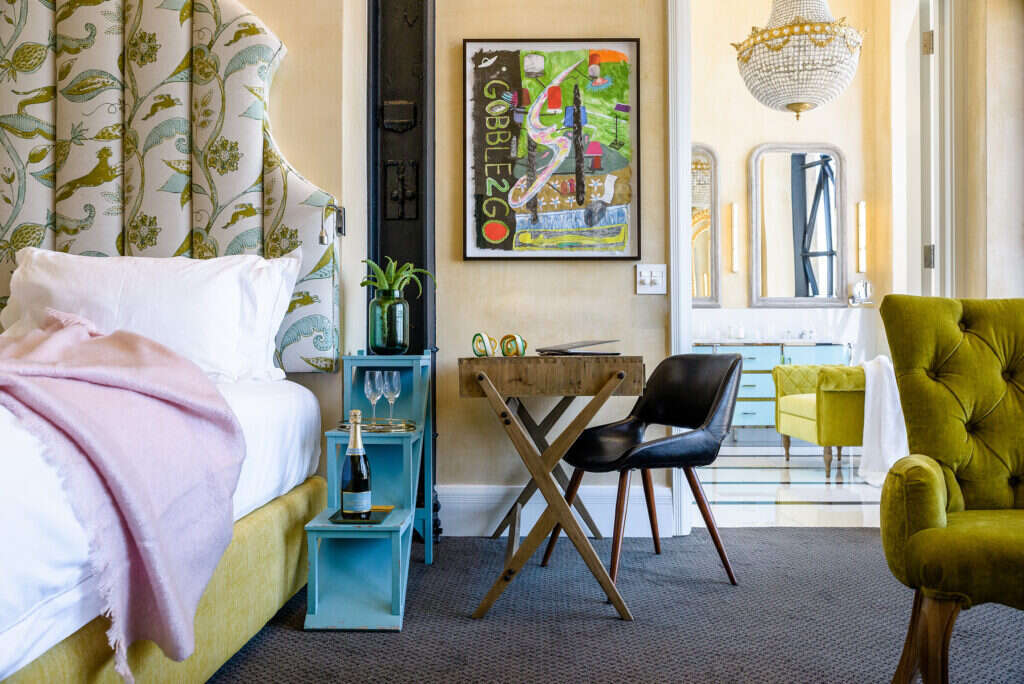 Celebrating art, style and design, The Silo is a sanctuary for the creator and art appreciator. Pillowed-glass windows offering panoramic views of the Table Bay harbour inspire, and the Zeist Museum of Contemporary art African (MOCAA) six floors below the hotel has plenty of art for you to admire. Towering above the V&A Waterfront, this scenic property is the prime location for uncovering the culture of Cape Town. In addition to rooms adorned with African Art and animated by exciting colour schemes, the hotel's focus on food and culture ensures that it is a magnificent feast for all of the senses. 
At The Silo, guests can share in the artwork of culinary masters within the hotel's fine dining establishments – or atop a sunlit roof terrace, hike or golf along the seaside and mountain planes and enjoy the art of South African theatre that has shaped a name for itself in the global performance scene. This is of course in addition to the world's largest contemporary African art museum that can be discovered only a few flights of stairs away from your suite. Featuring works by Johannes Phokela and Igshaan Adams, everything from fascinating fabrics to artistic interpretations of anatomy await your discovery when staying at The Silo. 
[See also: Picasso's Greatest Work to See in Spain]
Benesse House – Naoshima, Japan 
Naoshima is a Japanese island renowned for its museums and famous artworks such as a piece from Monet's Water Lilies series cemented into the hillside of Chichu Art Museum. Benesse House Museum is one that stands out among this abundance though as its contemporary art and sculpture installations uniquely animate art and personify its presence. Works from famed artists such as David Hockney, Joel Shapiro, Hiroshi Sugimoto and Richard Long can be found hung along its floors. 
Offering four accommodation buildings, each in a different location and distinguished by individual style, Benesse House channels its museum doors to allow guests to feel the pervasive influence of art within this architecturally expansive establishment. Whether you stay at the Museum Twin – the highest vantage point of the museum – and watch the tides of the Inland Sea dance, or at the Museum Suite that lends' views of Shikoku mountains, the symbiosis of nature, its seasonal cyclicality and timeless beauty found in the room's artworks compliment window views.
[See also: Tiffany & Co Opens Exhibition at Saatchi Gallery]
Faena – Miami Beach, USA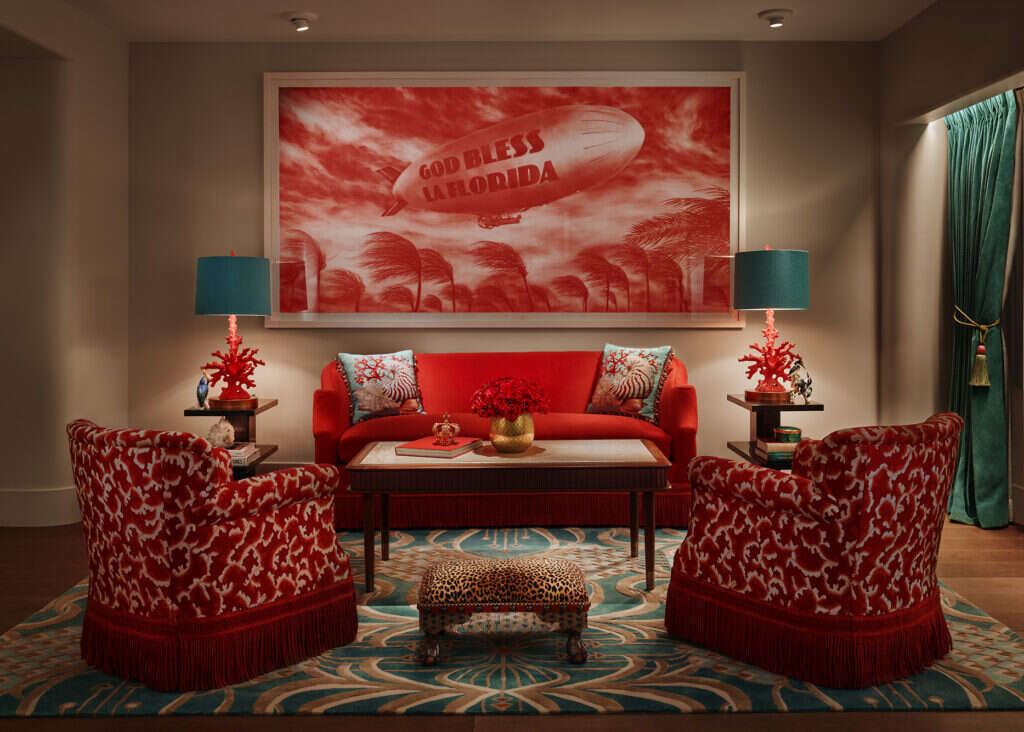 Although the beach is always entrancing, and the turquoise waters lapping white-sand beaches at Faena Hotel Miami Beach are equally enthralling, the unique art scene of this five-star establishment distinguishes it as one of Miami's most fascinating art hotels. Comprising a non-profit, Faena Art is an organization that commissions, produces and houses a multitier of cross-disciplinary artistic experiences both in its hotel and worldwide. Founder of the Faena Prize, the brand recognises the bravery and innovation behind artistic experimentation and commends this through celebration. Considered one of the most prestigious art prizes in the America's Faena-acknowledged artists are of the highest artistic calibre; their works as glorious to behold as the golden beaches on Faena's doorstep. 
An incubator of cultural expression, rooms at Faena re-shape the cultural landscape of Miami beach through art-cohesion similar to that practised at Faena Forum, its Art Centre and Project Room. Accented with gold and presented in a seductively red palette, the suites at Faena not only flaunt the capabilities of interior design but perpetually manifest art through paintings and patterns that pervade in all corners of the space. 
[See also: Elite Traveler Reveals Top 100 Suites in the World]
Hotel Eden – Rome, Italy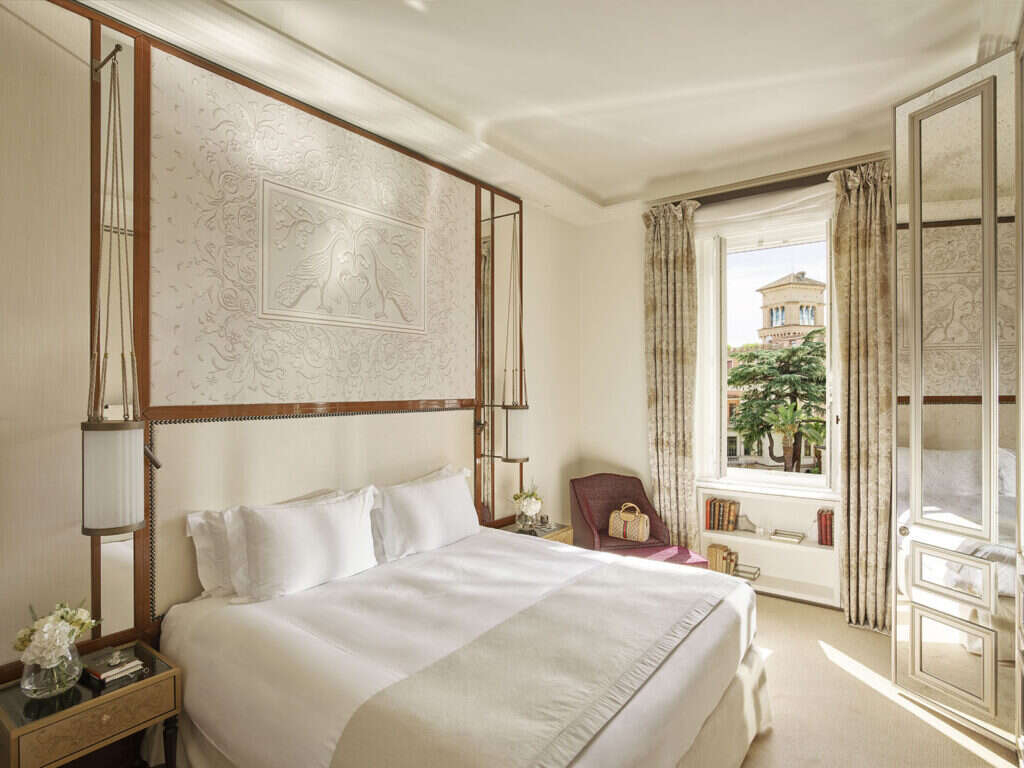 Romance cannot be complete without art and in Rome, Hotel Eden houses the greatest of intimacy and imagination through its abundant art offering. The Legendary Artist Program employed by Dorchester Collection Hotels ensures that art appreciation is a necessity rather than indulgence and Hotel Eden proves no exception as it submerges guests into an authentically Italian experience of art history. Offering an exclusive Caravaggio tour, guests are invited to learn more about Rome's legendary artist and the history that has defined its landscape. 
Hotel Eden proves a significant starting point as it neighbours the famous Casino di Villa Boncompagni Ludovisi, where one can find the only painting ever executed by Caravaggio on a ceiling: 'Jupiter, Nepute and Pluto.' The nonlinear tour then proceeds to uncover the entirety of the complex life Caravaggio led in Rome from his frequent visits to the infamous area of Ortaggio where he met his prostitute-lover Fillade Melandori, to Via della Pallacorda – the place where Caravaggio played with light as it seeped from a hole in his ceiling that he implored his landlady to perforate. 
Though the tour ends with the revelation of his famous paintings of 'Madonna of Loreto' and the three panels depicting the life of Saint Matthew, art doesn't cease here. In partnership with MAXXI – the National Museum of 21st Century Art – Hotel Eden also offers exclusive access to the museum's underground vaults where, guided by an art historian, guests can be privy to private collections of art in addition to the exhibition halls. Delving into the art of dressmaking is also encouraged through workshops with high-fashion atelier André Laug and led by an archeologist, guests can uncover creatively constructed ancient catacombs and underground treasures.