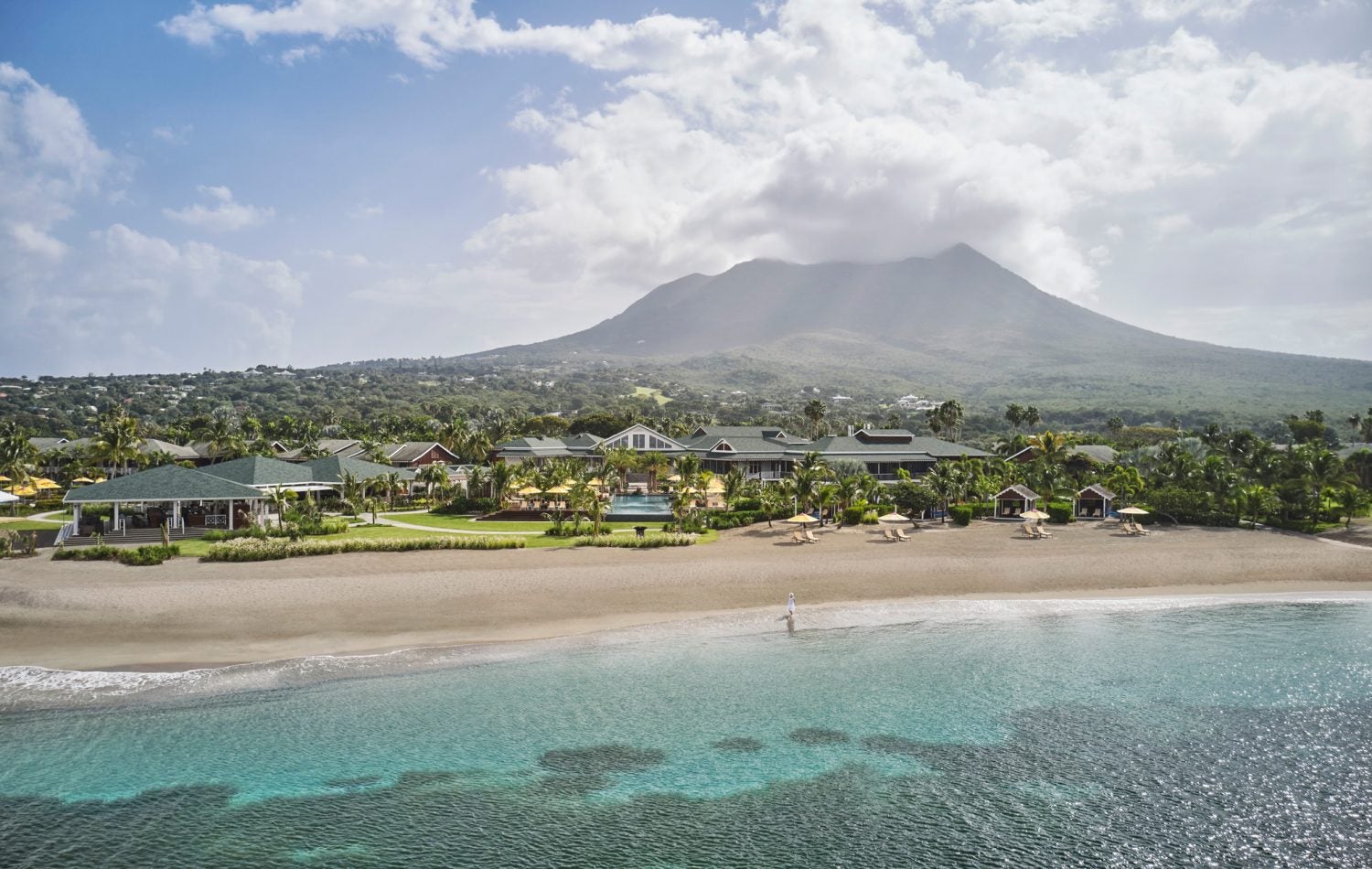 The arrival of June on the shores of Nevis signals one thing: turtle nesting season. From now until October, the golden sands of the Caribbean island will be a scurry of activity as one of nature's most beloved four-flippered creatures comes ashore to nest. And for families wanting to get up close to this natural phenomena, the Four Seasons Resort Nevis may have just the ticket. 
The new Four Season's Nevis Sea Turtle Camp, developed alongside the charity Sea Turtle Conservancy (STC),  has been inspired by the resort's long-standing commitment to sea turtle conservation. Available to guests who stay seven nights or more, the experiential package incorporates marine biology classes, creative activities and exploration of native marine life, flora and fauna as well as marine-themed dinners, movie nights and family sports activities. All of this, while enjoying the sumptuous surrounds of the recently renovated five-star resort on the edge of the famous Pinney's beach. 
[See also: Hotels Making a Difference on World Oceans Day]
Sure to be a big hit with younger guests, Sea Turtle Summer Camp participants will also receive a Sea Turtle Adoption Kit from STC, enabling them to take a little piece of the magic home. This includes a personalized adoption certificate, a Sea Turtle Conservation Guide, a sea turtle sticker and bookmark, a hatchling magnet, and a one-year subscription to the conservancy's membership publication.
The Caribbean resort has a proud track record in turtle conservation and has been working with STC for a decade, supporting the charity's research into the long-term protection of endangered native species such as the hawksbill, leatherback and green turtle.
"One of the most fascinating aspects of the STC's work is ongoing research to study the migratory movements of critically endangered hawksbill sea turtles after they nest in Nevis," said David Godfrey, STC's executive director. "Each year, the partnership between Four Seasons Resort Nevis and the STC aims to educate and create awareness about the protection of these beautiful sea creatures through a joint program that helps researchers study the migration patterns of the endangered species that nest on Nevis' beaches."
Four Seasons Resort Nevis will make a $50 donation to STC for each Sea Turtle Summer Camp booking made.
Rates start at $2,000 per night (based on double occupancy in an Ocean View room for two adults; children age 5-12 at  $475), fourseasons.com
[See also: Black Tomato's Fairytale Inspired Family Voyages]