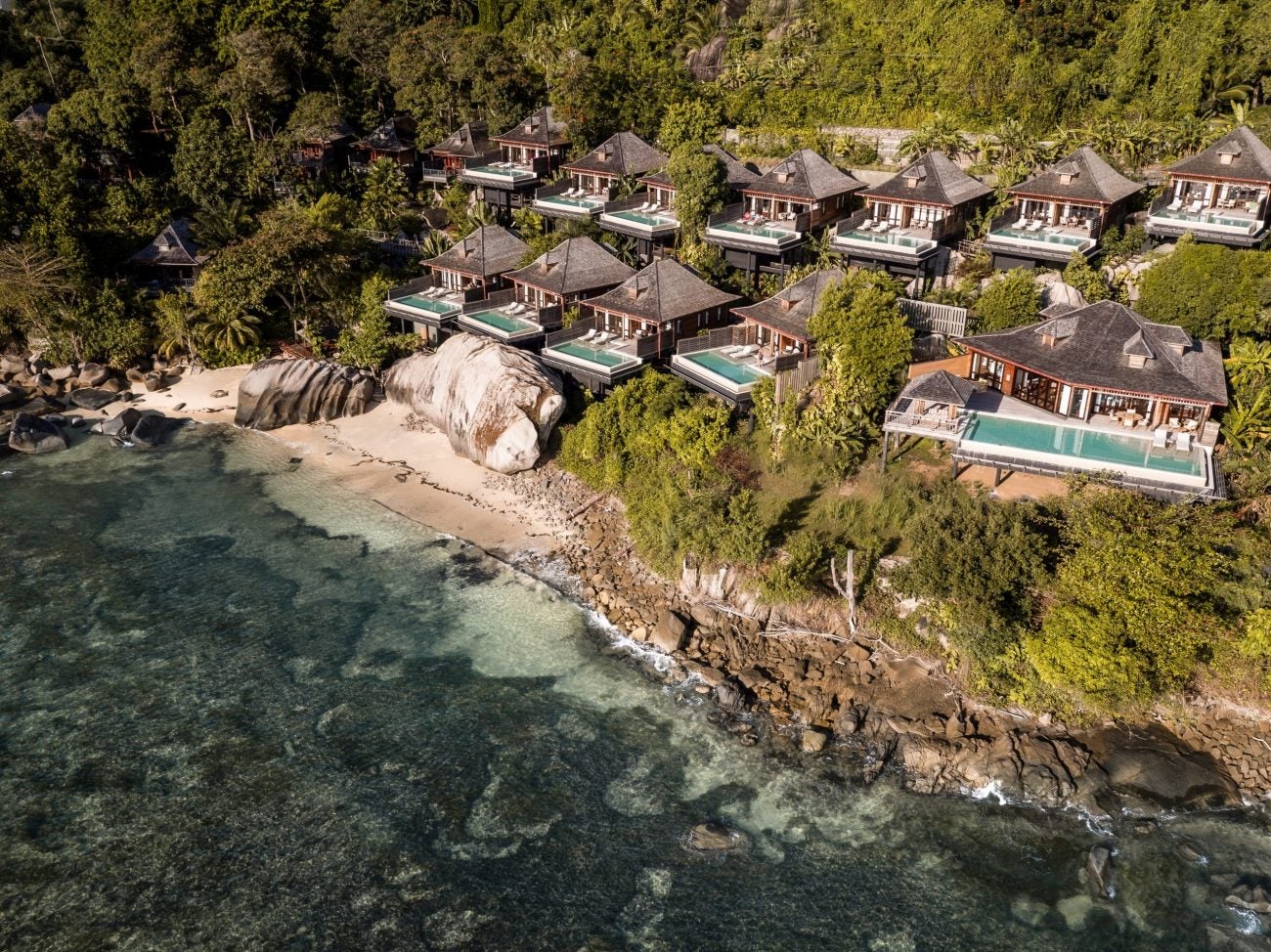 World Oceans Day began life in 1992 at the Earth Summit in Rio de Janeiro. Its aim was to raise awareness about the crucial role the ocean plays in our lives and ensure its future protection. Twenty-nine years on, as ocean levels and temperatures continue to rise, this message couldn't be more important. Especially when it comes to travel. And Hotels and resorts are increasingly starting to recognize the unique position — and responsibility —they hold to make a difference.
Often located in some of the world's most precious landscapes, situated on the edges of UNESCO biospheres or within protected shorelines, a higher number than ever before are prioritizing the environment, with firms like andBeyond, Beyond Green and Six Senses leading the way. There is still a long way to go but if an increasing number of travelers continue to stipulate sustainability as a key consideration, hotels and resorts the world over will be pressured to comply or risk getting left behind.
With this in mind, Elite Traveler is championing some of the world's most luxurious hotels and resorts already striving to do their bit to protect the world's oceans in our specially curated World Oceans Day Hotels and Resorts shortlist.
Jade Mountain, St Lucia – Fighting Invasion 
Jade Mountain resort has long been applauded for its strong environmental ethos. Built from the ground up with sustainability at the forefront, the luxury Caribbean resort has also been a leading light in the fight against the Caribbean's lionfish invasion. Native to the Pacific, this venomous species baffled marine biologists with both its arrival in the early 90s and subsequent explosion in numbers. With virtually no natural predators in the tropical western Atlantic, they've wreaked havoc on the Caribbean's native marine ecosystem. 
Jade Mountain has devised an innovative way to help control numbers while not letting the fish go to waste. An 'Invasive Lionfish Tracker' diving course sees guests join an experienced Lionfish instructor and learn the spear-fishing techniques necessary for keeping numbers down, while a delicious degustation Lionfish menu showcases the quality and taste of this unique fish. 
A  six-course tasting menu has been created by the resort's chefs and sees each course paired with New World wines. Dinner is served on the hotel's picturesque beach festooned with candles and lanterns, beside a roaring bonfire.
[See also: Earth Day: The Luxury Hotels and Resorts Going Green]
Hilton Northolme Resort & Spa, Seychelles – Coral Conservation 
Second on our list of World Oceans Day Hotels and Resorts is the Hilton Seychelles Northolme Resort & Spa. Located on the palm-laden shores of Mahé (Seychelles' largest island), the resort is striving to restore and protect the surrounding coral. 
Launched in partnership with the Marine Conservation Seychelles Society, the five-star destination unveiled the island's first engineered reef in 2018, which aims to regenerate and diversify the marine ecosystem. This is complemented by the hotel's well-established coral nursery, where coral is regrown before it is transplanted to degraded and bleached reef sites. 
Guests are encouraged to get involved – either by snorkeling along the 2,100-ft coral trail to witness the positive impact of the regeneration program, or by adopting a piece of coral to track its growth and development after they've left the hotel. 
La Samanna, A Belmond Hotel, St Martin – Turtle Tours
Set atop cliffs overlooking the pristine sands of Baie Longue, the tranquil La Samanna resort feels like a world away from the crowds at Maho Beach, despite only being a 10-minute drive. 
Just in time for World Oceans Day, the chic resort has launched a new turtle-watching experience – the only one of its kind on the Caribbean island. And you couldn't be in a better spot, as La Samanna's beach, along with just three others on the island, represent 95% of all turtle nesting and hatching sites on St Martin. 
The resort's turtle-watching experience will see you step onboard your own boat as you take to the waves in quest of these majestic creatures. If that wasn't enough, 60% of your excursion's proceeds will go towards supporting the incredible work of the Sea Shepherds local bureau, protecting marine life in and around the island. 
Six Senses Laamu, Maldives – Safeguarding Species 
Sumptuous meets sustainability at Six Senses Laamu, an island resort that is passionate about preserving the diverse reef communities that surround it. 
Located just 5˚ north of the equator, the resort's turquoise waters are home to the pioneering Maldives Underwater Initiative, an award-winning marine conservation program run in collaboration with three partner NGOs: The Manta Trust, Blue Marine Foundation and Olive Ridley Project. The initiative focuses on three key areas: research, guest education and community outreach goals.
In a bid to protect some of the ocean's most precious marine life, the resort's expert team has identified over 130 resident reef manta rays and over 500 resident hawksbill and green turtles, enabling the construction of important databases to help preserve these magnificent creatures. What's more the resort plays host to a whopping 10 million sq ft of seagrass meadows, an important habitat for both turtles and rays as well as sharks and endless species of fish. 
Miavana by Time + 
Tide

, Madagascar – Island Guardians

A dream destination for nature-lovers; wildlife, rainforest, desert trails and golden sandy beaches all come together on Madagascar's shores. Offering a perfect example of this is Miavana by Time + Tide, a private-island resort located on Nosy Ankao, just off Madagascar's northeast coast.

The island itself is surrounded by a pristine reef with incredible snorkeling and diving opportunities as well as turtle, whale and dolphin watching. Time + Tide considers themselves to be guides and guardians of this special landscape and employ a full-time environmental team trained in wildlife monitoring and reforestation who take a hands-on approach to conservation on land as well as at sea. This includes the monitoring of Nosy Ankao's nesting sea turtles, marine and terrestrial biodiversity surveys, seabird ringing and monitoring, not to mention the Crowned Lemur Conservation Program.
Oil Nut Bay, British Virgin Isles – Turtle Tagging 
The final location to make our World Oceans Day Hotels and Resorts shortlist is the magnificent 400-acre Oil Nut Bay. Standing on the exclusive North Sound of Virgin Gorda, the resort is only accessible by boat or helicopter. The eco-conscious retreat prides itself in the sustainable construction and design of its exceptional villas and suites but is also keen to nurture the diverse underwater world on its doorstep.
The reefs surrounding the resort play host to the largest number of sea turtles throughout the BVI and guests can set off on an unforgettable adventure to help monitor this important species. Led by an expert marine researcher, visitors will be able to swim alongside these beautiful animals, partaking in free diving to safely catch the turtles. The turtles will then be measured, tagged and released. Guests can then follow the animals' travels even after returning home.
[See also: Blue Safari's Keith Rose-Innes on the Might of Eco-Tourism]