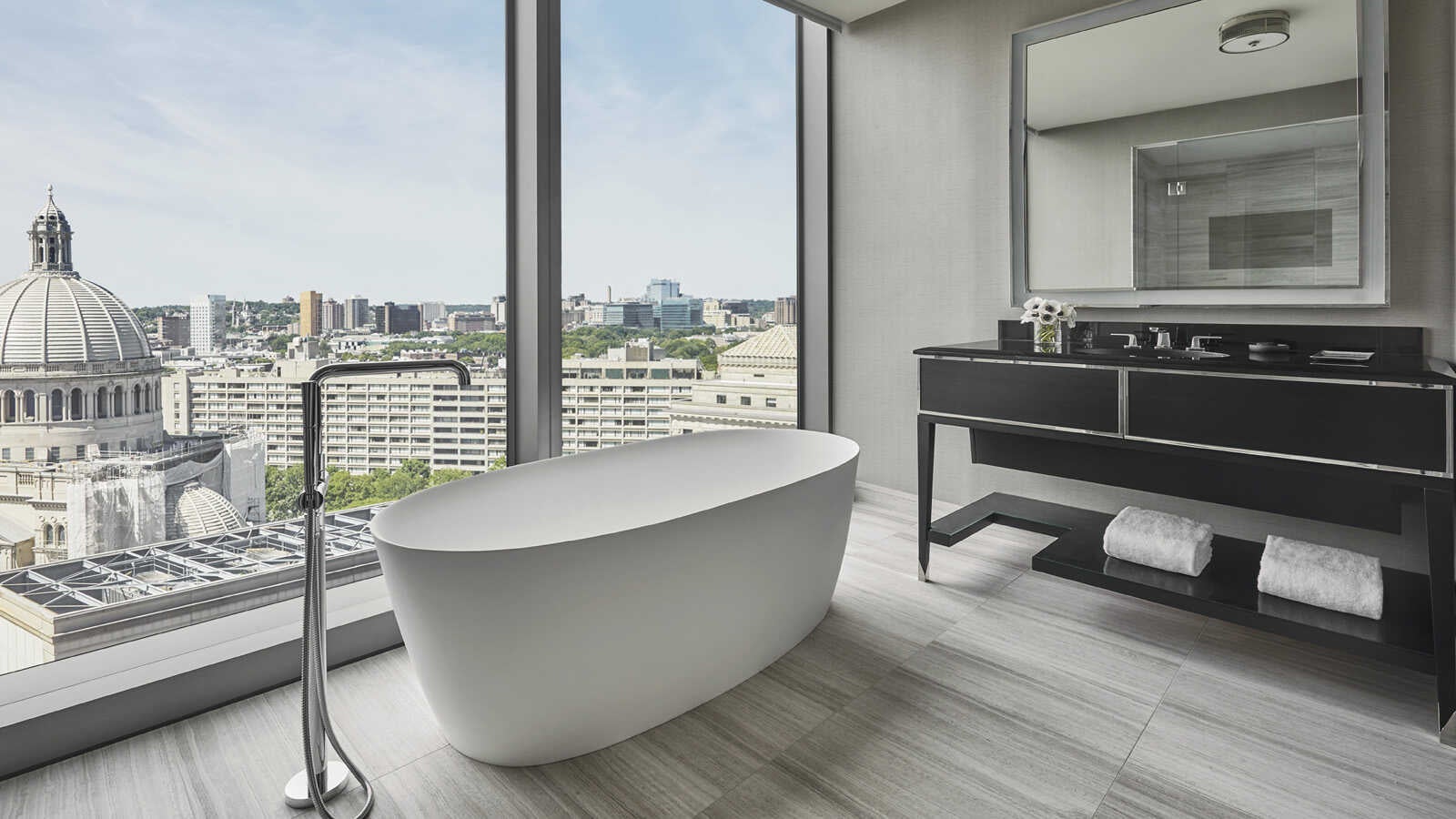 Four Seasons Hotel One Dalton Street, Boston is celebrating after being awarded the coveted accolade of  Leadership in Energy & Environmental Design (LEED) Silver certification by the US Green Building Council (USGBC).
Housed in a soaring 61-story skyscraper —Boston's third tallest building —the luxury hotel has been devoted to developing and implementing sustainable practices since it first opened its doors in May 2019. 
"We are delighted to have achieved this certification from the US Green Building Council and truly value our partnership,"  says Reed Kandalaft, general manager. "We are committed to practicing sustainability, preserving our planet's limited resources and enhancing the lives of all that enter our building including guests, residents and team members. We will strive to implement measures that continually propel us forward as a leader in sustainable practices and the Boston community overall." 
[See also: A Long Weekend in Nantucket]
Launched in 1998, the USGBC created LEED to independently define and measure green buildings and to provide a metrics-based system to develop environmentally-conscious spaces. A globally recognized symbol of sustainable achievement and leadership, the USGBC's launched the certification to transform how buildings are designed, constructed and operated to ensure a greener future.
While Four Seasons Hotel One Dalton Street, Boston is now Silver LEED-certified, the hotel is not stopping there and plans to strive for Gold and then ultimately Platinum certification in the future. A keen focus on recycling, eliminating single-use plastics and styrofoam, as well as tracking and reporting hotel-specific energy data to measure the hotel's carbon footprint are just some of the initiatives the hotel is rolling out. 
Designed by legendary American architect, the late Henry Cobb of Pei Cobb Freed & Partners in collaboration with Gary Johnson of CambridgeSeven Associates, the 724ft skyscraper altered the Boston skyline when it was erected. Encased in low-reflectance high-performance insulating glass, the hotel scooped a string of architecture awards and critical acclaim when it opened thanks to its futuristic design and eye-catching aesthetic.
Designed for both leisure and business travelers, Four Seasons Hotel One Dalton Street is located in the city's premier Back Bay neighborhood and features 215 guest rooms and suites and 160 private residences; a wellness floor with spa, fitness center and pool; an impressive art collection; an elegant cocktail lounge and Zuma, the internationally-acclaimed Japanese izakaya-inspired restaurant. 
[See also: How Earthcheck is Helping Luxury Hotels Go Green]