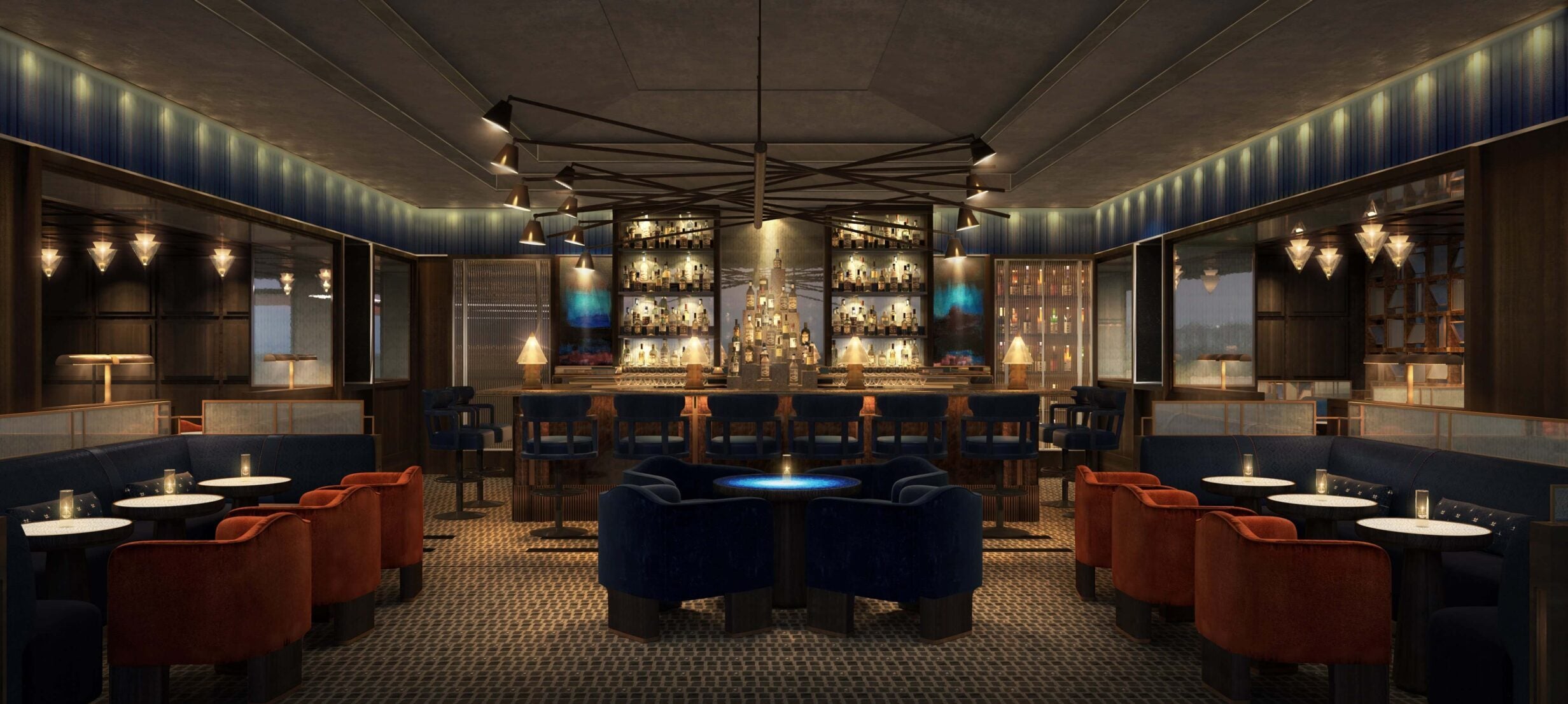 This year was set to be one of the most active for new hotel openings in London, but as we approach the end of a tumultuous 2020, many of those slated to welcome their first guests sit unfinished and empty. The Covid-19 pandemic has had a dramatic effect on tourist numbers in the UK, meaning many new hotels have pushed their openings back deep into 2021. Nobu Hotel Portman Square has itself suffered several delays, but it is still preparing to open in time for London's quietest Christmas in living memory.
Located in the heart of the vibrant Marylebone area. Nobu Hotel London Portman Square will feature 249 guest rooms and suites and a signature world-class restaurant. But with tourist numbers not expected to return to pre-pandemic levels until 2022, the owners would be forgiven for considering a significant delay to its introduction. General manager Grant Campbell does not agree. Speaking exclusively to Elite Traveler, he reveals why he believes it is very important to open the doors as soon as they can, and details what guests can expect from the landmark property when it finally does.
What attracted you to the GM position at Nobu Hotel London Portman Square?
I have really enjoyed working in the luxury lifestyle market within London and was excited to join a hotel as part of a pre-opening team combining the positioning of Nobu within this locality. Marylebone is one of London's most beloved neighborhoods and so will make it the perfect home for this new Nobu property. I think that that synergy, combining such a vibrant location with Nobu's exceptional offering, will really make for an incredible guest experience and that is what I'm so looking forward to in this new role.
You arrive in this position with lots of experience. What has been the biggest achievement in your career to date?
I wouldn't say it is just one achievement – more a collection of experiences, roles and awards throughout my career in hospitality that really stand out to me. I always feel privileged to gain the roles that I have during my career, and that alone is great recognition. I will point out one highlight of this journey so far was being awarded a scholarship with the St Julian Scholars, and my current position representing them on the alumni committee. Last year, I was awarded and recognized as a Fellow in the Institute of Hospitality, and I was proud of the acknowledgment and peer recognition in receiving that award.
What, in your eyes, defines a "typical" Nobu Hotel experience?
The typical Nobu Hotel experience starts with a heartfelt welcome and a real feeling of coming home to a place of comfort. Providing hand crafted experiences with "Kokoro" – that is authentic with heart and passion – is also something that uniquely defines Nobu Hotel. We are a team that is committed to real engagement with our guests, making that authentic, personal connection that is so important to us. As an evolution of the global Nobu restaurant brand, unforgettable culinary experiences are also a hallmark of our offering, each offering a Nobu destination restaurant.
The hotel opening has been delayed by the pandemic. What changes has the hotel had to make to ensure guest safety from day one?
While cleanliness has, and always will be, a core value in all areas including our employee spaces, it will be an integral aspect of our hotel operations as a result of the pandemic. The safety of our guests and staff is a top priority and we will be closely following the guidance outlined by the government, through various measures including proper social distancing, strict sanitizing schedules, and more. Still, with all of our safety measures in place, we will ensure that the guest experience remains special and true to the Nobu spirit whilst being a safe environment for all.
And what are the biggest challenges you expect to face in your first year of opening?
I think opening a hotel in any normal trading environment is challenging in its own right. With the added complications of the Covid-19 restrictions and the forthcoming Brexit, this becomes especially more interesting to manage. I am fortunate that I have an excellent team here, the support of committed owners, L+R Hospitality, who believe in the long term success of the hotel, and an established and recognized brand in Nobu to progress the business. One of the main challenges thus far and what we expect to continue seeing is the need to continually adapt as the situation changes. What may have been the rule one day can overnight become something different, which our management then needs to adapt their operational standards to meet. Fortunately, I am confident that as hoteliers we will be able to thrive in these circumstances, as we are used to being flexible and adaptable to change.
How do you think Covid-19 will change travel and travelers in the long-term, specifically with regards to London?
The immediate change has been a lack of corporate business and fewer international travelers right now, and the challenge is that business volumes, guest intent and expectations have not been as predictable as in previous years, which is overlaid by the changes in government guidance often at short notice. We understand that it will take a while for occupancy levels to reach pre-Covid expectations and that the current landscape is a difficult one to open a hotel into, but it is important for us to be on travelers' radar even though they are not traveling at the moment.
[See also: A First Look Inside Nobu Hotel Barcelona]
We expect that the luxury hotel market in London will not see strong improvements until 2022, but our goal is to open sooner and to be present in the market so that we will be in a better position for when the industry does bounce back. On a positive note, we have already seen a huge demand from loyal Nobu customers who are interested in making a booking for the restaurant, which is a very encouraging sign.
There is another Nobu Hotel in Shoreditch. What will set Portman Square apart from its sister property?
I have always loved how diverse London is, with each neighborhood offering something distinctly different, and how this can allow hotels to differentiate themselves from each other, even within the same city. Shoreditch has a very different feel to the more village-feel of Marylebone, however, we share similarities in the service culture and how much emphasis we put on adapting to our local community. Marylebone is such a unique and special neighborhood located conveniently in central London — it's the perfect base for visitors. We recently commissioned a film to explore the secrets of Marylebone, as told by the people who know it best – our lovely neighbors from the wonderful independent businesses that surround us.
Nobu Hotel Portman Square will be surrounded by luxury hotels. How does your property plan to stand out in a crowded market?
There is no other hotel brand in the world that approaches service in the same way that the Nobu brand does. The hotel's handcrafted approach to service will be a core differentiator from other luxury hotels in this crowded market, delivering omentenashi, which is a Japanese term for detailed service that anticipates guests' needs before they have to ask. This service is always delivered authentically, following the Japanese concept of kokoro, a genuine and passionate way of delivering service from the heart, which is at the very core of our values.
The hotel will also stand out as a design lover's dream, having been conceptualized by the award-winning David Collins Studio in conjunction with Make Architects. The hotel's design is inspired by traditional Japanese architectural disciplines and minimalist design, celebrating the art of craftsmanship and utilizing a refined color palette influenced by heritage Japanese color combinations.
[See also: Nobu Hotel Los Cabos Just Opened — And It's Gorgeous]
The design team has used natural materials and architectural frameworks to create a sense of flow, with exceptional craftsmanship including hand-blown glass chandeliers, bespoke lighting pieces and large scale sculpture and original artworks. Guests will be greeted in the lobby by a striking 5-meter (16.4ft) kinetic sculpture created by artist Ivan Black that is suspended from the dramatic high ceiling, and another one-of-a-kind lighting sculpture by Jeremy Maxwell Wintrebert that will be suspended above the reception console, exemplifying the hotel's hand-crafted approach to design.
One of the most unique aspects of the hotel is of course our flagship Nobu Restaurant, which will carry on the Berkeley Street location's 15-year legacy. Having an internationally acclaimed destination restaurant in a central London location helps us to stand out even more and gives visitors even more reason to book with us and enjoy a world-class dining experience whilst they are here.  Our outdoor terrace is another stand-out feature of the hotel, giving visitors the option to enjoy our Nobu Bar in an outdoor setting, if they prefer.