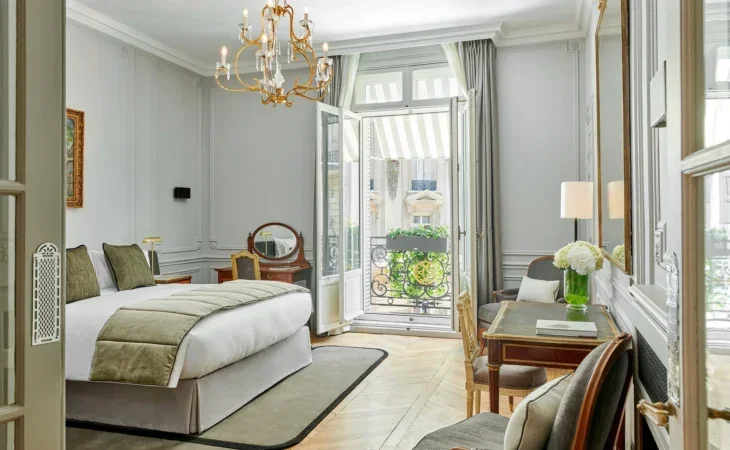 Paris's esteemed Hotel Lancaster has recently revealed its first NFT sale in partnership with Plastiks – a digital marketplace that facilitates sponsorship of plastic waste removal.
A total of 15 NFTs are available, with each one directly linked to one of Hotel Lancaster's stately guest rooms, found just a stone's throw from the iconic Champs-Élysées in the heart of Paris. With the purchase, owners will not only gain ownership of a piece of digital art depicting the room, but also a one-night stay for two, inclusive of a host of VIP perks.
Purchase of a Hotel Lancaster NFT isn't just about individual gain, however. With each digital asset comes a Plastic Recovery Guarantee courtesy of reverse logistics solution, Green Mining. Each guarantee proves that one tonne of plastic has been removed from the natural environment and carefully recycled, with this partnership focused on post-consumer plastics in São Paulo, Brazil.
Green Mining operates by mapping out waste generation points – when a hotspot is identified, a hub is installed and local people are employed to collect and return waste, which is then recycled with completely transparent tracking.
[See also: The Best New Hotels in Paris]
Powered by carbon-neutral blockchain Plastiks, this partnership is the first of its kind in the luxury hotel sphere. By paving the way for such collaborations, Hotel Lancaster, which dates back to the early 20th century and retains every ounce of its period charm, is proving that old-school luxury retains an important role in the new age of digital assets.
The eco-focused NFT sale forms the latest in Hotel Lancaster's wider strategy to lower its environmental footprint, with other recent initiatives including removing single-use toiletries, producing a new organic culinary program and reducing overall water usage throughout the hotel.
"Sustainability is becoming an important part of the hospitality industry, especially in cities where it can be more difficult to introduce greener practices," says Lydérick Jadaud, hotel director at Hotel Lancaster. "Plastiks' NFTs allow us to demonstrate to our guests that we share a commitment to solving the current climate crisis and helping to reduce damaging single-use plastic contamination.
"This project is part of a journey for us and our industry to truly embed sustainable practices into our everyday life," he continued. "Our next step for us is a full audit of the amount of plastic that we use in our hotel today, so that we can continue to neutralize our plastic usage completely by recovering it all around the world."