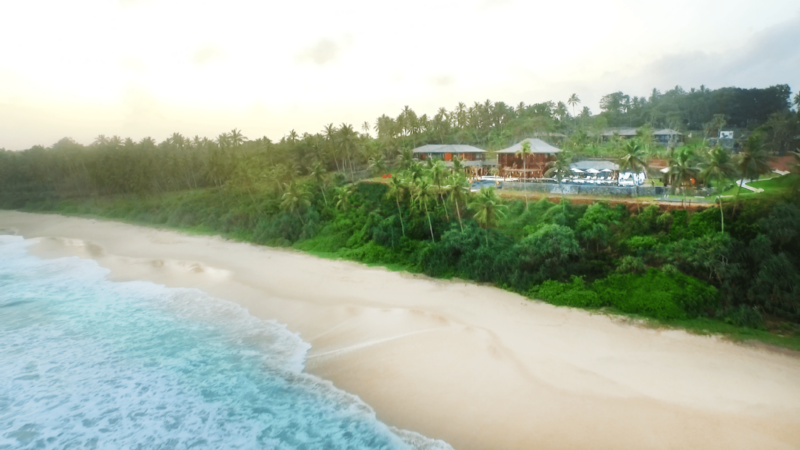 I had seen the glossy photographs, read about the secluded beachside location and learned that in this bespoke private resort there were two staff to wait on guests in each of the 15 seductive suites. But after a three-hour transit from Colombo airport – wending our way through tiny leafy lanes and villages alive with small children and friendly dogs ­– it was still a delicious surprise to enter through an unprepossessing wooden gate and arrive at the exclusive ANI Private Resort Sri Lanka.
Perched alongside the Indian Ocean in the region of Dickwella, on Sri Lanka's secluded southern coast, the resort is a mirage of minimalist pavilions, glass-clad, Burma teak, vaulted ceilings and terrazzo tile work. Created by Parisian architects and designers AW², the quirky planning rule is that resorts should not be built any taller than a coconut tree.
Boasting a price tag of $11m to build, the resort – comprised of two separate villas, each with its own living and dining space – took five years to build and opened in 2016.
My home for the week was a spacious master suite – which at 690 sq ft is larger than the average one-bedroom New York apartment – with lofty rattan-lined ceilings and floor-to-ceiling glass doors overlooking the ocean and my own private plunge pool.
[See also: The Most Anticipated Hotel Openings of 2022]
Beyond were pavilions devoted to Ayurvedic spa treatments, airy dining and living areas, two infinity pools and teams of butlers, concierges, internationally trained executive chefs, and even, on one memorable day, a palm reader. There are private tennis lessons, personal trainers and cooking lessons on offer. Everything is included in the price.
In these perilous Covid-19 times the live-in staff of 30 form their own bubble and are tested daily to ensure a virus-free environment.
ANI Private Resorts is privately owned and the world's first collection of private resorts – currently operating in Sri Lanka, Thailand, Anguilla and the Dominican Republic. A new resort in the Turks and Caicos Islands will be coming in the next couple of years.
Stay
Renting the private resort – making it yours in its entirety – costs around $8,000 per night based on a minimum rental of four rooms for four nights. For this, guests have full board with gourmet meals prepared by ANI Sri Lanka's executive chef Cyril Human, unique mixologist cocktails, all-day snacks and even picnics prepared for those taking day trips to a number of tourist attractions.
Each room sparkles with spartan white walls, in sharp contrast to the sea of deep-colored wood, with a lively splash of vibrant lacquered red in the interiors of wardrobes and cupboards. Artifacts – such as the giant wooden elephant in the entrance area and the antique wooden horses and antique pillars dramatically dotted throughout the property – have been sourced from old temples and ancient buildings. It all feels very zen and calm.
[See also: ÀNI Private Resorts Donating $2m to Local Communities]
The bathrooms boast glorious stand-alone bathtubs, walk-in showers and even an outdoor shower to make the most of the balmy 80-86 degree temperatures that are the norm here for most of the year.
Everything in the minibar is included in the price and if you want to have a glass of champagne to accompany you in your plunge pool, it will arrive in nanoseconds, courtesy of your private butler.
Each night you'll find little gifts on your bed in the form of items symbolic of this exotic paradise island – like the beautifully carved teak figure of a fisherman, or little Asian elephant. If you're lucky you'll also spot real-life monkeys scampering about the trees and rooftops in the early morning light. And the birdlife is exotic and quite sensational. A pair of white-throated Kingfishers were regular breakfast visitors on my terrace.
Guests can make some extraordinary requests. A Saudi Arabian princess had demanded that the resort find her two felines to share her room at night. Today these precious pussycats are still smugly resident.
Relax
When you return from an excursion, you'll be greeted by welcoming staff bearing cool drinks and cold towels scented with lemongrass. The theme here is 'togethering' – which American founder of the resort, Tim Reynolds, hopes will pervade the overall atmosphere, along with the warmth exuded by his hand-picked and charming staff. (None were furloughed or laid off during Covid-19, despite the fact the resort was closed for months).
Those guests longing for pampering should sign up for one of the ancient Ayurveda spa treatments, which include traditional massage, head and foot massages, facials, deep tissue massage and reflexology foot massages. Each treatment lasts an hour and you'll emerge in a state of utter bliss.
Dine
Eating here is a pleasure unlike any other I've experienced. The resort feels as if you are staying at the private residence of a generous friend, a home-away-from-home if you like – and mealtimes are no exception.
I dined on chef Cyril's specialty of Sri Lankan dishes such as seer fish curry, slow-cooked mutton curry, cashew and carrot curry, coconut sambol, and a unique and fragrant dessert called watalappan – a creamy coconut custard sweetened with traditional crystalized palm sap with added aromatic spices including cardamom and nutmeg.
[See also: Twenty for 20: The Most Iconic Hotels of the 21st Century]
On other nights I was served luscious lobster and sensational sushi, as well as a selection of European favorites. If these menus hadn't taken my fancy the chef assured me he would prepare anything I fancied. Wow.
The cocktails were sensational – again, name your favorite – and the wines hand-picked from across the world. Non-alcoholic mocktails were fabulous too, created from locally sourced juices and spices.
Excursions and Experiences
Available excursions include a two-hour drive to the Udawalawe Elephant Sanctuary where you'll not only see these gentle Asian giants close up in their natural habitat, but drive past trees resplendent with perching peacocks confident in the safety of their environment.
In other seasons there's whale watching, while in October the ANI Private Resort staff are on 24-hour-vigil on the beach right next to the resort to protect the hundreds of tiny turtles hatching there. A favorite trip of mine was to Galle Fort, the Dutch walled fort, packed with elegant designer shops and flavorsome eateries and bars.
Philanthropy
Reynolds was determined from the outset not only to provide a luxurious bespoke experience but to give something back to the community. Proceeds from each stay fund the non-profit ANI Art Academies to offer an intensive three-year art skills program to aspiring artists.
The academy building – also designed by AW² – is a separate pavilion just over three miles from the resort. Guests are welcome to visit to see the art students working (all students are accommodated nearby, and given full board). Their artwork, much of which is available for sale, would be a highly personalized memento of this extraordinary holiday experience.
[See also: Iconic Private Island Resorts That Give Back to the World]