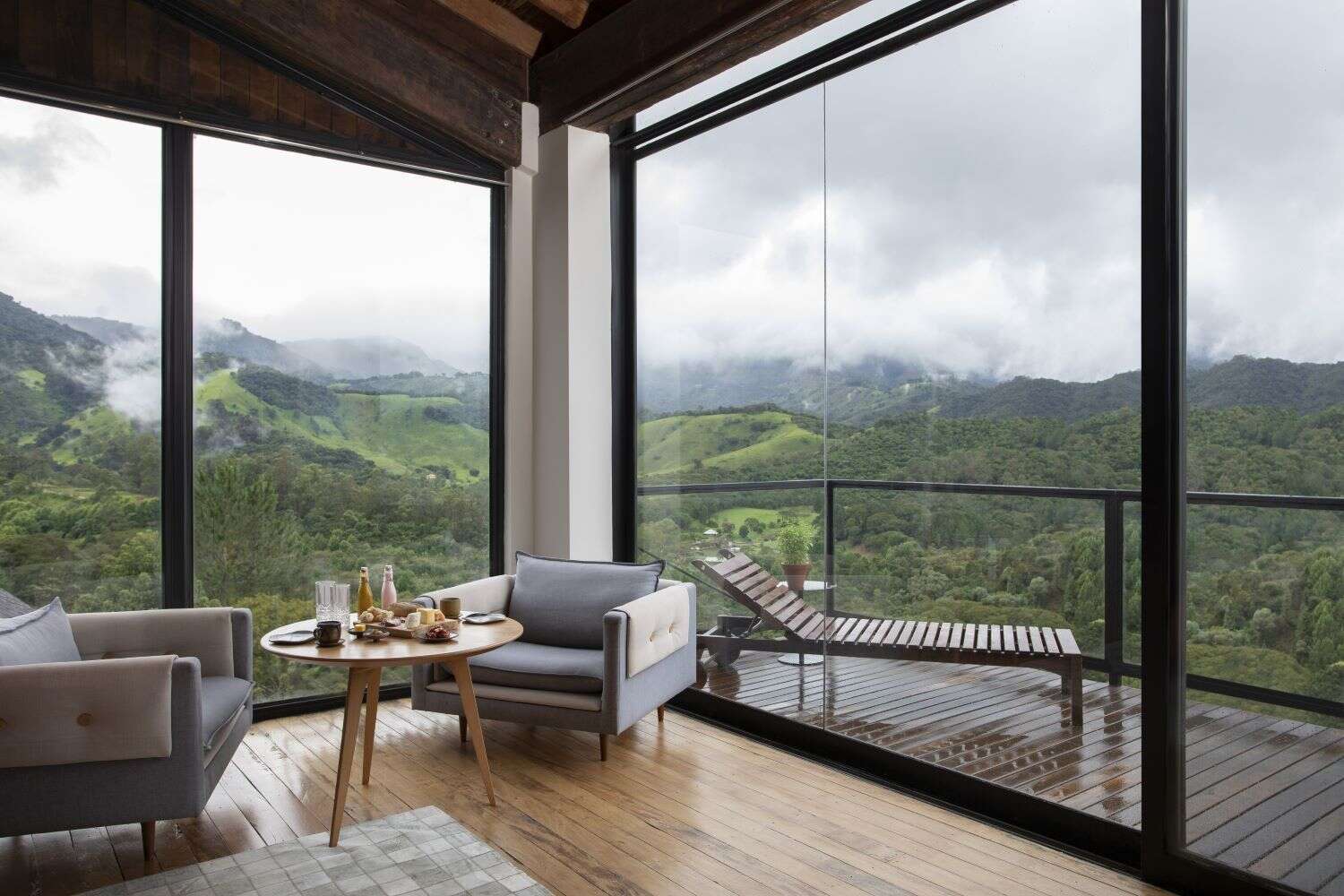 Tucked away in the heart of Brazil's lush, emerald-hued Mantiqueira Mountains, known as the 'mountains that weep' due to the abundance of springs and rivers, you will find the Six Senses Botanique. The re-imagined hotel is one of eco-conscious hotel group Six Senses' newest additions and has undergone an impressive re-design to reveal an exquisite luxury retreat that combines authentic Brazilian design, culture and cuisine.
Located 2.5 hours from São Paulo and 3.5 hours from Rio de Janeiro, the Six Senses Botanique – like all Six Senses resorts – is built on the pillars of sustainability and wellness. Explaining the philosophy, general manager Dominic Scoles notes: "Helping people to reconnect with themselves, others and the world around them is at the center of all that we do. We bring a holistic approach to our food, beverage, wellness, sustainability and out-of-the-ordinary experiences. The idea is that the guest returns home better than when they arrived."
[See also: Inside the Reimagined Singita Sabora Tented Camp]
Famed for opening properties in some of the world's most naturally beautiful locations, the Six Senses group prides itself on not only providing a sense of harmony to its guests but also demonstrating that uncompromisingly luxurious hideaways can live hand-in-hand with local communities and ecosystems. The Six Senses Botanique in Brazil is no different: the resort benefits from seven water springs that provide guests with their own mineral water as well as a water treatment station to return clean water back to nature. Plastic is kept to a minimum as Six Senses strives to reach its target of eliminating all plastic usage by 2022. Furthermore, each of the design elements, from the selection of building materials to the interiors, have been thoughtfully chosen to respect the region's topography, native traditions and culture. 
Stay
The Six Senses Botanique currently offers seven spacious suites in the main hotel, each acting as a private hideaway with individual outdoor terraces and breathtaking views of the green mountain valleys. The larger Panorama Suite looks over the best vistas, with dual aspect floor-to-ceiling glass windows that seamlessly envelope you within the green hues of the surrounding mountains.
In addition to the suites within the main building, eleven private villas are dotted around the resort's hillside, each with a fireplace, outdoor bathtub and private garden. The most exclusive of all is the palatial 3,700 sq ft Botanique Villa with Plunge Pool, which offers accommodation for up to four and is surrounded by an additional  6,400 sq ft of tranquil private garden. 
A further 16 villas are currently in the pipeline; these will be constructed off-site in a modular manner using local materials and sited in a bid to minimize their impact on the surrounding flora and fauna. There are also plans for 37 branded residences, which will also be constructed using an eco-friendly modular approach and will be available for purchase off-plan.
Dine
The menu at Mina, the resort's signature restaurant, is contemporary Brazilian fare with fresh local produce arriving daily from the resort's own organic gardens and farm. Dishes are paired with specially selected wines while 180-degree views of the mountains and valleys surround diners who, depending on the season, can enjoy the warmth of the indoor fire in the cooler months or opt to eat alfresco under the Brazilian sky in the summer. 
Those looking for something exclusive can opt for an in-suite tailored dining experience, whereas wine lovers will appreciate the Adega Journey (Adega is Portuguese for wine cellar), which begins by sharing a toast with chef Gabriel Broide as he explains the custom eight-course menu that has been expertly paired with a selection of vintage wines.
The Fire Side Lounge is an altogether relaxing affair where guests can sip on a variety of drinks, from home-grown probiotics and tonics made with ingredients harvested from the surrounding vegetable gardens to fine wines and a selection of cocktails. Also on offer are a selection of local cheeses and cold cuts as well as homemade coxinha (Brazilian croquettes).
Relax 
With wellness a top priority at the resort, the Six Senses Spa does not disappoint. It includes four treatment rooms, flotation and isotonic pools, and a sauna and steam room with rainforest mist. Guests can unwind with yoga sessions and guided meditation or indulge in a relaxing or rejuvenating treatment. 
The Alchemist's Body Treatment is a unique and interactive sensory experience that teaches guests about the abundant, locally sourced ingredients and products. Guests are invited to create their own scrub and body mask, which is then used in their massage and detox treatments. 
Those keen to focus more time on recharging can choose from a selection of wellness days including: Boost Your Immunity to build a strong body; Mind Your Brain to improve mental clarity; and Love Your Heart to achieve deeper self-connection and harmony.
[See also: St. Regis Bahia Beach Resort Launches Elementia Program]
Explore 
The serene natural surroundings of the Six Senses Botanique allow for some truly unforgettable experiences.  Around 350 diverse bird species call the Mantiqueira region their home including toucans, parrots and hummingbirds. Follow the bird call on a guided tour accompanied by the resort's biologist to learn about their different songs, plumage, colors and habitats. 
Adrenaline junkies can take to the skies themselves and enjoy an eagle-eye view over the mountains and valleys below, or spend the day mountain biking with a local guide who will take guests off the beaten track to the trails that only the locals know about. 
Those who enjoy a slower pace can take in the surrounding flora and fauna via horseback or on one of the many hiking trails. The resort will even provide a picnic basket with artisanal sandwiches or seafood, fresh salads, organic fruit and a bottle of wine for guests to take with them. 
Botanique Villa with Plunge Pool from $1,060 per night, sixsenses.com