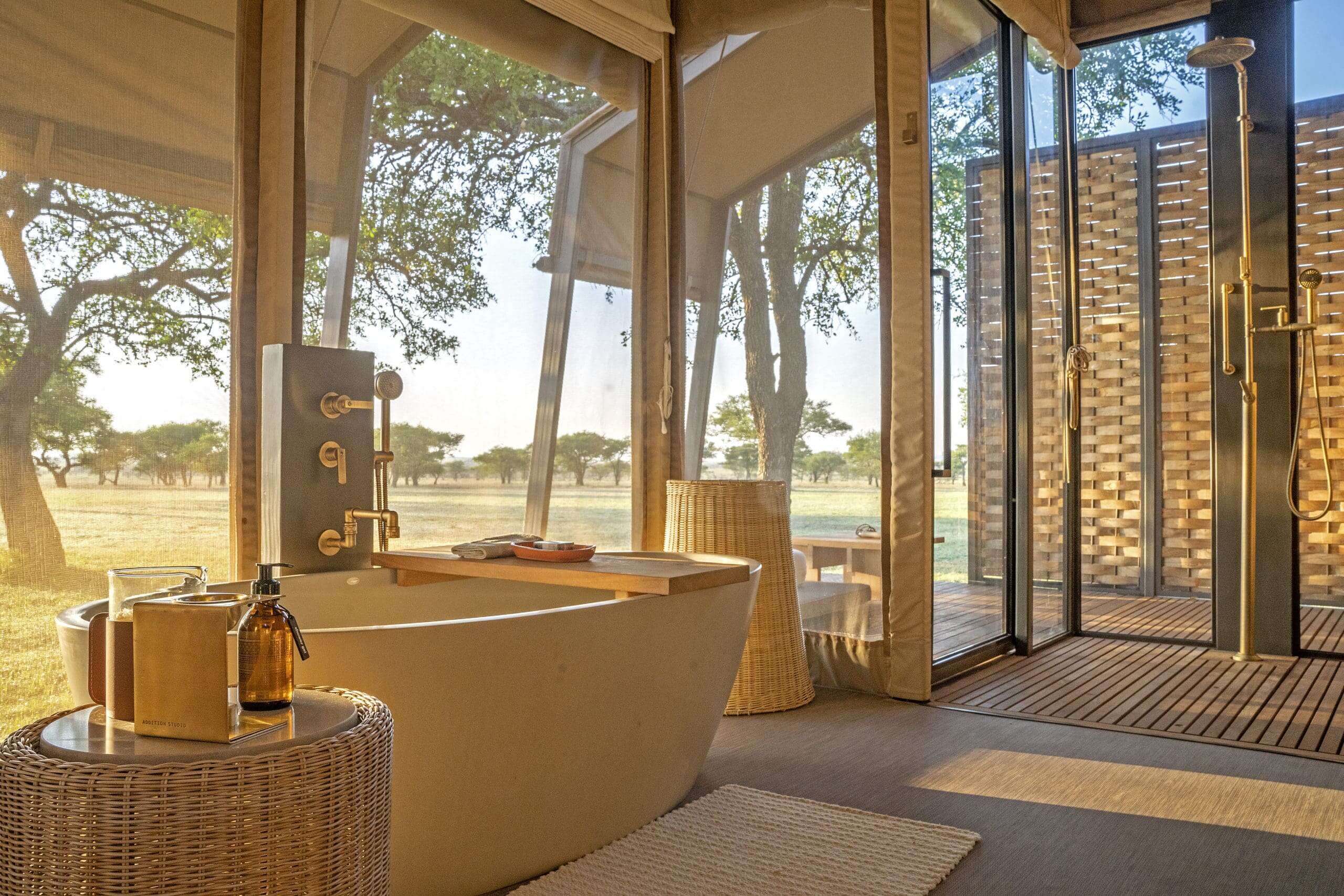 Singita has been at the forefront of eco- and socially conscious tourism since its inception almost 27 years ago, with each of its 15 safari lodges and camps providing extraordinary vacations. Singita recently revealed its newly redesigned Sabora Tented Camp, which, having reopened at the end of September 2020, will see its first full season in 2021.
Set in the Singita Grumeti Reserve, which encompasses 350,000 acres of protected wilderness, Sabora Tented Camp provides guests with a front-row seat to the ever-changing Tanzanian landscape – with an added touch of luxury, of course. The Singita Grumeti Reserve makes up a portion of the Serengeti Mara ecosystem and is home to some of Africa's most famous wildlife species – as one of the custodians of this landscape, Singita is tasked with protecting these populations as well as working with neighboring communities to tackle threats such as illegal poaching and wildfires.
Singita's commitment to limited vehicles and guests ensures that travelers can experience the wonder of the African wilderness with little, if any, disruption to the wildlife that has called it home for hundreds of years. Singita is also partnered with nonprofit funds and trusts in each of the regions it operates as part of its long-standing commitment to conservation and preservation. Emphasis continues to be put on appreciation and education in order to provide meaningful experiences that work for the benefit of the destination, not just the guest.
[See also: Most Anticipated Luxury Hotel Openings of 2021]
Sleep
Singita Sabora Tented Camp is made up of nine en-suite custom-designed tents, each of which is lavishly furnished and immaculately finished in true Singita style. Although its new look aims to embody modern simplicity and style, there has of course been no compromise when it comes to luxury and comfort. Each suite acts as a treasure trove for rare and unusual artifacts, including Persian rugs, crystal, silverware and Zanzibari chests, as well as blankets and traditional beadwork crafted by the Maasai people of northern Tanzania.
As part of the redesign, which was orchestrated by Singita's design partners Cécile & Boyd and GAPP Architects, the accommodations have been replaced in order to maximize its unrivaled location. Thanks to this, each tent now offers uninterrupted views of one of two of the nearby watering hotels for optimum, up-close wildlife-spotting opportunities. The guest suites also include private meditation decks and shaded salas with inviting daybeds that open directly onto the plains of the Serengeti, as well as in-suite fitness facilities.
In-keeping with Sabora's environmental commitments and the One Planet Living framework, each tent is constructed from sustainable materials with a reliance on solar power and energy-efficient lighting and is designed to sit lightly on the earth to cause minimal impact on the surrounding landscape.
Dine
Singita Sabora proudly claims that its dining experience is one of the most innovative elements of its redesign. Built on a sustainable farm-to-table ethos, the all-inclusive food offering draws on traditional African ingredients (all of which are locally sourced and seasonal) and artfully translates them into a modern menu.
The lodge also offers an all-day self-service deli, inviting guests to fill up wicker baskets with gourmet treats that can be enjoyed in the comfort of their own rooms or at one of the camp's several secluded picnic spots. Each room also offers a fully stocked pantry for round-the-clock snacking.
In addition to the thoughtful food menu, wine also plays a key part in Sabora's dining experience. Singita is regarded as one of Africa's leading wine collectors and invites guests at each of its lodges to partake in personalized tastings led by experienced sommeliers. As with everything on offer at Singita's resorts, community upliftment is key within its wine program; the group offers formal training and personal mentorship to local wine enthusiasts in order to build the next generation of sommeliers.
Explore
As you would expect at one of the world's leading luxury safari camps, the opportunities for adventure are seemingly endless. Included in guests' room rates is a spot on the lodge's twice-daily game drives and guided walking tours, which travel into the heart of Africa's most remote wilderness. Depending on the time of your visit, wildlife sightings may include cheetahs, elephants, monkeys and lions, as well as the world-famous Great Wildebeest Migration – the camp is set on the route.
[See also: Singita Partners Sister Properties to Create the Ultimate Private Safari]
Each of the safari drives and walks is led by Signita's expert field guides and trackers, who offer an unrivaled level of passion and knowledge for the Tanzanian landscape and its inhabitants, guaranteeing a meaningful and lasting guest experience. For a truly once-in-a-lifetime adventure, guests can enjoy a hot-air-balloon safari, which provides an unparalleled view across the African landscape.
Guests can also take an excursion to one of the reserve's 12 observation posts, which are manned at all times by dedicated scouts working tirelessly toward Singita's anti-poaching efforts. At the observation post, guests will meet the scouts on duty and learn more about their work, including past successes and future plans.
Singita is of the belief that the magic of the Serengeti should be shared with every guest, regardless of age, in order to better preserve it for years to come. With this in mind, it offers a comprehensive selection of family-friendly activities, including the Mini Game Rangers' Course, stargazing, arts and crafts, and cookery classes.
In keeping with its commitment to conservation, each activity on offer at Singita Sabora has been imagined to protect and preserve the wildlife and habitats of the Serengeti as well as provide a deeper understanding and education for its guests.
Relax
Singita Sabora's wellness offering draws upon its natural surroundings to provide a blissfully relaxing retreat. The camp's treatment menu incorporates indigenous knowledge and local essential oils to relax, replenish and revive, with each treatment tailor-made to suit guests' unique needs. Massages can either be enjoyed in the camp's dedicated treatment rooms with a view out onto the reserve or in the privacy of your own guest room. The main lodge area also offers an outdoor swimming pool, open to the wonders of the wilderness.
Rates for Singita Sabora Tented Camp start from $1,650 per person per night on a full-board basis.