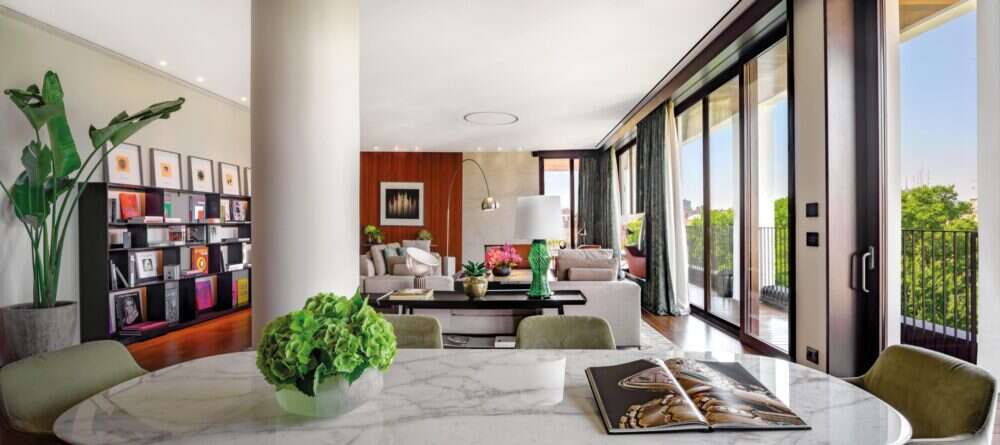 Located in a renovated 18th century Milanese palazzo in the cultural and commercial heart of Milan, the five-star Bulgari Hotel Milano offers an oasis of serenity with its 43,055-sq-ft private garden, its enchanting spa and fitness center, and its restaurant led by three-Michelin-starred chef Niko Romito. Now, it has a new top suite to rival any other in the city.
Designed and curated by architect Flaviano Capriotti, the interior space of the new 2,260-sq-ft Bulgari Suite is a thoughtful expression of timeless contemporary design with dashes of color and a variety of textures that contribute to its warm and welcoming atmosphere. The two bedrooms and living room include authentic Italian furniture from renowned designer Antonio Citterio's Flexform and Maxalto collections. Both bedrooms include walk-in wardrobes and spacious bathrooms.
The Bulgari Suite master bedroom allows guests to indulge in steam showers and some bath-time bliss with its Brera stone carved bathtub. Paying homage to Italy's rich cultural heritage, the suite features a library with a selection of rare art and design books. Bulgari's own heritage is also present in the suite with headboards displaying the brand's eight-point star and framed sketches of its iconic jewels hanging on the walls.
[See also: The Best Hotels in Milan]
The suite also includes a rooftop private garden of 2,088 sq ft offering outstanding 360-degree views of the bustling city. The rooftop manages to retain a sense of calmness and quietness with its surrounding greenery and the soothing golden glow of candles made of recycled wax.
Concerned with customers' mental and physical wellbeing, the Bulgari Hotel Milano can provide the latest generation full-length mirror FORME Life, along with the necessary training equipment, to the guests at the Bulgari Suite. The touch-screen mirror offers the opportunity either to book a virtual training session or to pick from a library of pre-filmed workouts, therefore allowing guests to work out directly from the privacy and comfort of the suite.
The Dom Pérignon Trolley
In addition to the comforts and luxuries of the suite, guests will be able to sip on rosé or brut Dom Perignon from Bulgari Hotel Milano's new pop-up bar. They will also have the opportunity to try out some Cicchetti or small snacks prepared by Romito. Available until October.
The Picnic by Niko Romito
This summer, refreshed by a soft summer breeze and the shadow of the trees, guests will be able to enjoy a romantic picnic in the hotel's 43,055-sq-ft private garden. They will be offered a selection of seasonal and fresh dishes along with Dom Pérignon Deuxième Plénitude, curated by Romito himself. Available until October.
The new Bulgari Suite is available from $16,500 per night (including breakfast and amenities such as 24-hour assistance, full kitchen, complimentary full bar and minibar).