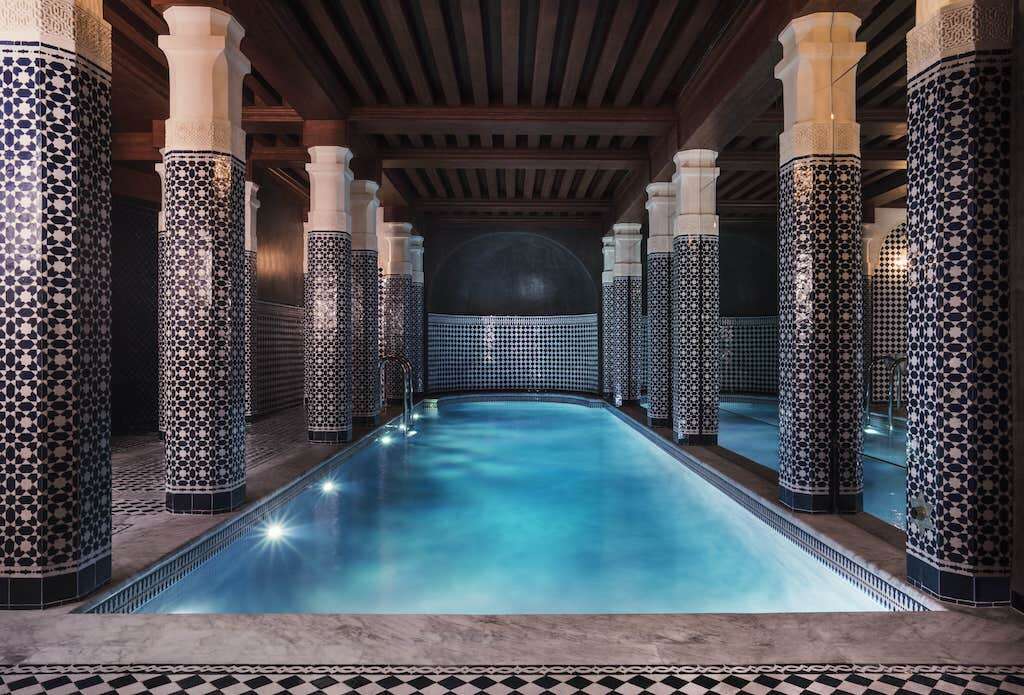 If you've ever dreamed of traveling to the Golden Age of the Belle Époque, then pack your valise for Maison Proust, a new five-star hotel in the heart of Paris.
The intimate address is the latest opening from Yoni Aïdan and Sylviane Sanz, founders of bijou hotel group Collection Maisons Particulières; it pays lavish homage to celebrated French writer Marcel Proust in one of the city's oldest quartiers, Le Marais.
After working with Jacques Garcia on sister hotels Maison Souquet and Maison Athénée, the duo has once again handed the keys to the famed interior designer, who has brought his signature decadence to the property and blended it with literary references and stories of Gilded Age characters, both real and imaginary, who have inspired the 23 rooms and suites sitting across six themed floors.
[See also: The Best Luxury Hotels in the South of France]
Stay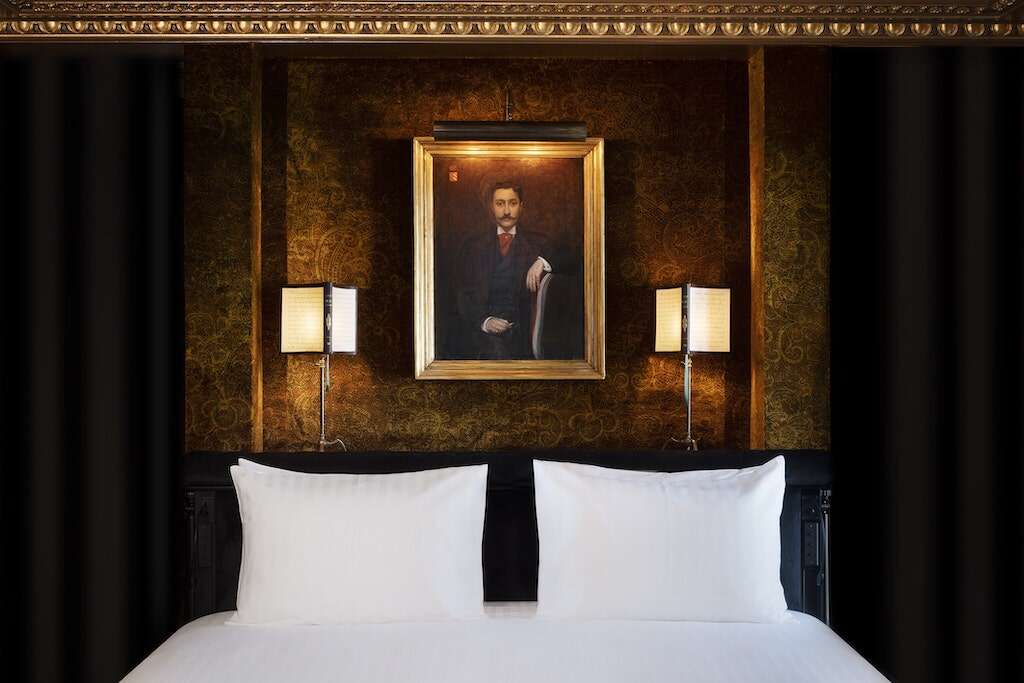 Each space has been meticulously designed to honor its namesake, from Charles Haas and his mistress Sarah Bernhardt, who sits nearby on the same floor, to Claude Monet and Émile Zola. Gold-paneled walls and richly decorated, handmade wallpapers create a Belle Époque backdrop inspired by the spirit of each character, who is sometimes depicted in the original portrait that sits at center stage.
[See also: The Top Hotel Suites in Paris]
Bespoke furnishings by Garcia, including matching poufs and armchairs, have been married with antiques gathered from an auction house in Versailles. Lampshades have been designed like open books and scribed with passages from In Search of Lost Time and, in select rooms, velvet drapes hide small alcoves and writing desks for guests who feel inspired to channel their inner Proust.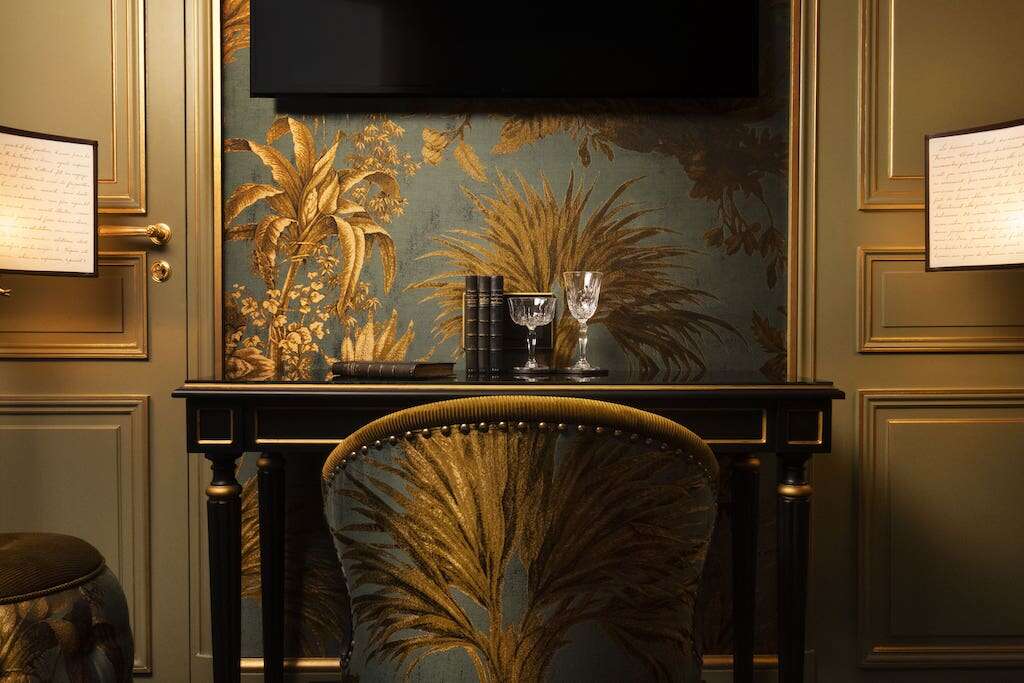 The masterpiece is the sixth floor's 1,075-sq-ft Executive Suite, imagined as a private apartment of the writer himself, who presides over the space in a portrait by Jacques Aymer de la Chevalerie.
Three bedrooms dressed in jewel shades and rich fabrics offer views across the rooftops of Paris and lead into a private bar, two sitting rooms and a library, where velvet armchairs clad in shades of deep citrine reflect the golden highlights of foil-stamped antique books.
Explore
On the ground floor, three salons nod to the Parisian salons Proust himself would've visited. In the first, gold-threaded fabric ceilings, midnight blue armchairs and fringed lampshades create the mood for after-dark cocktails and elegantly presented petits mets, light delicacies designed for sharing.
Behind the bar, where smart staff can be found mixing up French spirits into signature Proust-inspired drinks, an antique fireplace held up by Atlas has been repurposed as a striking mirrored backdrop.
Next door, a secluded rotunda library offers a more intimate setting for evening soirées, and a home for a precious first edition signed by Proust, while in the adjoining Winter Garden, breakfast is served each morning overlooking the 19th-century glass framework of the Carreau du Temple, a former covered market now used to host pop-up events for the likes of Hermès and Ruinart.
Relax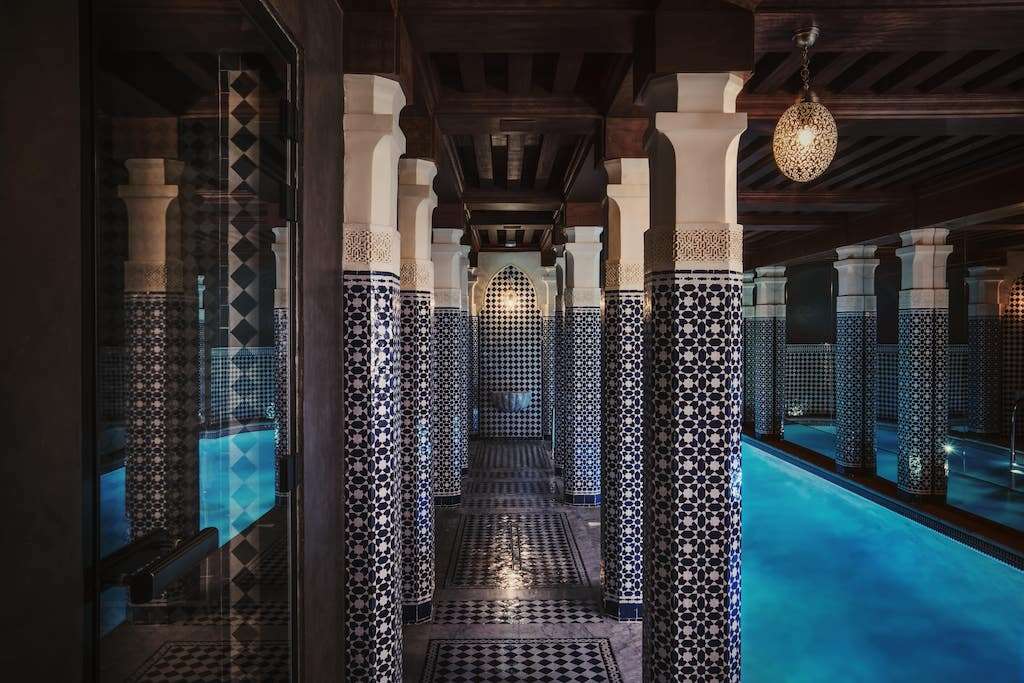 If the bar transports you to the glorious Belle Époque, then the hidden underground spa will take you to the hammams of Morocco with its Orientalist design, a movement popular during Proust's time and chosen by the writer's beloved Aunt Léonie for the salons in her Normandy home, where Proust spent his childhood summers.
After working with the King of Morocco's own artisans on La Mamounia, Garcia called upon the craftsmen once again for Maison Proust, who spent more than one year in Paris and thousands of hours completing the work by hand to create a sanctuary in the heart of the city.
Columns covered in traditional geometric tiles and tadelakt create a pathway between the marble hammam and shimmering blue pool, crowned by a wooden ceiling and ornate lanterns. But perhaps more lavish than the decoration is the option to reserve the space during your stay for the ultimate luxury — your own private moment of tranquility.
From $705 per night. Contact contact@maisonproust.com, +33 186 545 555, maison-proust.com