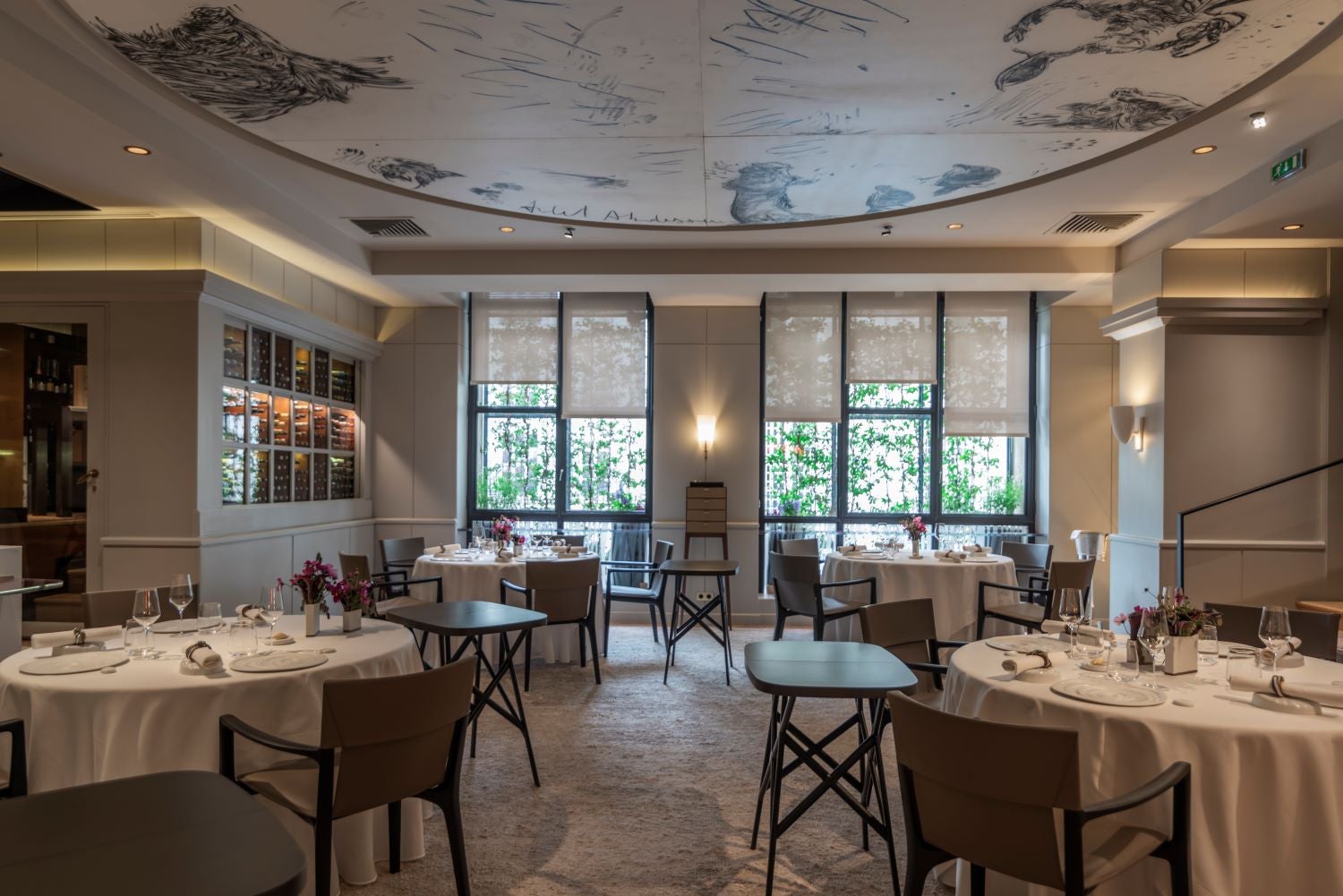 The renowned dining scene of Paris stands apart from any other city in the world. The stunning decor of classic Parisian restaurants is paired with exquisite French cooking and an offering of exceptional service, with countless Michelin Star establishments throughout the city. Here is our pick of the Paris' top gourmet institutions.
Restaurant Guy Savoy
Restaurant Guy Savoy is a culinary shrine to the skills of its namesake. Renowned not only for its food but also for impeccable service, characterized by happiness and conviviality instead of inaccessible aloofness, this three-Michelin-starred restaurant consistently enthralls its diners and is a source of inspiration for many other chefs. Signature dishes include Savoy's artichoke soup dressed with black truffle shavings and accompanied by brioche slathered with truffle butter and the chocolate orb dessert, over which warm mango coulis is poured at the last minute to create a delicious melting effect. Each day for lunch, Guy Savoy reserves one table for guests to indulge in a French gourmet experience.
Le Meurice Alain Ducasse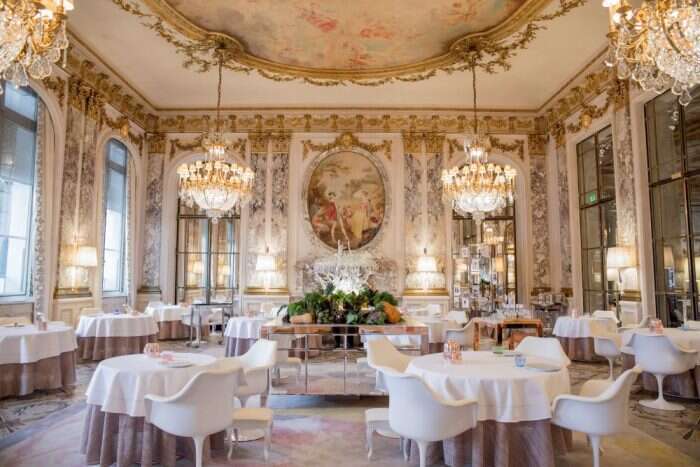 Alain Ducasse's extravagant two-Michelin-starred restaurant serves world-class classic European cuisine in an elegant and Versailles-inspired white and silver setting by Philippe Starck. Wines and champagnes are kept in a specially created wine cellar opening onto the dining room, while a special chef's table in the kitchen allows guests a closer view of what's going on. Dishes at Le Meurice Alain Ducasse include such lavish offerings as blue lobster with fennel, sea bass with goldleaf risotto and scallops with white alba truffle foam.
Pavillon Ledoyen
One of the oldest restaurants in Paris, Pavillon Ledoyen first opened its doors 1792 and was the place to see and be seen during the Belle Époque. The dining room,  — classified as a historical monument — is a sight to behold, retaining much of its exquisite 19th century detailing. Pavillon Ledoyen will re-open in September 2021 with new interior detailing from the artist Kostia and Atelier Montex, Chanel's Parisian artisanl embroidery studio. The collaboration has seen the installation of a series of what Kostia describes as intricately crafted floral "veils" between each table.  Interiors aside, the real pièce de résistance here is the stunning French haute cuisine. Earning the top mark of three Michelin stars, the restaurant serves modern dishes inspired by classical French fare from Chef Yannick Alléno.
Le Cinq at Four Seasons George V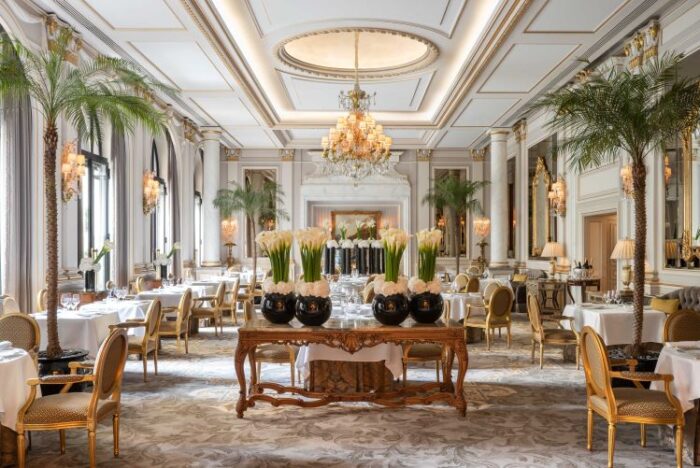 Reminiscent of an ornate château, Le Cinq is undoubtedly luxurious yet also welcoming. The elegant dining room bathed in gold, the oil paintings adorning the walls and the beautiful flower arrangements all set the scene for this gastronomic experience. Awarded three Michelin stars, it serves classic French food with a contemporary inflection, with menus changing seasonally to make the most of each ingredient chosen. Chef Christian Le Squer 's delicious creations include traditional fare such as grilled lamb alongside more modern dishes such as lightly smoked eel with black bread and grape juice reduction.
Apicius
This Michelin-starred restaurant was opened by Chef Jean Pierre Vigato in 2004 but now boasts Mathieu Pacaud (also of Paris's Michelin-starred Divellec) at its helm. Apicius extends over a number of rooms in the magnificent Hotel Schneider, previously the residence of 19th century man of affairs, the Marquis de Talhouët. Guests can choose to dine in the Dining Room, the Klimt Room – adorned with superb reproductions of Klimt's golden-toned artworks – or the Petit Salon, an intimate room for six to eight people. The cuisine is modern French; light, elegant, inventive, but with the unmistakeable hallmarks of traditional bourgeois dishes.
Arpège
On the chic Left Bank, Alain Passard's Arpège is dedicated to creating cuisine filled with harmony; every ingredient of every dish is carefully considered to ensure it matches the rest, the result of which is a three-Michelin-starred rating. Passard is also devoted to quality; since 2000, the restaurant has been supplied by its own three potagers or kitchen gardens, which produce 40 tons of fresh, all natural ingredients annually. Experience this devotion in the sleek main dining room, or book the private dining room for up to 14 guests.
Epicure
Comprised of two dining rooms – Winter and Summer – used according to the rhythms of the season, this three-Michelin-starred destination in Le Bristol Paris attracts with its gorgeous surroundings and delectable culinary offerings. Based upon traditional French cuisine, yet always evolving and being improved, the dishes created by head chef Eric Frechon aim to bring back to the forefront of the gastronomical world simple but delicious combinations made with quality seasonal ingredients. Try the hearty roast saddle of venison with celeriac purée and beetroot in port accompanied by a wine chosen by Chief Sommelier Marco Pelletier.
Lasserre
Lasserre's key concepts are discretion, service, and ultra-fine dining. A bastion of French haute cuisine, this Michelin-starred Old World-style restaurant aims to offer each guest a refined and charming experience, enhanced by an incredible attention to detail in all areas. Dine on classic dishes such as roast pigeon with seasonal vegetables, or spiced duck with roasted figs in red wine sauce, and don't forget to look up at the frescoed roof by artist Touchagues, which retracts in good weather to reveal the Parisian sky.
Le Jules Verne, Eiffel Tower
Towering above the Parisian boulevards on the second level of the Eiffel Tower, Le Jules Verne is far from a tourist trap, contrary to what you might assume given the flocks of visitors below. With bold modern decor by Patrick Jouin and cuisine by Frédéric Anton (of three-Michellin-starred Le Pré Catelan,) it offers a delicate  menu with precisly crafted dishes, in addition to sweeping views over western Paris through floor-to-ceiling bay windows.
Pierre Gagnaire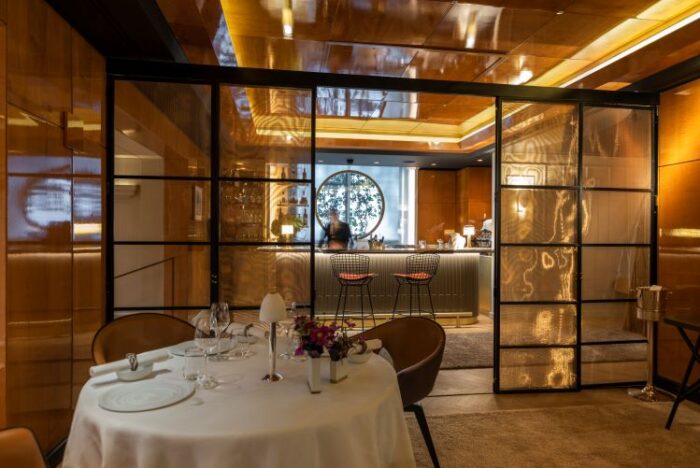 For those that have grown tired of heavy French classics and desire premium ingredients arranged in an exciting, innovative way, the choice is Pierre Gagnaire. At the center point of the Michelin-starred chef's worldwide restaurant group, taste bizarre and beautiful combinations of flavors from all over the globe in this stylish location, where the artistry of the plates is complemented by the plush slate-grey tones of the interior decor. Particularly appealing is the tasting menu, which includes such dishes as porterhouse steak enrobed in a jus of beef tongue with tamarind, accompanied by butternut squash marmalade.
L'Ambroisie
L'Ambroisie combines elegant French haute cuisine and Parisian sophistication in the historic heart of the capital. Headed by chefs Bernard and Mathieu Pacaudhe, the cuisine is classical, sophisticated and seasonal, creating a unique tribute to every ingredient.
Kei
In 2020, Japanese-born Kei Kobayashi's Kei restaurant became the first-ever Japanese-helmed eatery in France to earn three Michelin stars. The son of a kaiseki chef with French training at some of the country's finest established such as three-Michelin-starred Auberge du Vieux Puits and Alain Ducasse et le Plaza Athénée, Kobayashi's cuisine pairs these two gastronomic powerhouses. Delicate and precise, dishes are prepared using the finest of ingredients.
Le Pré Catelan
With a kitchen led by the Meilleur Ouvrier de France (An award given to the best craftsman of France), three-Michelin-star Le Pré Catelan will not dissapoint. Creative and innovative plates are chauffered from the kitchen of famed chef Frédéric Anton with dishes often artfully centering around one superstar ingredient such as red mullet, pigeon or langoustine. Located in the heart of the Bois de Boulogne in a pavilion dating back to Napoleon III, the setting is also a delight to behold.
[See also: Ivan Artolli on Life Inside the Iconic Hôtel de Paris]