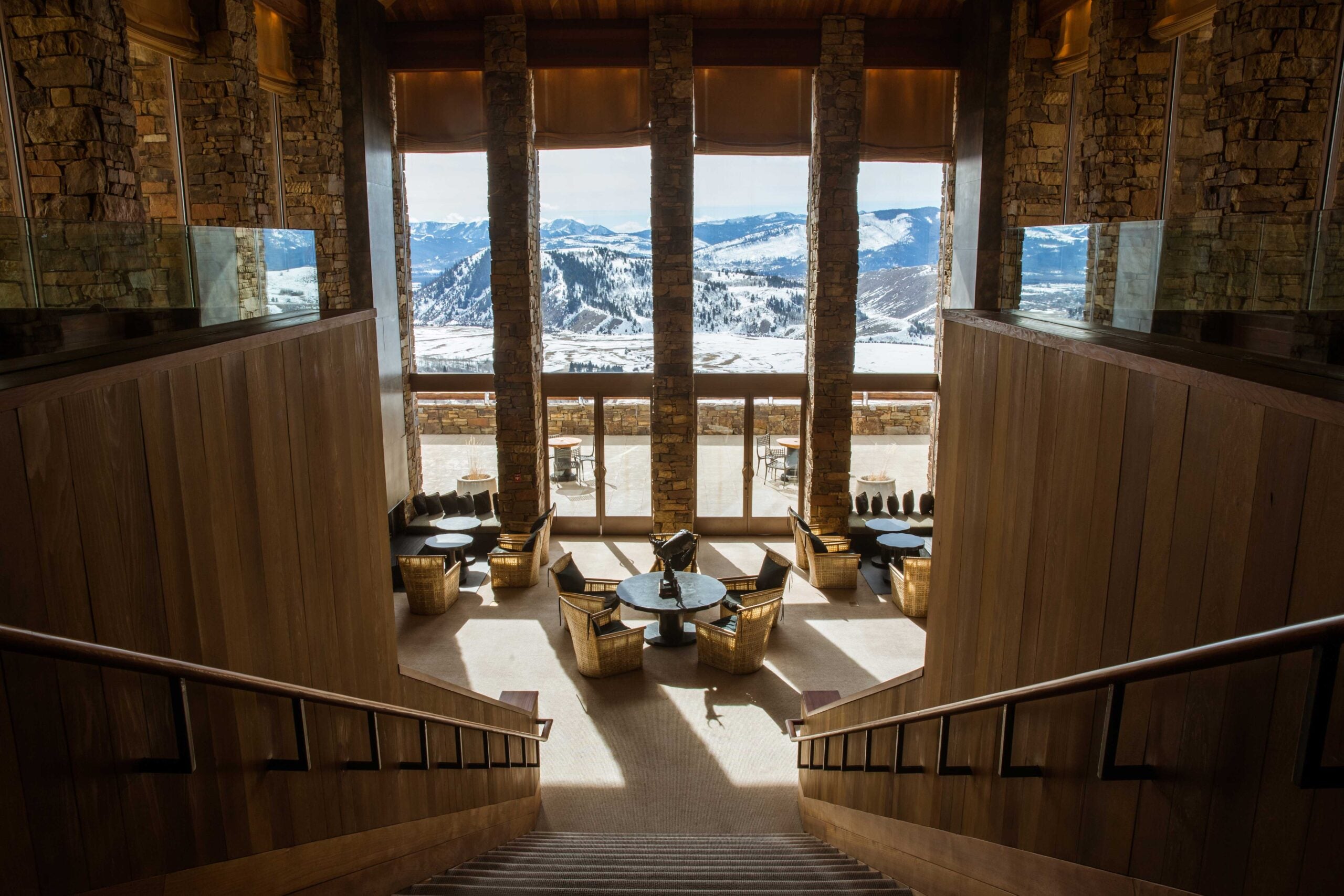 Although Memorial Day is officially held to honor soldiers who have fallen in service, the occasion is also seen as the unofficial start of the summer, with many people taking the opportunity to enjoy a long weekend getaway.
Held yearly on the last Monday of May (May 31 in 2021's case), Memorial Day has come to signify the ushering in of sunnier, better times – and after all but a year in lockdown, such celebration has never felt more needed. Although the weight of Covid-19 is still being felt around the country, luxury hotels and resorts are easing back into normality as travel picks back up. And while international travel is back on the menu, Memorial Day feels like an appropriate time to enjoy the amazing landscapes and cities on home soil.
From wine-region retreats through to back-to-nature escapes, discover our top picks for last-minute luxury Memorial Day weekend getaways in the US below.
[See also: The Most Discreet and Secure Hotel Suites in the World]
The Plaza Hotel, New York City
Any other year and a three-day holiday would have us running to the ocean or the countryside. However, after a year of isolation, we want to throw ourselves right back into the hustle and bustle of the city – and where better to do that than New York City's iconic The Plaza? After being closed for over a year, the hotel will reopen its doors on May 20, just in time for a luxury Memorial Day weekend getaway.
To celebrate its reopening, The Plaza Hotel is offering a new Royal Return package, which includes accommodation in one of the hotel's top suites, private roundtrip transportation, a treatment at the prestigious Guerlain Spa and a Grand Imperial Tea Service for four at The Palm Court.
Guests who opt for the Royal Return package this Memorial Day weekend can choose between the palatial three-bedroom Royal Suite, which overlooks Fifth Avenue and boasts its own library and 12-person dining room, or the equally impressive Grand Penthouse, complete with a private terrace overlooking the New York City skyline. In short, we can't think of a more lavish place to kick off the summer season.
Royal Return package from $12,000.
Amangani, Jackson Hole
If your idea of a perfect long weekend retreat is more adrenaline and adventure than shopping and poolside lounging, Amangani is the place to be this Memorial Day weekend. Sitting in the foothills of the Grand Tetons mountain range, Aman's celebrated Jackson Hole retreat artfully combines immersive experiences in the great outdoors with unparalleled luxury.
Amangani offers a series of itineraries and experiences, with one of the highlights being its signature Guided Wildlife Tours. Making the most of the resort's stunning surroundings, the guided wildlife tours take guests into the heart of nature, exploring flatlands, wetlands, valleys and forests in order to glimpse some of America's rarest species. Possible sightings include grizzly bears, moose, elk and even mountain lions and wolves. Horseback riding, mountain biking, kayaking and rock climbing are also on offer.
After an adventure-filled day, guests can retreat to the comfort of one of Amangani's 40 guest suites, all of which are meticulously designed to offer contemporary style, as well as reflect the beauty of their magnificent setting. All suites boast an outdoor terrace or balcony from where you can absorb the mesmerizing views of the Grand Tetons mountains.
From $1,400 per person per night.
Vermejo, A Ted Turner Reserve, New Mexico
This Memorial Day weekend, Vermejo, A Ted Turner Reserve is offering a four-day package of dedicated programming, with activities to suit every member of the family. Designed to help guests reconnect with both their loved ones and the natural world, the jam-packed itinerary will kick off with a Mixology Magic masterclass, where participants will learn how to stir Vermejo's signature cocktail.
Guests are invited to enjoy a lakeside cookout, an outdoor cinema and s'mores and stargazing as part of Vermejo's special Memorial Day weekend itinerary. They can also take part in the resort's full list of additional activities, including horseback riding, archery, fishing and mountain biking, all of which make use of its 550,000-acre estate. For a more relaxing afternoon, make use of Vermejo's spa facilities, which offer a full menu of holistic treatments. Unsure how to make the most of your getaway? The resort's dedicated concierge team will be on hand to create a bespoke itinerary to suit your needs.
Anyone who books a room for the duration of the Memorial Day weekend can partake in Vermejo's dedicated holiday programming (the Casa Grande Vermejo Suite is especially welcoming), but for an extended getaway with an added level of privacy, opt for a full buyout of one of entire Casa Grande property.
Casa Grande Vermejo Suite from $3,000 per night; Casa Grande buyout from $18,000 per night.
The Setai, Miami
Heading to Miami for a holiday weekend is a no-brainer – but for that extra level of luxury, book into one of the city's most exclusive hotels: The Setai Miami Beach. The hotel retains the lavish glamour for which Miami is famous with its distinctly Art Deco design, while simultaneously drawing on Asian influences. The result is undisputedly stylish.
Ideally situated on Miami's South Beach, The Setai makes the perfect base from which to explore the city. However, the hotel has enough to fill a weekend getaway within its own walls, boasting three pools, multiple unique dining outlets and a private beach club, as well as an award-winning Valmont spa.
Looking for an added touch of indulgence? Book The Setai's signature Jazz Brunch which is held in the courtyard of the Jaya restaurant. Taking place every Sunday, the Jazz Brunch features live music, free-flowing champagne and exceptional worldwide cuisine – the perfect way to let loose after a year of restrictions, in our opinion.
From $835 per night; Jazz Brunch from $95 per person.
Alila Napa Valley, California
While a family Memorial Day break might appeal to some, a sophisticated, adults-only retreat to wine country is better suited to others. With some of the best wineries that the US has to offer on its doorstep, the Alina Napa Valley is the place to be for such retreats.
Tucked away next to the famous Beringer Estate Winery, the Alila Napa Valley hotel was built around an existing Georgian-style guesthouse, which dates back to 1907. Now, it offers 68 elegantly appointed guestrooms and suites – some of which overlook the nearby vineyards – as well as an indulgent spa and seasonally-driven restaurant.
When it comes to wine tasting, the options are endless. In addition to the neighboring Beringer Estate, Alila is just a short journey from Merryvale, Clif Family and Charles Krug, and slightly further afield, you'll find some 400 other wineries to visit. To make the most of all the area has to offer, try a bicycle tour through the local countryside or book a spot on the vintage Napa Valley Wine Train. If you're in the market for a completely once-in-a-lifetime experience, however, a sunrise hot air balloon journey over the vineyards, mountains and valleys of Napa Valley is a must.
From $1,029 per night.
The Rosewood Washington DC, Washington DC
A list of the best luxury Memorial Day getaways would be remiss to not mention Washington DC. While the continued impact of Covid-19 has ensured that the city's Memorial Day observations and gatherings will be slightly different to usual years, this isn't to say that the capital won't have its fair share of Covid-19-safe events over the course of the weekend.
For those who want to experience the best of the city, but with an added level of privacy, the Rosewood Washington DC's newly launched Townhouses are the perfect choice. Offering residential-style accommodations with all the amenities of the adjacent hotel, each townhouse is spread across approximately 1,000 sq ft and boasts its own private entrance and exclusive courtyards, making them the first of their kind in the city.
As well as enjoying their own private corner of Washington DC, Townhouse guests can also make use of the hotel's two eco-conscious dining outlets, fitness center, rooftop pool and round-the-clock in-room (or in this case, in-house) dining. To make the most of the mild May weather, be sure to utilize Rosewood Washington DC's bespoke bikes for an immersive tour around the historical city.
Townhouse accommodation from $2,478 per night.
Topping Rose House, The Hamptons
Is there anywhere more fitting to spend Memorial Day than the Hamptons? Not in our eyes. Drawing the country's most glamorous travelers to windswept coastlines year in, year out, the Long Island destination is the spot to kick off the summer with your nearest and dearest.
Despite its reputation for attracting the elite, the Hamptons is notoriously short of ultra-luxe hotels, with whole-property rentals being the go-to for most. However, for those wanting a more full-service luxury Memorial Day getaway, look no further than Topping Rose House; a lavish boutique hotel found within a historic Hamptons property that has become a firm favorite among discerning weekend visitors.
Topping Rose House is ideally situated within walking distance of Bridgehampton's shopping boutiques, art galleries and cafés, with trips further afield to nearby beaches or vineyards catered for with the in-house BMW shuttle. If a chilled-out weekend at the hotel is more what you have in mind, be sure to make use of the first-class spa facilities, as well as booking a table at Jean-Georges at Topping Rose House, the hotel's casual yet elegant restaurant which celebrates a farm-to-table ethos.
Frm $1,495 per night, Memorial Day weekend three-night minimum.