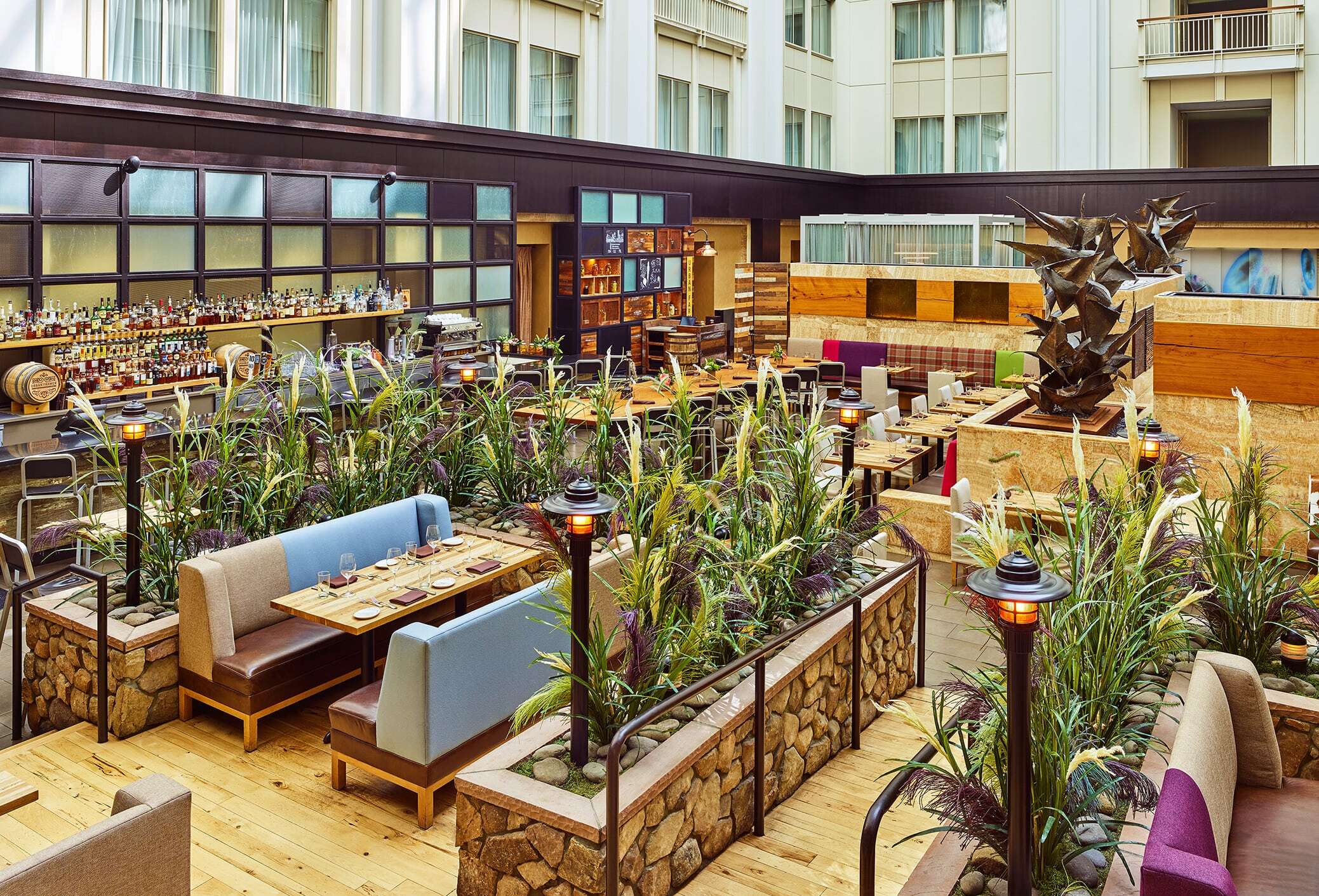 The Nines hotel in Portland is offering a new Urban Farmer Stay Experience to celebrate Earth Day, as well as to showcase the many sustainable initiatives of its on-site restaurant, the Urban Farmer steakhouse.
Local, organic ingredients and straightforward preparation take center stage on the Urban Farmer menu, with a range of sustainable beef options available, including grass-fed Oregon beef. The drinks offering is equally as considered, with the cocktail menu weighing heavily on locally made spirits – the Moonshine Punch, crafted with moonshine whisky from a nearby distillery, is a real highlight. Every bottle in Urban Farmer's extensive wine list is sourced from producers that champion biodynamic farming, in line with the restaurant's overall philosophy.
Urban Farmer also strives to source ingredients in-house where possible – an impressive mission for an inner-city restaurant. The hotel's rooftop is home to a herb and flower garden, as well as fully functioning beehives that provide the restaurant's honey. Down in the basements, hydroponic gardens are used to grow yet more fresh ingredients, while an innovative mushroom incubator is used to harvest homegrown mushrooms.
[See also: Shou Sugi Ban House Announces Mads Refslund Culinary Retreat]
In addition to the environmentally-conscious ingredients, the restaurant is also on a mission to operate in a more sustainable manner across the board. One of the primary challenges facing the hospitality industry in its bid to limit its footprint is surplus waste; Urban Farmer mitigates this issue by implementing ordering best practices to prevent over-ordering and utilizing creative fermentation techniques for unused ingredients. It also ensures that all to-go programming is eco-friendly, using either biodegradable or recyclable products.
"Sustainability has always been a priority for the Nines and therefore was built into the very fabric of the hotel," says Matt Christianson, director of culinary operations. "At Urban Farmer, we've been recognized by the City of Portland's Sustainability at Work Program – receiving a Gold Certification for our commitment to sustainable practices. We pride ourselves not only on being eco-conscious, but on educating our diners and guests about the importance of sustainability as well."
Guests who book the Urban Farmer Stay Experience will be able to enjoy the restaurant's celebrated fare in an ultra-exclusive private dining set up in the comfort of their own rooms. To complete the experience, guests will also receive valet parking and an in-room movie screening as part of the package.
While the Urban Farmer restaurant is a beacon for sustainable luxury, the rest of the Nines is equally as considerate in its operations. The building itself is LEED Silver Certified – the largest green building rating system in the world – thanks to considerate plumbing solutions that collectively save around 500,000 gallons of water. The hotel also proudly runs on 100% renewable energy via a combination of offsetting and wind power.